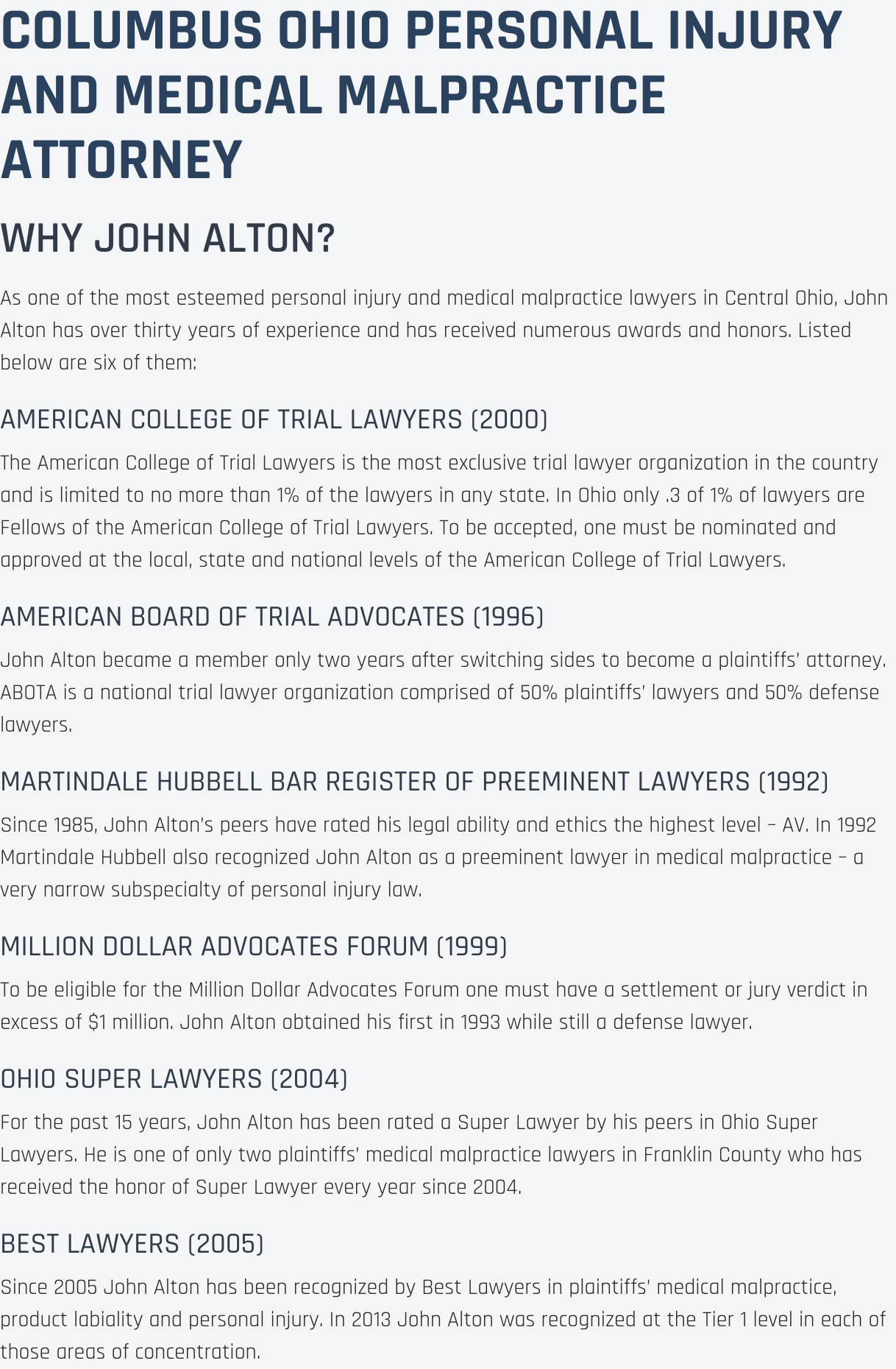 Bus Accident Lawyer Gahanna OH
The last thing on your mind after a bus accident incident is to obtain legal representation. The Law Offices of John M Alton Co, LPA wants to help you now. When you or a family member has been injured, it is extremely important that you seek immediate medical attention, as your injuries can lead to serious emotional and physical damages for the rest of your life. I will help you get just compensation for your suffering due to your bus accident matter and help provide the results you are looking for.
My goal at The Law Offices of John M Alton Co, LPA is to take the stress out of your life and to help carry the burden of your personal injury case off your shoulders. If you are facing a bus accident matter in the Gahanna area, count on me for legal guidance. With nearly 25 years of legal experience, I have the know-how and resources to make smooth work of your bus accident case, no matter how complicated it might seem. I can deal with your insurance company. I will go to the appropriate court serving the Gahanna area to get the results that you want.
You need an experienced personal injury lawyer like me at The Law Offices of John M Alton Co, LPA. to have as an ally if you or a loved one has been hurt due to a bus accident accident. Your friends and family are relieved to know that you're OK. But your bills are piling up. Your pain and suffering has made it difficult to do everyday things. Allow The Law Offices of John M Alton Co, LPA to help you now. You deserve justice, and we can help get that for you.
Call our offices today!
While some people might malign the profession, The Law Offices of John M Alton Co, LPA knows that at its heart bus accident cases are about righting a wrong. That knowledge drives our passion and is the reason we come to work every day to serve the Gahanna region. We want you to feel completely comfortable with your bus accident service. Our firm takes steps to disassociate themselves from Gahanna defense counsel and defendants. After 25 years in business, we know where our alliances lay. Contact The Law Offices of John M Alton Co, LPA using the below information to schedule a free consultation:

The Law Offices of John M Alton Co, LPA
1071 S. High Street
Columbus, OH 43206
(614) 221-6751
Related Articles:
Construction Accident Attorney Dayton
,
Bus Accident Lawyer Dublin OH
,
Wrongful Death Lawyer Westerville OH
,
Birth Trauma In Chillicothe OH
,
Loss Of Limb In Chillicothe OH
,
Birth Injury Lawyer Ironton OH
,
Medical Malpractice Lawyer Ashland OH
,
Cerebral Palsy Attorney Urbana OH
,
Maternal Birth Injury Attorney Xenia OH
,
Medical Malpractice Attorney Chillicothe OH
,