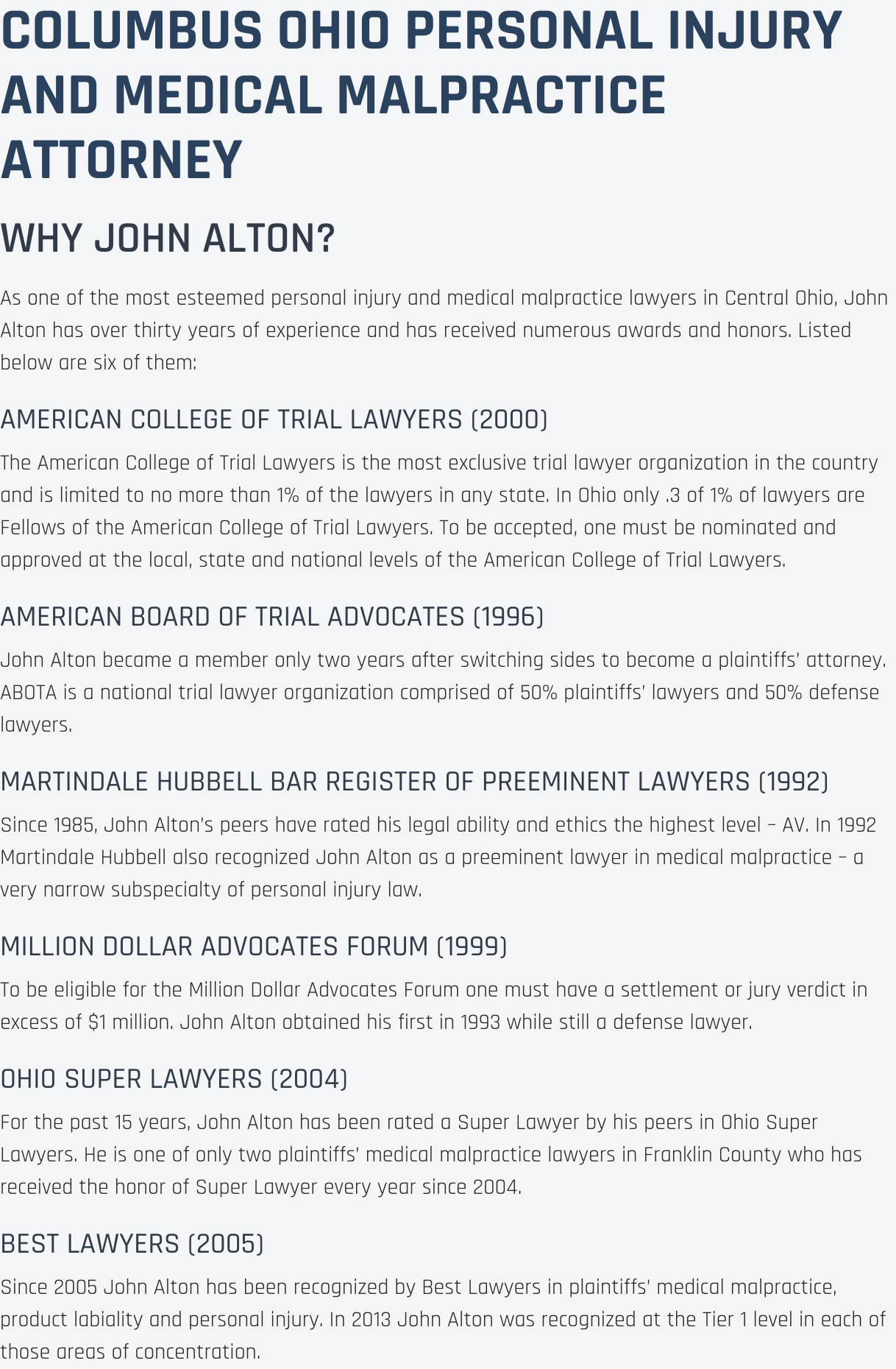 Construction Accident Attorney Columbus
The Law Offices of John M Alton Co, LPA wants to improve your quality of life while you deal with your construction accident issue. I want to provide you with our expertise and experience to make your construction accident matter a thing of the past. Your quality of life and receiving compensation for your construction accident issue is our priority. Allow me the opportunity in Columbus to show you what our services can provide towards finding a just resolution to your construction accident matter now.
At The Law Offices of John M Alton Co, LPA, I help victims recover for past, present and future medical bills, lost income, pain and suffering, disability, emotional distress and more. If your injury required extensive or ongoing medical care, or left you unable to work or seriously hurt, our goal is the same. I want to help you recover from your pain and suffering. The Law Offices of John M Alton Co, LPA represents construction accident victims in Columbus, and throughout the surrounding areas. I have nearly 25 years of experience in the multiple practice area of the law. Allow me the opportunity to serve your interests and resolve your construction accident case now.
The Law Offices of John M Alton Co, LPA has extensive courtroom experience. When it comes to construction accident cases; I have a proven record of challenging even the most powerful opponents with successful outcomes. Every time I am in court on your Columbus construction accident case, you can rest easy knowing that I am fighting for your interests. You will sleep better knowing that your construction accident case is being handled with the utmost attention to detail and skills to achieve the results you want.
The Law Offices of John M Alton Co, LPA is ready to work with you today!
We provide our construction accident legal advice to anyone who is facing hard times in Columbus. For those who prefer face to face meetings, we invite you to visit our offices located at 1071 S. High Street, or if you pref3er a simpler mehtod of communication we invite you to give us a call at (614) 221-6751 and learn more about what we can do for you.
The Law Offices of John M Alton Co, LPA
1071 S. High Street
Columbus, OH 43206
(614) 221-6751
Related Articles:
Nursing Home Abuse Attorney Dayton
,
Auto Wreck Lawyer Hilliard OH
,
Amputation In Delaware OH
,
Birth Trauma In Columbus OH
,
Brachial Plexus Injury In Cambridge OH
,
Loss Of Limb In Circleville OH
,
Personal Injury Lawyer Hillsboro OH
,
Quadriplegia Lawyer Zanesville OH
,
Spinal Cord Injury Lawyer Bellefontaine OH
,
Spinal Cord Injury Lawyer Coshocton OH
,