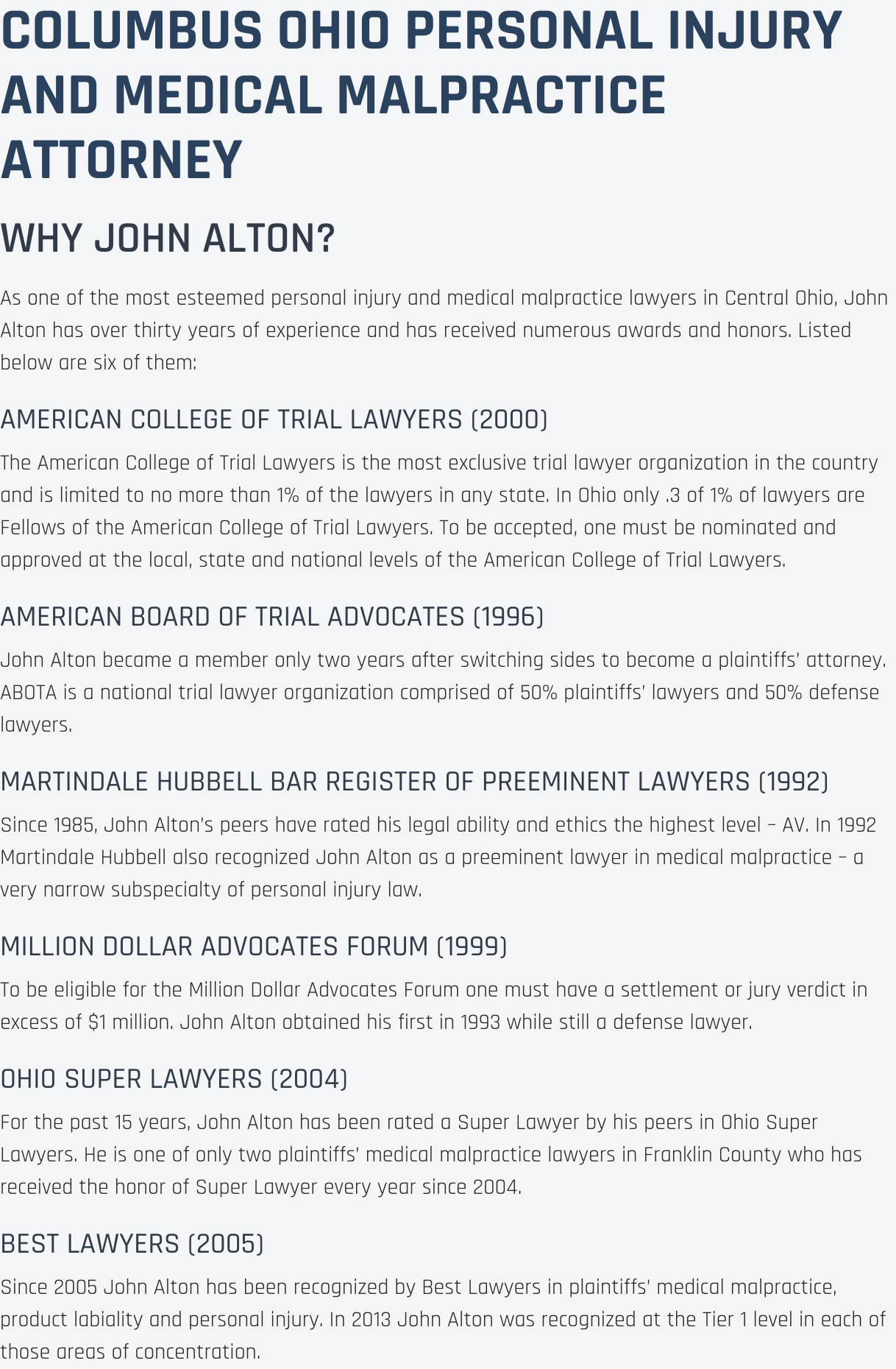 Loss Of Limb In Marysville OH
When you need to recover medical expenses, lost wages, and other expenses necessary to protect your future security and care, you need to contact an advocate who is dedicated to protecting your rights. The Law Offices of John M Alton Co, LPA is here to protect your rights, your assets, and your emotional well-being during your recovery. Your loss of limb matter needs to be resolved with results. You deserve to be treated fairly and receive compensation from the negligent party. I will help you achieve that goal with results.
Here at The Law Offices of John M Alton Co, LPA, I am devoted to being on your side. For loss of limb cases that can get highly complicated in a short matter of time, allow me to craft an effective strategy in dealing with your case. My clients have seen substantial compensation from their loss of limb cases. For my Marysville area clients, I work hard to get them the results that they want. If you or a loved one has had to endure a personal injury accident, allow me to assist your loss of limb case to see what I can do.
All claims of loss of limb matters are unique. Reasons may include different causes, parties or legal issues when it comes to recovering compensation. It is important that you hire a lawyer from The Law Offices of John M Alton Co, LPA who can help you're loss of limb issue. I want to make sure that your loss of limb case and problems are resolved.
Call The Law Offices of John M Alton Co, LPA now and see the results you want!
We understand the difficulty of dealing with the loss of limb legal process while having to deal with the effects of it as well. Call us today at (614) 221-6751 and we will help you get the right compensation to pay of your Marysville hospital bills.
The Law Offices of John M Alton Co, LPA
1071 S. High Street
Columbus, OH 43206
(614) 221-6751