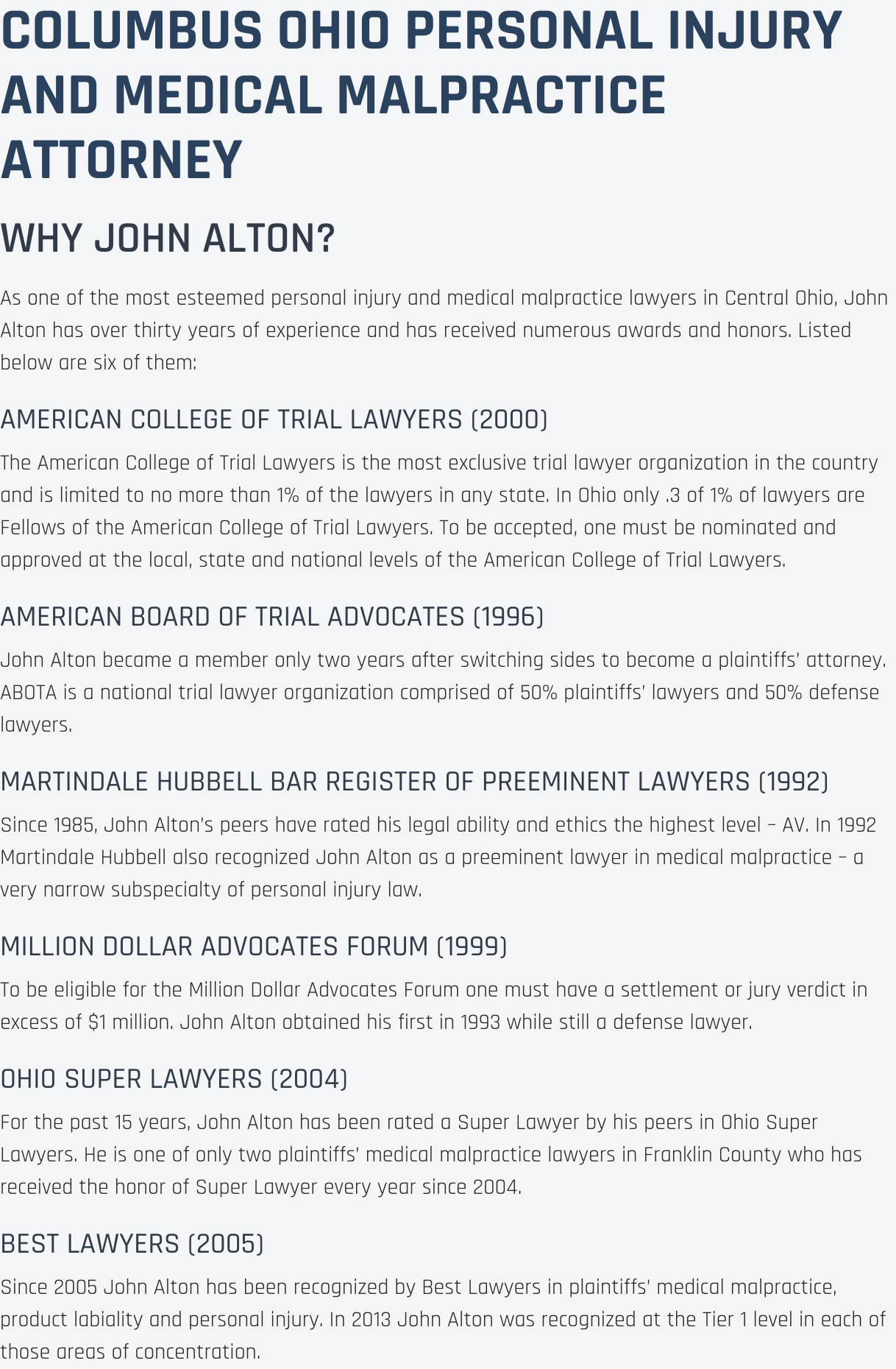 Motorcycle Accident Attorney Columbus
A serious motorcycle accident case can have catastrophic consequences for you and your family. Besides physical pain and suffering, emotional pain can also be an issue. Economics plays a serious role too. You may not be able to work and may have mounting medical bills or other income issues. At The Law Offices of John M Alton Co, LPA, I will fight for your rights to get you the financial compensation you deserve for your pain and suffering. If you are in Columbus or the surrounding area; schedule an appointment to meet with me to discuss your motorcycle accident case.
At The Law Offices of John M Alton Co, LPA, I take great pride in helping our clients resolve their motorcycle accident matter quickly. In our field of practice towards motorcycle accident matters, I am proud to offer to my clients the highest standards in service and results toward resolving your motorcycle accident matter. My experience in Columbus covers a wide range of motorcycle accident cases involving carelessness and disregard for the safety of others. I will help protect your rights and get your compensation for your motorcycle accident matter. With the right legal counsel, your motorcycle accident matter will move forward with ease and less stress toward your daily routine.
If you need legal help to get the financial aid you're missing due to your motorcycle accident accident, The Law Offices of John M Alton Co, LPA is here to assist you now. I will fight to get you just compensation and protect your rights. Your financial priorities and proper medical treatment is important to me. Your pain and suffering is important to me. Attaining for you just compensation is important to me. Reach out to me at The Law Offices of John M Alton Co, LPA, serving the Columbus area, to see how my services can benefit your motorcycle accident matter now.
Call Our Offices Today!
Here at The Law Offices of John M Alton Co, LPA, our lawyers in Columbus have experience handling various motorcycle accident cases. We can provide you with the help you need. Call us at (614) 221-6751. Also, feel free to visit our offices at 1071 S. High Street.
The Law Offices of John M Alton Co, LPA
1071 S. High Street
Columbus, OH 43206
(614) 221-6751