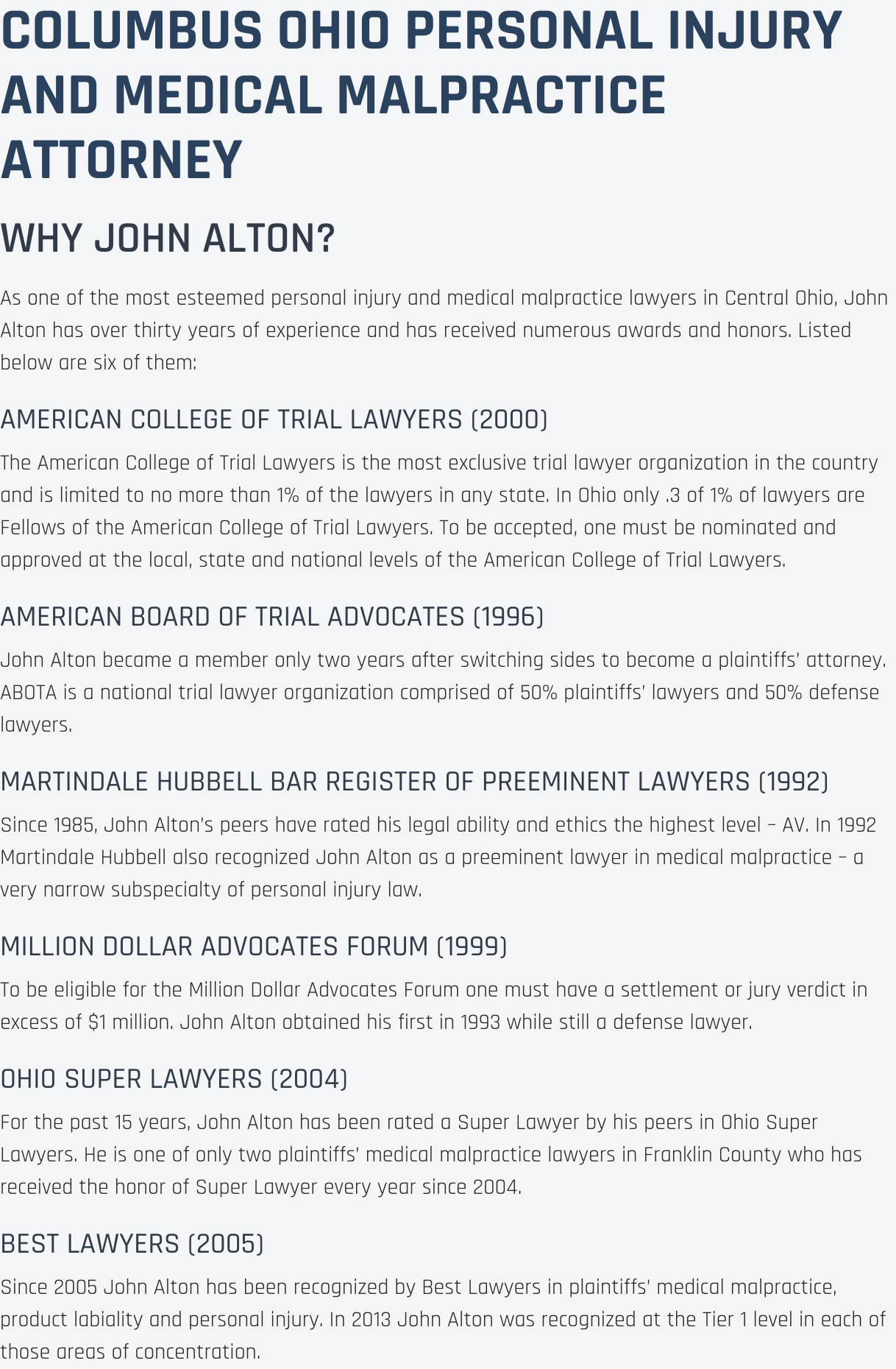 Quadriplegia In Columbus OH
Here at The Law Offices of John M Alton Co, LPA, I am devoted to being on your side. For quadriplegia cases that can get highly complicated in a short matter of time, allow me to craft an effective strategy in dealing with your case. My clients have seen substantial compensation from their quadriplegia cases. For my Columbus area clients, I work hard to get them the results that they want. If you or a loved one has had to endure a personal injury accident, allow me to assist your quadriplegia case to see what I can do.
The Law Offices of John M Alton Co, LPA understands how difficult it can be to deal with any quadriplegia matter. I want to help you with your quadriplegia matter today and help ease your pain and suffering. There are two injuries that could have happened to you; either on the job or in other circumstances. Either your employer is liable, or another involved party besides your employer is liable. The first is resolving your quadriplegia matter and getting you just compensation. I may have to go through an appeals process if you file a claim and it is possibly challenged or denied. The second kind of issue can involve a third-party claim.
The Law Offices of John M Alton Co, LPA has nearly 25 years of legal experience helping people. I will bring that experience to bear on your quadriplegia case. My knowledge and expertise makes me qualified to advocate for you. I am an aggressive and effective attorney who will protect your rights. If you have had any serious issues in Columbus, or the surrounding areas due to a personal injury accident and need representation by a diligent lawyer, The Law Offices of John M Alton Co, LPA. is here to help you. I will not stop fighting for your rights.
For many cases, the most important aspect of the quadriplegia legal representation is settlement negotiations. The Law Offices of John M Alton Co, LPA makes firm demands to the opposing counsel and only stops negotiating when you feel satisfied with a settlement. When you are looking for a quadriplegia firm within the Columbus area, you need someone who will devote adequate resources to your case. We are confident in our initial assessment of your legal rights and use our 25 years of experience to find the best cases. Contact The Law Offices of John M Alton Co, LPA using the information below for a free consultation:

The Law Offices of John M Alton Co, LPA
1071 S. High Street
Columbus, OH 43206
(614) 221-6751

Related Articles:
Bus Accident Lawyer Worthington OH
,
Personal Injury Lawyer Hilliard OH
,
Birth Trauma In Dayton OH
,
Neonatal Intensive Care Errors In Canton OH
,
Medical Malpractice Lawyer Chillicothe OH
,
Personal Injury Lawyer Jackson OH
,
Personal Injury Lawyer Wapakoneta OH
,
Wrongful Death from Birth Injury Lawyer Troy OH
,
Cerebral Palsy Attorney Mount Vernon OH
,
Cerebral Palsy Attorney Sidney OH
,