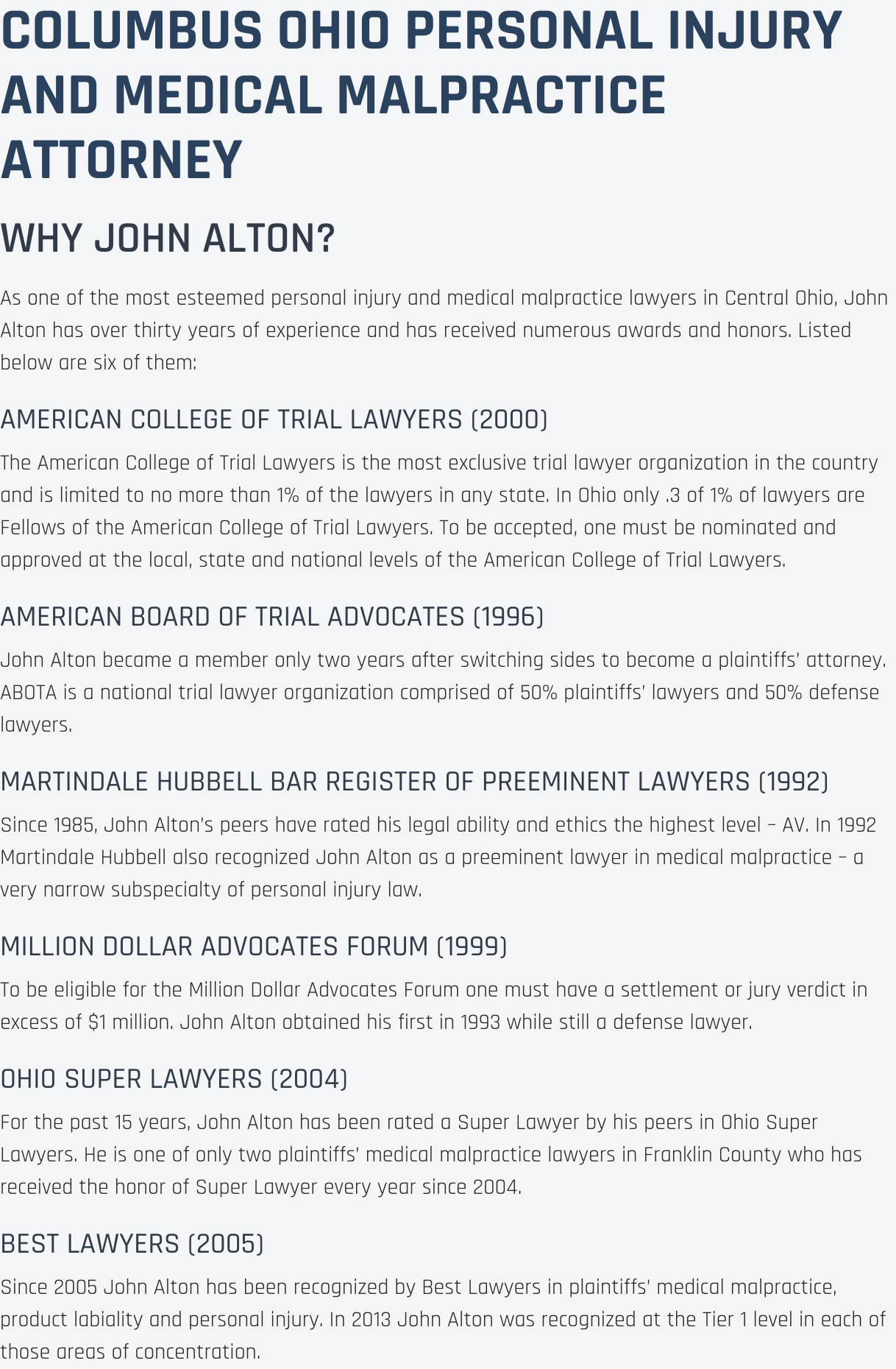 Spinal Cord Injury In Toledo OH
Spinal cord injury matters and your injuries can be the result of a personal injury by someone: at work or other property, defective products, medical malpractice, unsafe workplaces, auto accident and many other factors. They all come with a cost far greater than basic medical expenses. The Law Offices of John M Alton Co, LPA can help get you fair compensation and make sure those at fault are held responsible for their actions, or lack of. You and your family have a long journey ahead. Allow me in Toledo to worry about your spinal cord injury matter so you can concentrate on your recovery.
You may have a lot on your plate at this difficult time, but your recovery has to be your first priority. With my help at The Law Offices of John M Alton Co, LPA, I will serve as a litigation support toward your spinal cord injury issue. You can focus on your rehabilitation; while I focus on obtaining compensation to which you are entitled. Allow my services in Toledo to be helpful to your spinal cord injury situation now.
Here at The Law Offices of John M Alton Co, LPA, I am devoted to being on your side. For spinal cord injury cases that can get highly complicated in a short matter of time, allow me to craft an effective strategy in dealing with your case. My clients have seen substantial compensation from their spinal cord injury cases. For my Toledo area clients, I work hard to get them the results that they want. If you or a loved one has had to endure a personal injury accident, allow me to assist your spinal cord injury case to see what I can do.
Call Our Office Today!
Call (614) 221-6751 today for a confidential review of your spinal cord injury case. You can also visit our offices at 1071 S. High Street in order to speak to us face to face. Let us help you in the Toledo area. Our firm will be able to get you results from your spinal cord injury case.
The Law Offices of John M Alton Co, LPA
1071 S. High Street
Columbus, OH 43206
(614) 221-6751