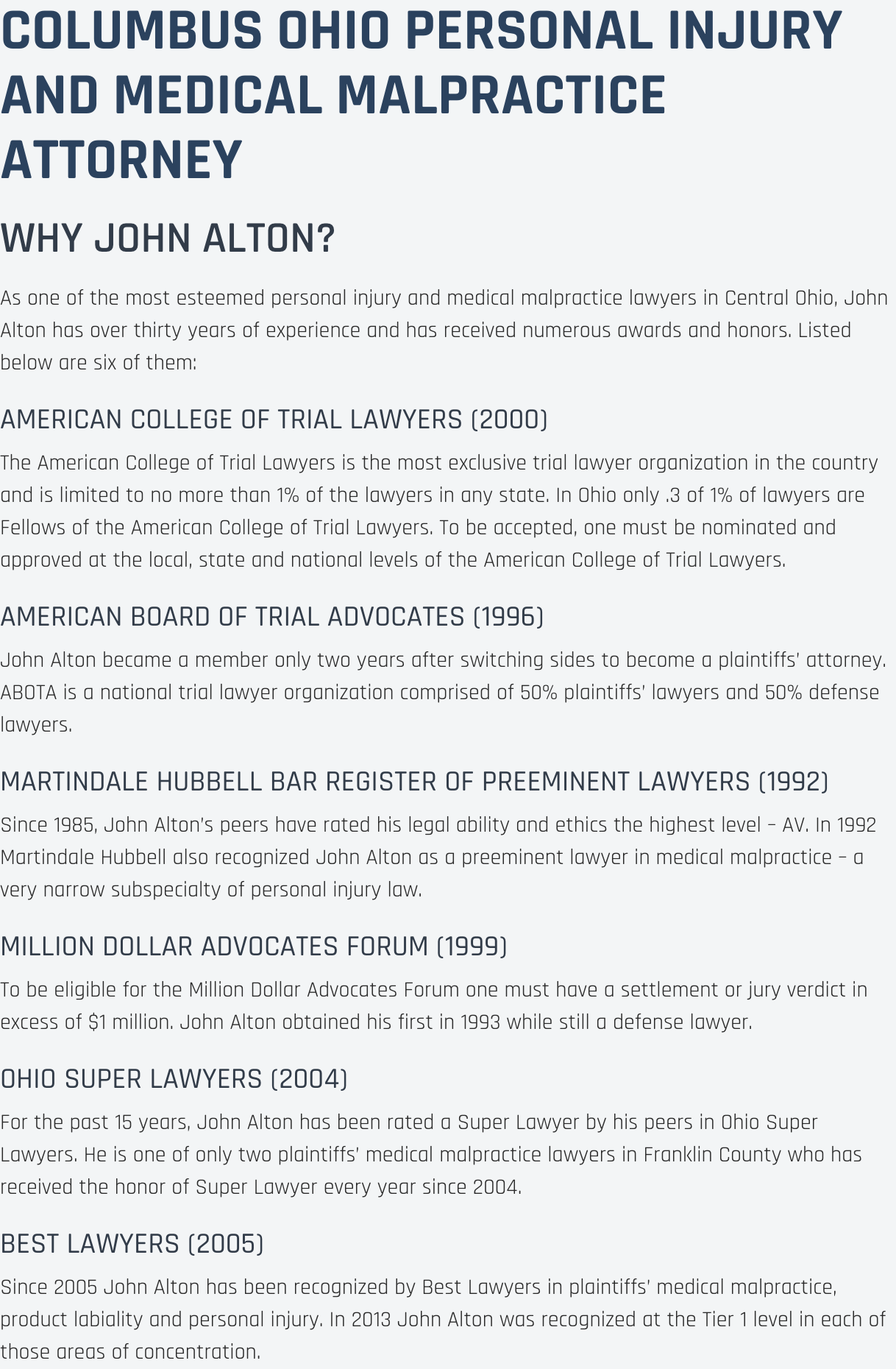 The Law Offices of John M Alton Co, LPA understands that you may be suffering and in pain and dealing with economic loss or emotional distress due to your accident matter. I am here to help improve your quality of life. With my legal guidance, I can help your accident case move forward without all the daily stress. With my nearly 25 years of legal experience, I know how to get the ball rolling on dealing with personal injury matters. Allow me the opportunity to explain to you what my services can offer your accident case today.
The Law Offices of John M Alton Co, LPA wants to help make your bills decrease and lower your daily expenses. I want to improve your current situation about your accident issues and help resolve them. I want to fight for your rights in attaining just compensation for your accident matter as soon as possible. I will take your accident case to court if necessary and help move things forward with hopeful positive results.
At The Law Offices of John M Alton Co, LPA, I take great pride in helping our clients resolve their accident matter quickly. In our field of practice towards accident matters, I am proud to offer to my clients the highest standards in service and results toward resolving your accident matter. My experience in Ohio covers a wide range of accident cases involving carelessness and disregard for the safety of others. I will help protect your rights and get your compensation for your accident matter. With the right legal counsel, your accident matter will move forward with ease and less stress toward your daily routine.
Call our offices today!
At The Law Offices of John M Alton Co, LPA we believe that anyone who is a victim of any accident action should get the highest level of personal service and professional representation possible. We do not just represent you as a law firm; we act as your advocates as we fight for your legal rights in any accident case within the Ohio area. At The Law Offices of John M Alton Co, LPA we understand you need time to recover from your accident ordeal moreover an opportunity to regain some sense of normalcy. Call us today at (614) 221-6751 or visit our offices at 1071 S. High Street.
The Law Offices of John M Alton Co, LPA
1071 S. High Street
Columbus, OH 43206
(614) 221-6751
Related Articles:
Auto Accident Attorney Ohio
,
Brain Injury Attorney Ohio
,
Medical Malpractice Attorney Columbus
,
Maternal Injuries During Birth In Cleveland OH
,
Neonatal Intensive Care Errors In Circleville OH
,
Brain Damaged Baby Lawyer McConnelsville OH
,
Medical Malpractice Lawyer Urbana OH
,
Personal Injury Lawyer Pomeroy OH
,
Quadriplegia Lawyer Ironton OH
,
Cerebral Palsy Attorney Marietta OH
,