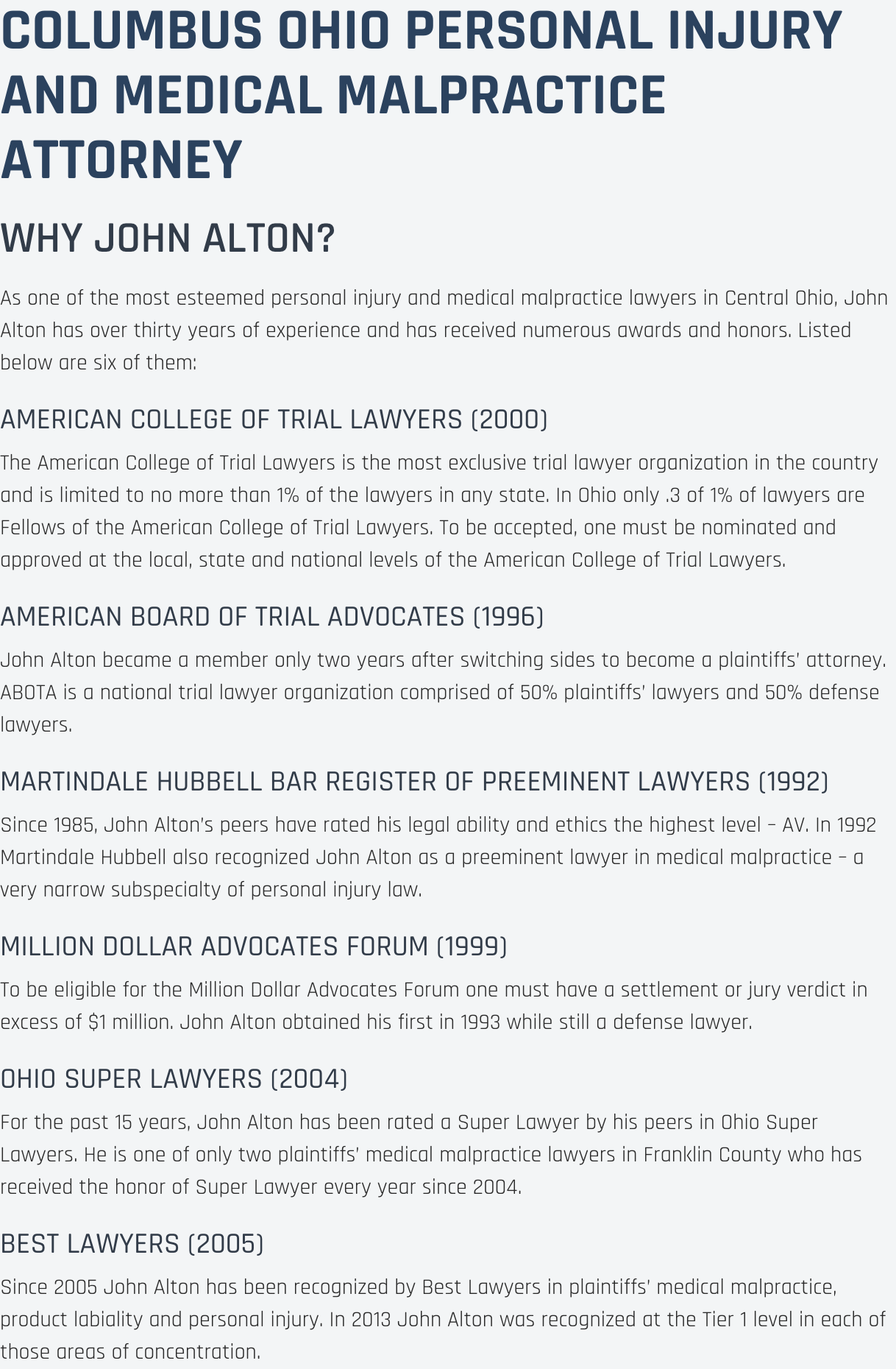 Accident Lawyer Upper Arlington OH
If you have suffered a personal injury in any kind of accident and someone else is to blame, you should speak with an attorney at The Law Offices of John M Alton Co, LPA. Waiting too long to meet with a accident lawyer could leave you permanently injured without any just compensation. I have nearly 25 years of experience of legal expertise. I understand what it takes and will try hard to achieve the results that you want.
The Law Offices of John M Alton Co, LPA wants to improve your quality of life while you deal with your accident issue. I want to provide you with our expertise and experience to make your accident matter a thing of the past. Your quality of life and receiving compensation for your accident issue is our priority. Allow me the opportunity in Upper Arlington to show you what our services can provide towards finding a just resolution to your accident matter now.
Allow The Law Offices of John M Alton Co, LPA., serving Upper Arlington and the surround area, the opportunity to assist you with your accident matter. I want to help you heal from any physical and emotional scars you may have suffered. You deserve just compensation for your pain and suffering. That includes your emotional harm. I will put in all of his efforts to achieve your goals in your personal injury case. Protecting your rights and prosecuting your case is of the utmost importance to me.
Contact Us Today!
Contact The Law Offices of John M Alton Co, LPA for your accident needs in the Upper Arlington area. You can reach us at (614) 221-6751 or visit our offices at 1071 S. High Street.
The Law Offices of John M Alton Co, LPA
1071 S. High Street
Columbus, OH 43206
(614) 221-6751
Related Articles:
Catastrophic Injury Attorney Columbus
,
Truck Accident Lawyer Hilliard OH
,
Loss Of Limb In Canton OH
,
Mediator In Findlay OH
,
Quadriplegia In Cleveland OH
,
Arbitration Lawyer Cincinnati OH
,
Arbitration Lawyer Columbus OH
,
Birth Injury Lawyer Xenia OH
,
Medical Malpractice Lawyer Xenia OH
,
Spinal Cord Injury Lawyer Xenia OH
,