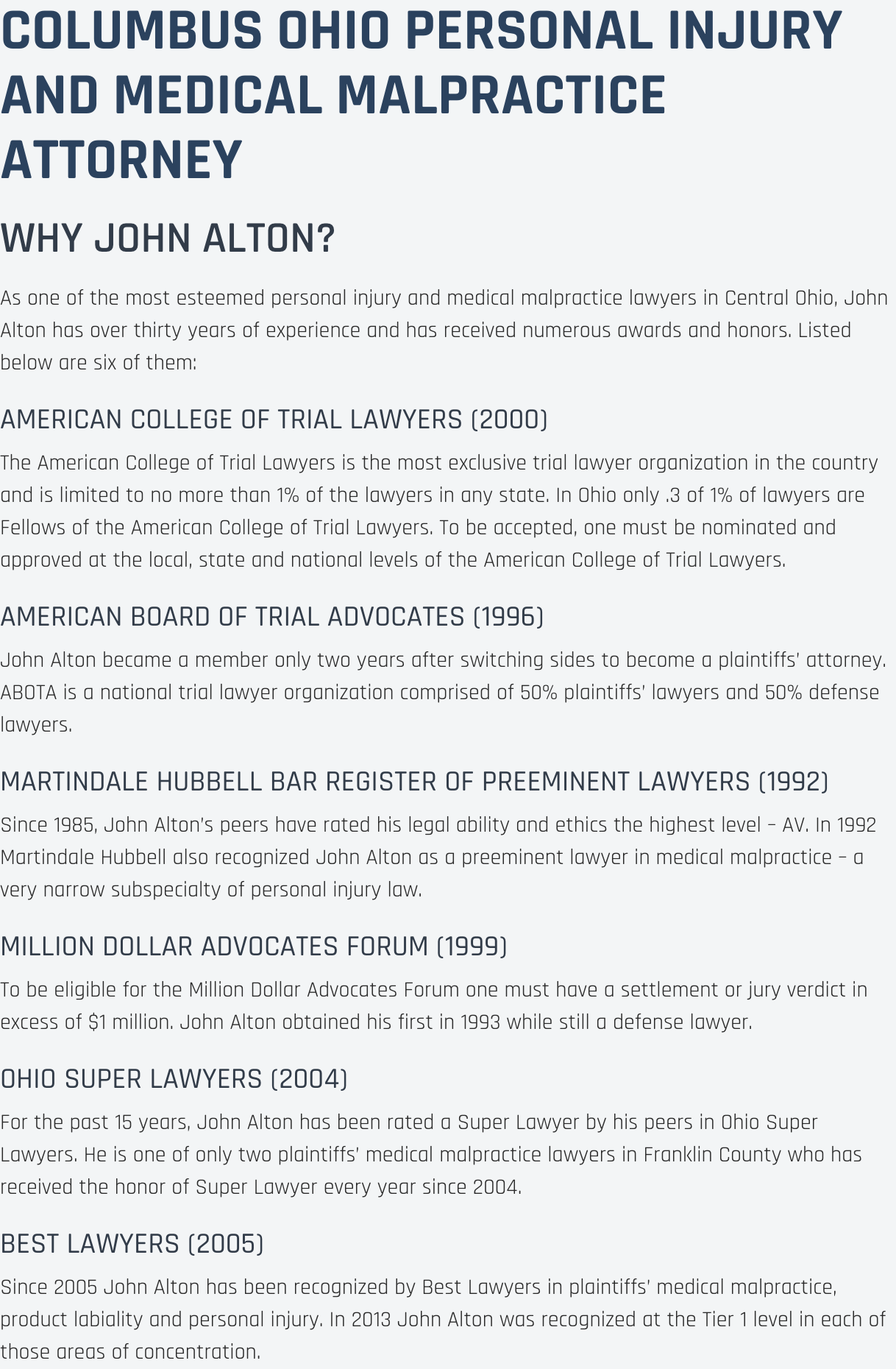 Accident Lawyer Westerville OH
The Law Offices of John M Alton Co, LPA wants to help you get compensation for your suffering. Your accident matter should not be ignored. Your pain and suffering should be compensated for having to deal with such a accident matter. If you are being affected detrimentally due to your accident issue, allow me to represent you now in Westerville and the surrounding area.
At The Law Offices of John M Alton Co, LPA, I have background experience with those types of large law firms notorious for their grit in the courtroom. My know how experience, commitment and personal individual attention about your accident matter is crucial when it comes to upholding justice for victims like you. If you are in the Westerville area and are looking to attain the most beneficial legal counsel to deal with your accident matter now. I am here to assist you.
The Law Offices of John M Alton Co, LPA has extensive courtroom experience. When it comes to accident cases; I have a proven record of challenging even the most powerful opponents with successful outcomes. Every time I am in court on your Westerville accident case, you can rest easy knowing that I am fighting for your interests. You will sleep better knowing that your accident case is being handled with the utmost attention to detail and skills to achieve the results you want.
Call our offices today!
The system does not have anyone to look out for regular people, but by hiring The Law Offices of John M Alton Co, LPA as your legal representation, you can begin to fight back against people who do not care about your life. A large part of our representation, in your accident case, will be geared towards communicating the status of your case. We have found after 25 years the best outcomes happen when the client is kept informed of their interests. Call our office using the information below to speak with a Westerville area representative:

The Law Offices of John M Alton Co, LPA
1071 S. High Street
Columbus, OH 43206
(614) 221-6751