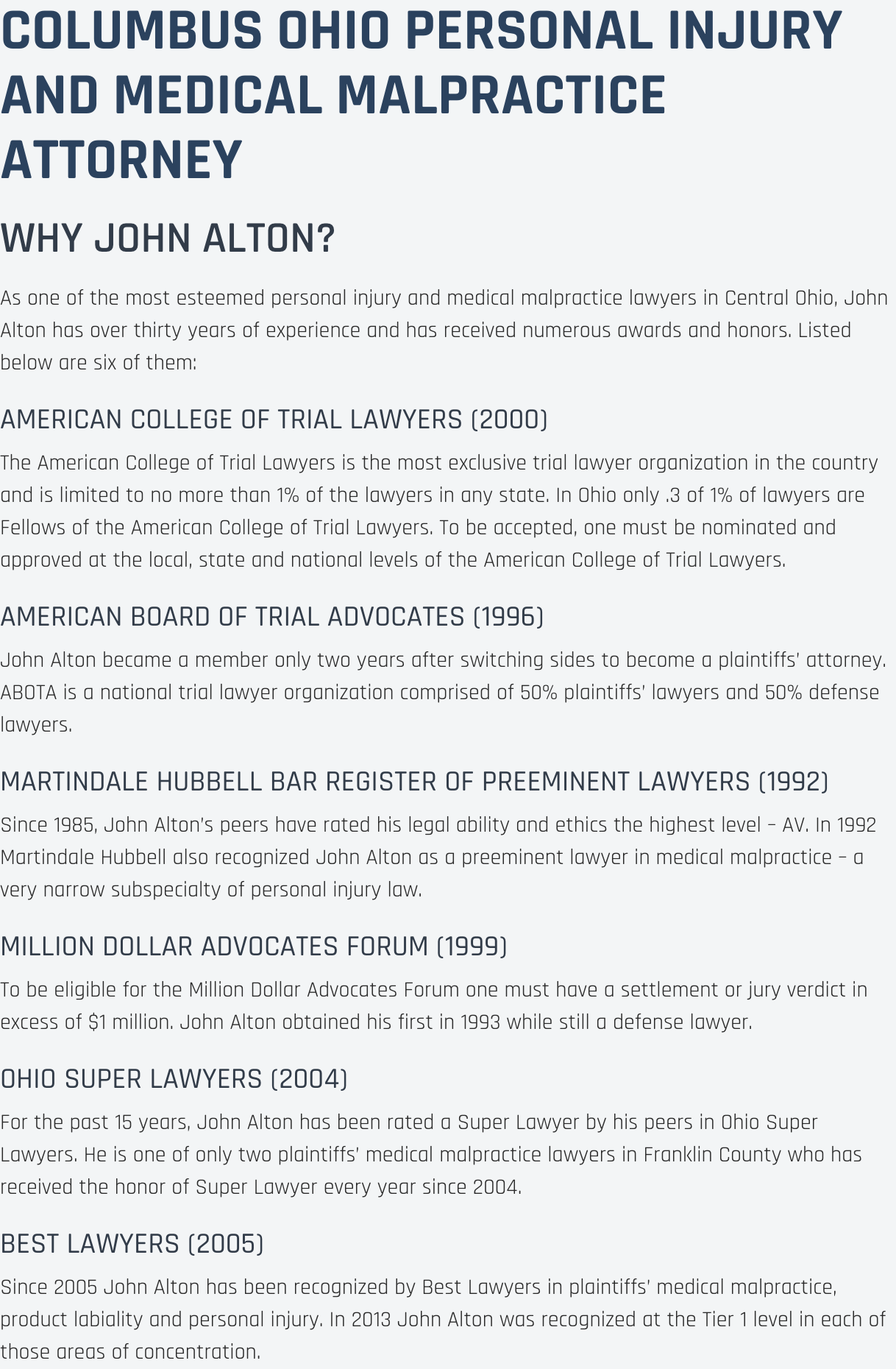 Amputation Attorney Columbus
With The Law Offices of John M Alton Co, LPA in your corner, you can rest easy knowing that I will be working on your amputation case without delay. I want to see your pain and suffering disappear. I want to help you find a resolution to your amputation matter that will be both financially and emotionally gratifying for you. The Law Offices of John M Alton Co, LPA can assist you in Columbus and the surrounding area. My final intent is to get you real results and back on track in life. I want to resolve your amputation case as quickly as possible.
If someone close to you has suffered in a amputation matter due to the negligent, reckless, or intentional behavior of another party, it is crucial that you contact a skilled and compassionate amputation attorney as soon as possible to discuss the option of filing a wrongful death claim. I am here to help you with your amputation matter now. I will put my best foot forward to help you resolve your amputation matter and find you a just resolution that fits your wants and needs.
The Law Offices of John M Alton Co, LPA knows that when someone suffers a personal injury in Columbus, there are always many questions to ask. Who was at fault? Will I ever recover? Should I speak with a lawyer? The answer to these questions is yes. Sometimes, people who are hurt in an accident feel that they cannot do anything about it. Speaking with an experienced attorney, like me at The Law Offices of John M Alton Co, LPA, is the most appropriate step a person can take to start resolving their current amputation issues.
Work with our team!
We are ready in Columbus to help you through your amputation case. Give us the chance to build a defense that will get you the results you want in the Columbus area. Give us a call today at (614) 221-6751 to learn more about what we can do.
The Law Offices of John M Alton Co, LPA
1071 S. High Street
Columbus, OH 43206
(614) 221-6751