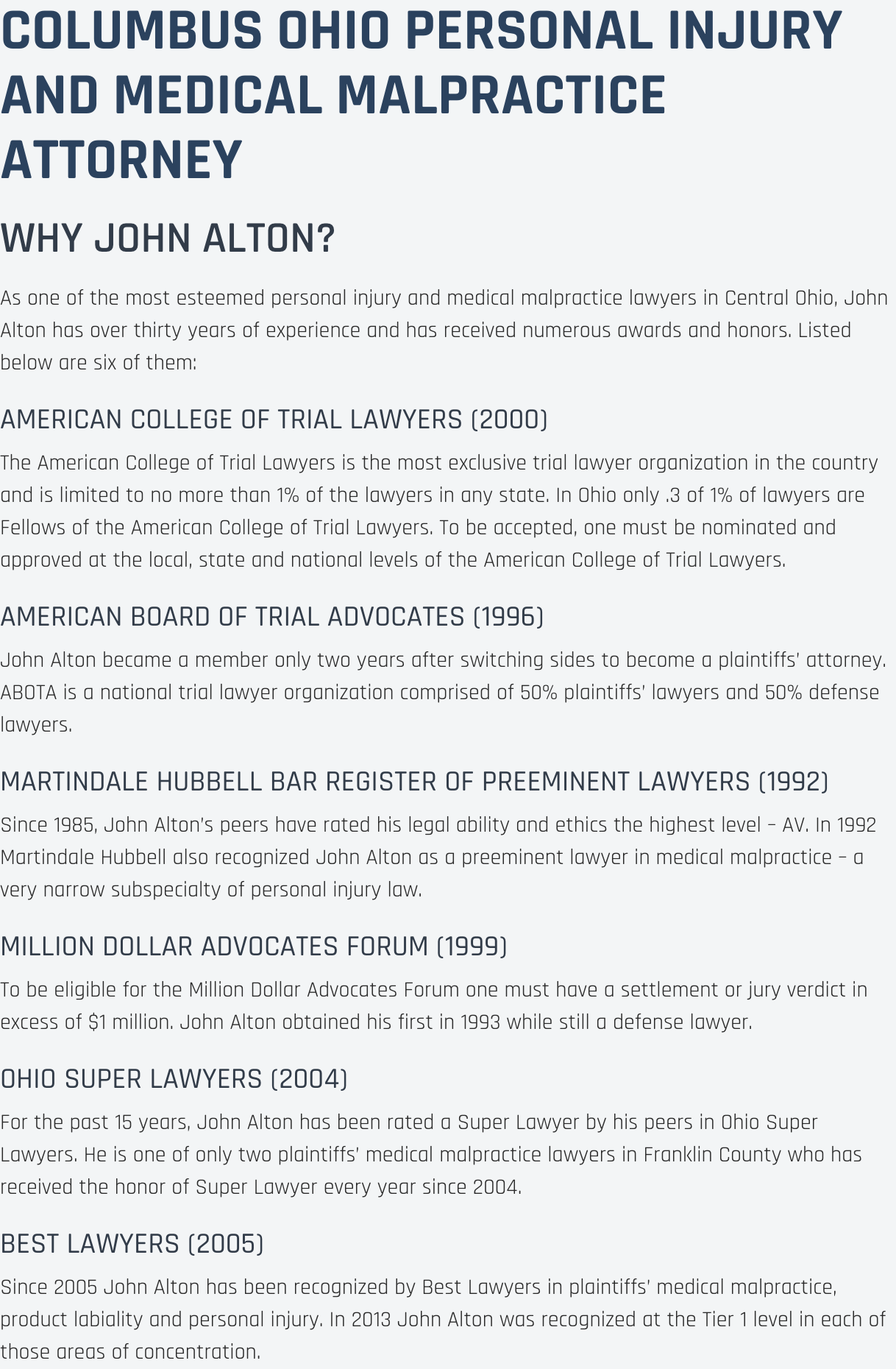 Amputation matters and your injuries can be the result of a personal injury by someone: at work or other property, defective products, medical malpractice, unsafe workplaces, auto accident and many other factors. They all come with a cost far greater than basic medical expenses. The Law Offices of John M Alton Co, LPA can help get you fair compensation and make sure those at fault are held responsible for their actions, or lack of. You and your family have a long journey ahead. Allow me in Ohio to worry about your amputation matter so you can concentrate on your recovery.
In the unfortunate event that you are hurt in a amputation accident, or someone close to you is injured or killed, it is important to call on a dependable, local lawyer and firm like The Law Offices of John M Alton Co, LPA for help. Medical expenses, wage losses and other financial issues are certain to follow after a amputation accident happens to you. I am here to assist you in Ohio and the surrounding areas today.
A serious amputation case can have catastrophic consequences for you and your family. Besides physical pain and suffering, emotional pain can also be an issue. Economics plays a serious role too. You may not be able to work and may have mounting medical bills or other income issues. At The Law Offices of John M Alton Co, LPA, I will fight for your rights to get you the financial compensation you deserve for your pain and suffering. If you are in Ohio or the surrounding area; schedule an appointment to meet with me to discuss your amputation case.
Call Our Offices Today!
Here at The Law Offices of John M Alton Co, LPA, our lawyers in Ohio have experience handling various amputation cases. We can provide you with the help you need. Call us at (614) 221-6751. Also, feel free to visit our offices at 1071 S. High Street.
The Law Offices of John M Alton Co, LPA
1071 S. High Street
Columbus, OH 43206
(614) 221-6751
Related Articles:
Motorcycle Accident Attorney Columbus
,
Nursing Home Abuse Attorney Dayton
,
Tractor Trailer Accident Attorney Dayton
,
Accident Lawyer Hilliard OH
,
Personal Injury Lawyer Hilliard OH
,
Amputation In Cincinnati OH
,
Birthing Complications In Cambridge OH
,
Neonatal Intensive Care Errors In Lancaster OH
,
Personal Injury Lawyer Hillsboro OH
,
Wrongful Death Attorney Jackson OH
,