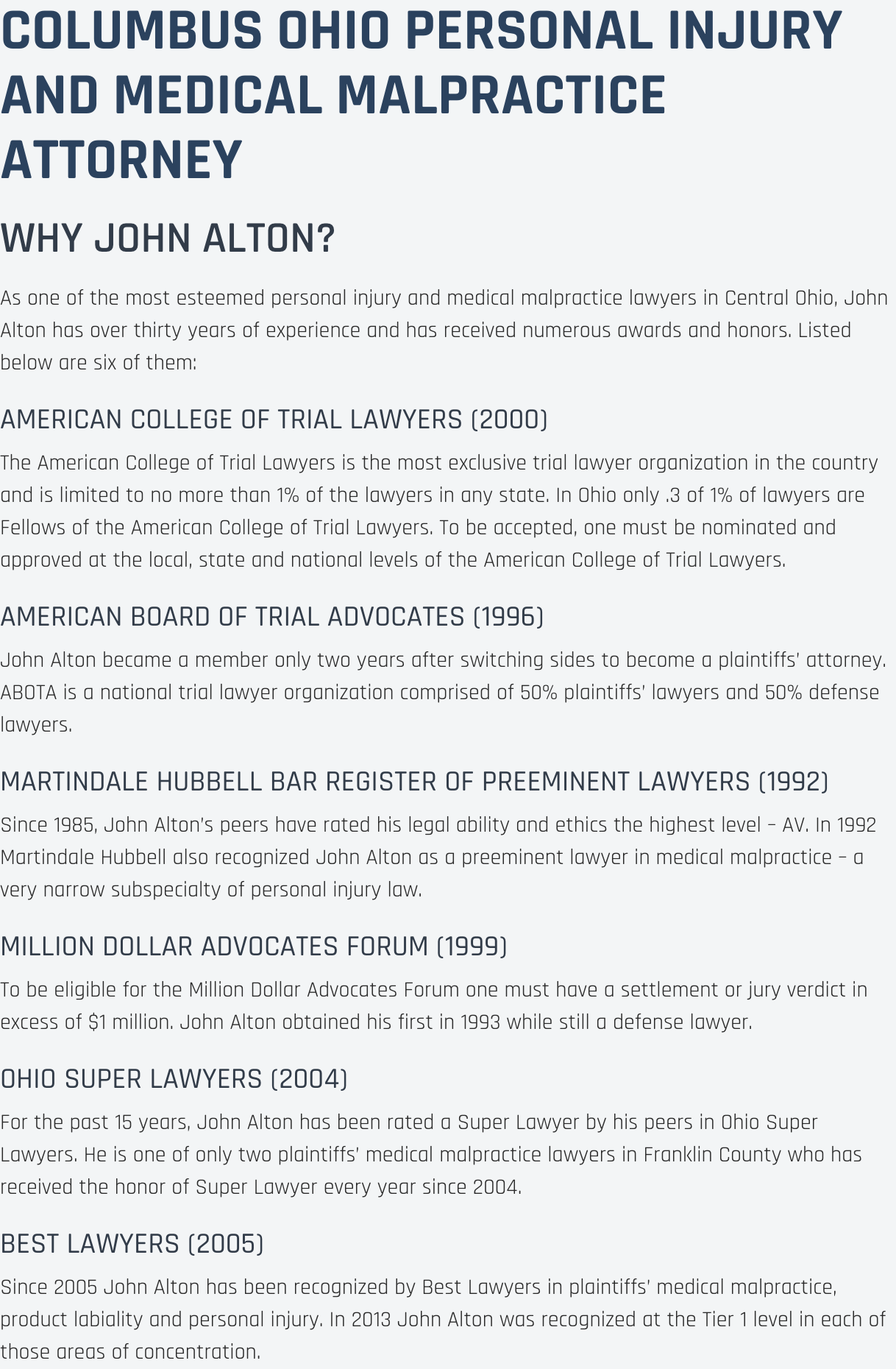 Auto Accident Attorney Columbus
The Law Offices of John M Alton Co, LPA will find you the appropriate resolution to your pain and suffering in a court of law. You should be compensated financially for any suffering you have endured due to your auto accident issue. If someone has been negligent to you or caused harm or distress; I am here to assist you with all my effort.
Dealing with a auto accident matter and need professional legal counsel? I can help you in Columbus. My experience with auto accident cases has been to be as precise, detailed and accurate as possible to best help you. I know how to deal with your case. I walk my clients through the process and have a record of successfully recovering the maximum just compensation capable for my clients. Allow me the opportunity to assist your auto accident matter with the legal guidance that will show results.
With my nearly 25 years of legal experience working in the Columbus area, I know how to make successful arguments to give you a better chance to get the compensation that you deserve. I know the stall tactics and tricks that insurance companies in the Columbus area may use. I will cut through these matters to save time. I want to move your auto accident case's chances forward; with a positive approach and final goal. I aim to achieve successful results.
Contact Our Columbus Area Professionals Today
Our Columbus auto accident attorneys represent clients who do not want to go through these claims alone. The Law Offices of John M Alton Co, LPA is here to help you. Call us at (614) 221-6751, or come to our offices at 1071 S. High Street.
The Law Offices of John M Alton Co, LPA
1071 S. High Street
Columbus, OH 43206
(614) 221-6751
Related Articles:
Accident Lawyer Westerville OH
,
Arbitrator In Akron OH
,
Birthing Complications In Cincinnati OH
,
Caesarean Section Errors In Cleveland OH
,
Negligent Injury In Zanesville OH
,
Quadriplegia In Akron OH
,
Quadriplegia In Cincinnati OH
,
Quadriplegia In Toledo OH
,
Medical Malpractice Lawyer New Lexington OH
,
Personal Injury Lawyer Mount Gilead OH
,