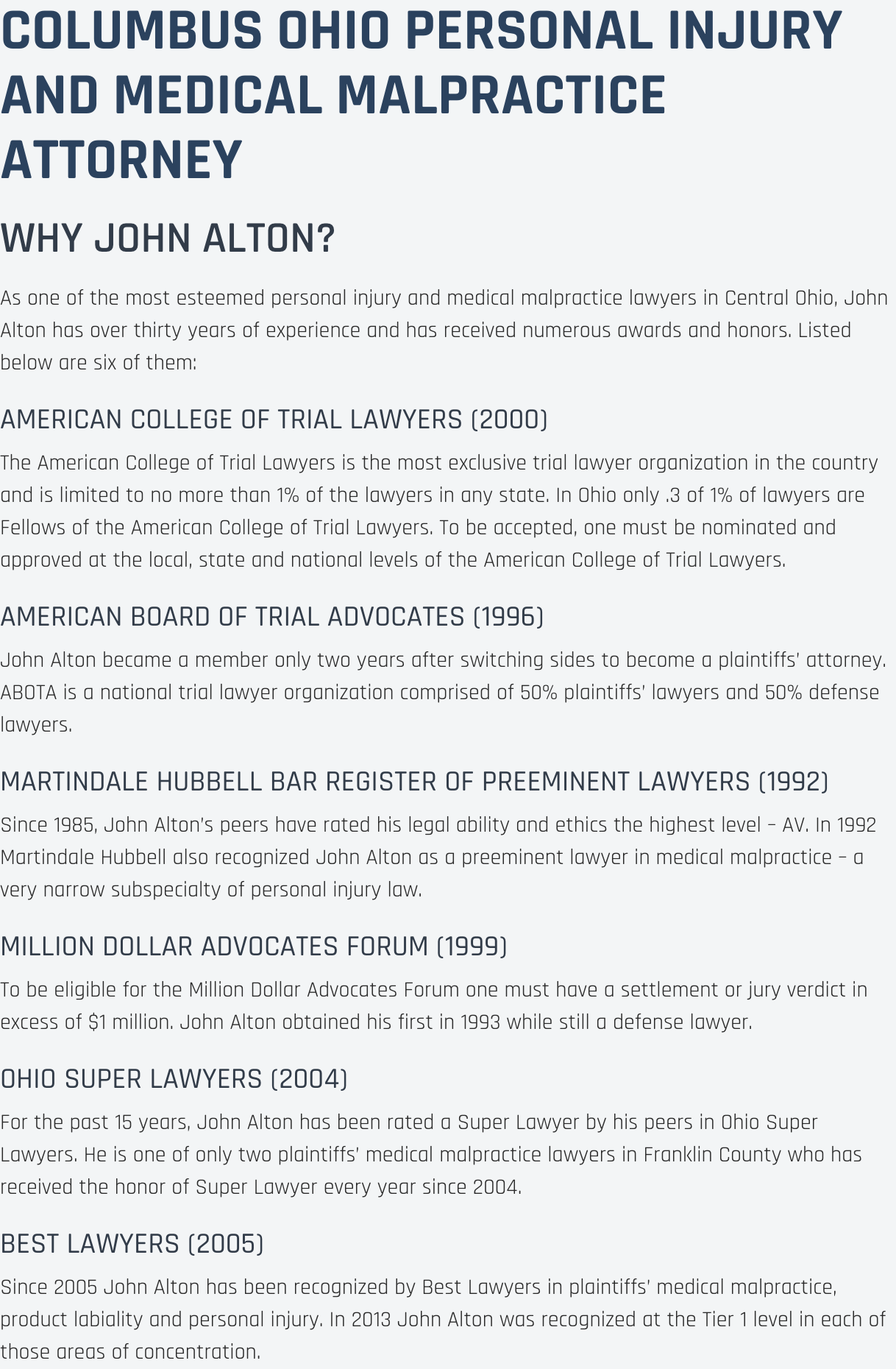 Auto Accident Attorney Ohio
Being in a auto accident matter due to the negligence of someone else can impact your daily life in multiple aspects. The burden of bills and expenses at this difficult time are adding up and are not beneficial. When you have to take time off from work to recover, rising debts for repairs and daily expenses can start to add up, causing even more stress. Allow my services from The Law Offices of John M Alton Co, LPA the opportunity to help you resolve these issues. I want to take away the hassle of your worrying every day. I will fight for your rights and help get you just compensation.
Allow The Law Offices of John M Alton Co, LPA., serving Ohio and the surround area, the opportunity to assist you with your auto accident matter. I want to help you heal from any physical and emotional scars you may have suffered. You deserve just compensation for your pain and suffering. That includes your emotional harm. I will put in all of his efforts to achieve your goals in your personal injury case. Protecting your rights and prosecuting your case is of the utmost importance to me.
With The Law Offices of John M Alton Co, LPA in your corner, you can rest easy knowing that I will be working on your auto accident case without delay. I want to see your pain and suffering disappear. I want to help you find a resolution to your auto accident matter that will be both financially and emotionally gratifying for you. The Law Offices of John M Alton Co, LPA can assist you in Ohio and the surrounding area. My final intent is to get you real results and back on track in life. I want to resolve your auto accident case as quickly as possible.
Contact Us for Legal Help in Ohio
No matter where you are in Ohio, our attorneys will be able to help you through your auto accident case. Contact us, The Law Offices of John M Alton Co, LPA, at (614) 221-6751 and you will not have to face your legal process alone.
The Law Offices of John M Alton Co, LPA
1071 S. High Street
Columbus, OH 43206
(614) 221-6751