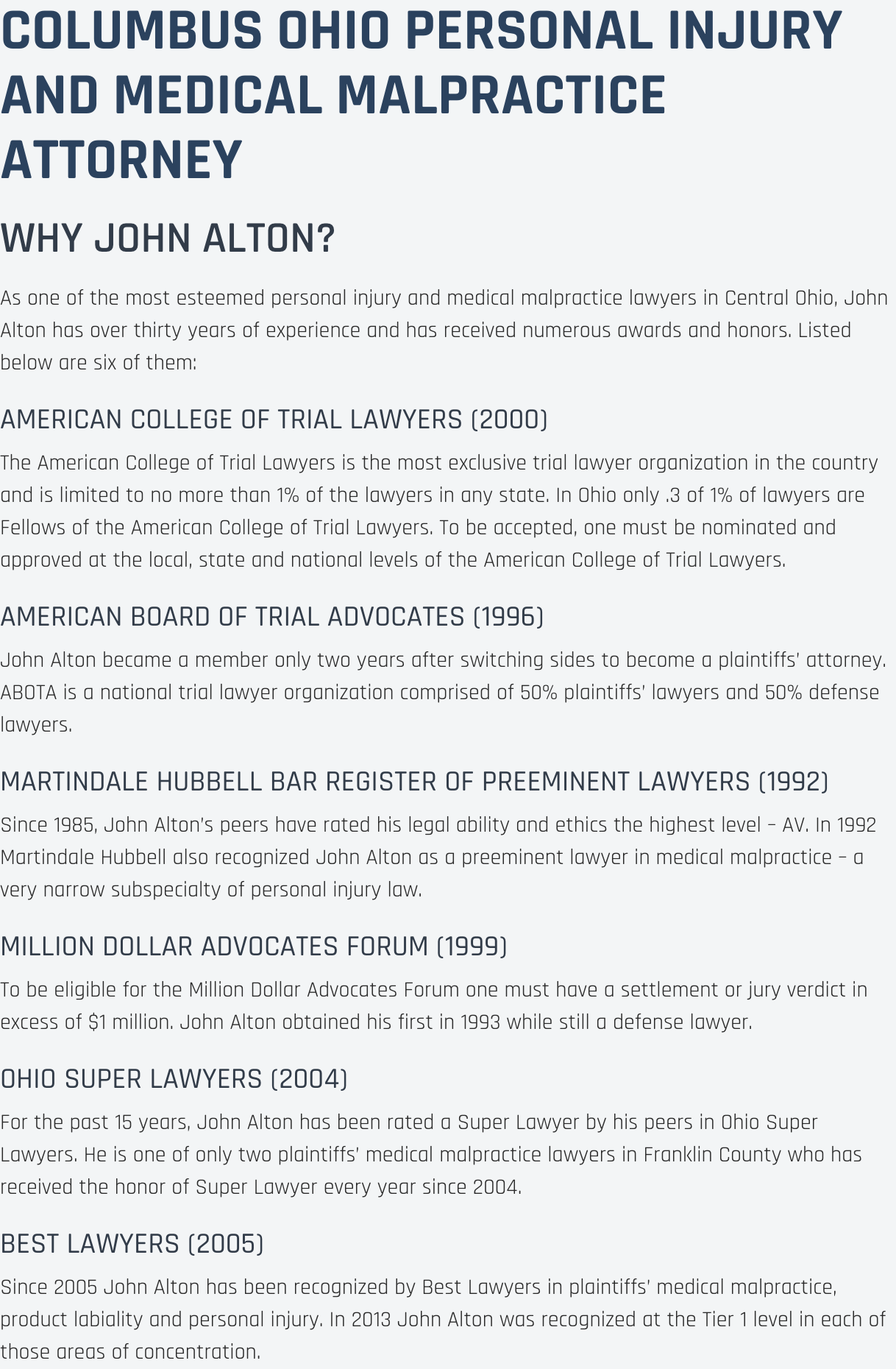 Auto Accident Attorney Ohio
If you have suffered a personal injury in any kind of accident and someone else is to blame, you should speak with an attorney at The Law Offices of John M Alton Co, LPA. Waiting too long to meet with a auto accident lawyer could leave you permanently injured without any just compensation. I have nearly 25 years of experience of legal expertise. I understand what it takes and will try hard to achieve the results that you want.
The Law Offices of John M Alton Co, LPA will provide you with the appropriate legal counsel, guidance and services necessary to move your auto accident case forward in a progressive manner. I am here to serve you. I want to help your current legal situation progress in the right direction.
The last thing on your mind after a auto accident incident is to obtain legal representation. The Law Offices of John M Alton Co, LPA wants to help you now. When you or a family member has been injured, it is extremely important that you seek immediate medical attention, as your injuries can lead to serious emotional and physical damages for the rest of your life. I will help you get just compensation for your suffering due to your auto accident matter and help provide the results you are looking for.
Contact Us for Legal Help in Ohio
No matter where you are in Ohio, our attorneys will be able to help you through your auto accident case. Contact us, The Law Offices of John M Alton Co, LPA, at (614) 221-6751 and you will not have to face your legal process alone.
The Law Offices of John M Alton Co, LPA
1071 S. High Street
Columbus, OH 43206
(614) 221-6751
Related Articles:
Brain Injury Attorney Columbus
,
Amputation In Columbus OH
,
Amputation In Sandusky OH
,
Negligent Injury In Cincinnati OH
,
Medical Malpractice Lawyer Urbana OH
,
Quadriplegia Lawyer Circleville OH
,
Quadriplegia Lawyer London OH
,
Medical Malpractice Attorney Mount Gilead OH
,
Wrongful Death Attorney McConnelsville OH
,
Wrongful Death Attorney Wilmington OH
,