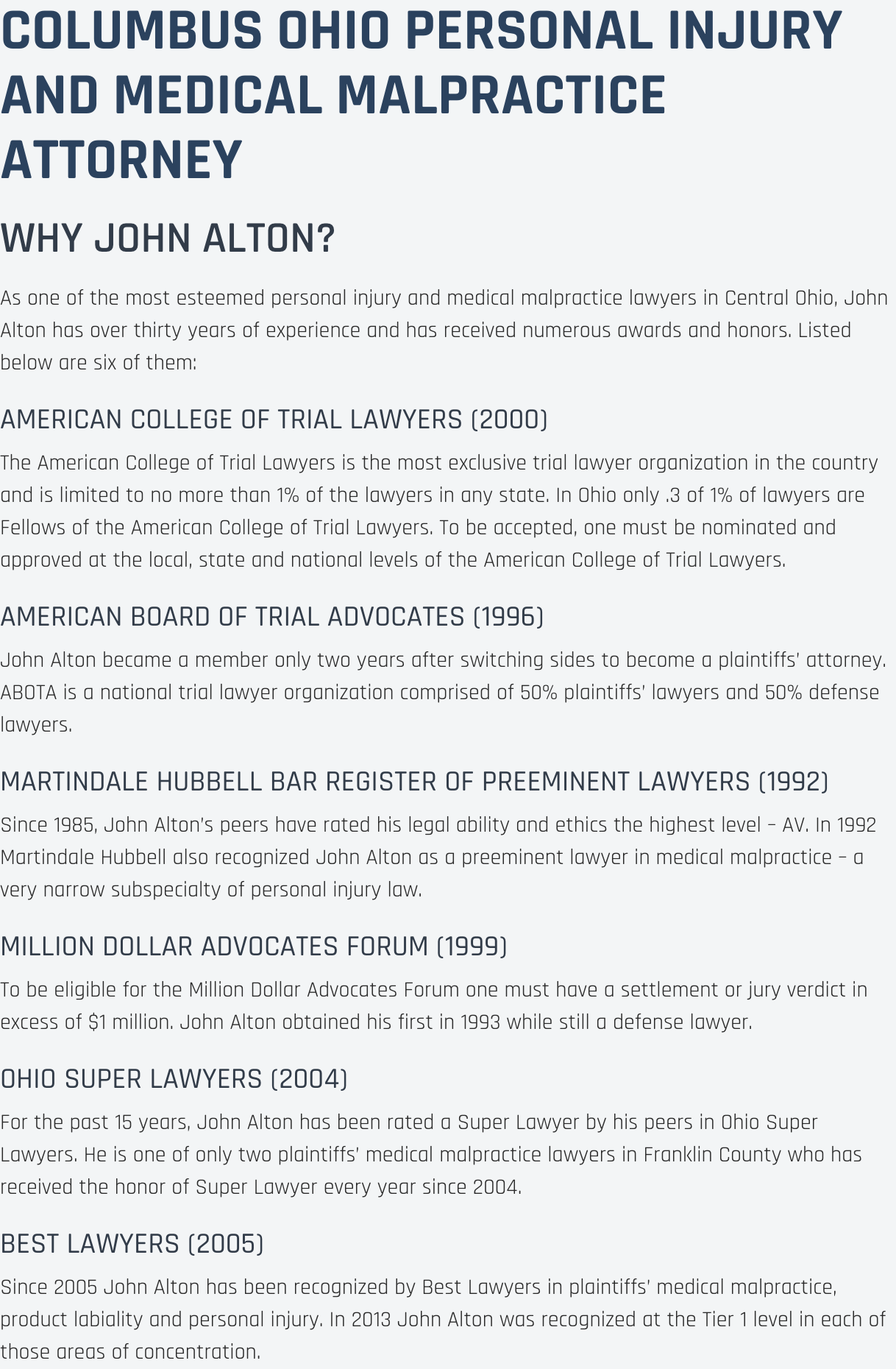 Birth Injury Attorney Ohio
When you need to recover medical expenses, lost wages, and other expenses necessary to protect your future security and care, you need to contact an advocate who is dedicated to protecting your rights. The Law Offices of John M Alton Co, LPA is here to protect your rights, your assets, and your emotional well-being during your recovery. Your birth injury matter needs to be resolved with results. You deserve to be treated fairly and receive compensation from the negligent party. I will help you achieve that goal with results.
The Law Offices of John M Alton Co, LPA will provide you with the appropriate legal counsel, guidance and services necessary to move your birth injury case forward in a progressive manner. I am here to serve you. I want to help your current legal situation progress in the right direction.
At The Law Offices of John M Alton Co, LPA, I have background experience with those types of large law firms notorious for their grit in the courtroom. My know how experience, commitment and personal individual attention about your birth injury matter is crucial when it comes to upholding justice for victims like you. If you are in the Ohio area and are looking to attain the most beneficial legal counsel to deal with your birth injury matter now. I am here to assist you.
Looking for legal help?
Trust the professional team at The Law Offices of John M Alton Co, LPA! We can help you through your birth injury case in the Ohio area. All you have to do is give us a call at (614) 221-6751. You can even visit our offices at 1071 S. High Street to get the help you need.
The Law Offices of John M Alton Co, LPA
1071 S. High Street
Columbus, OH 43206
(614) 221-6751