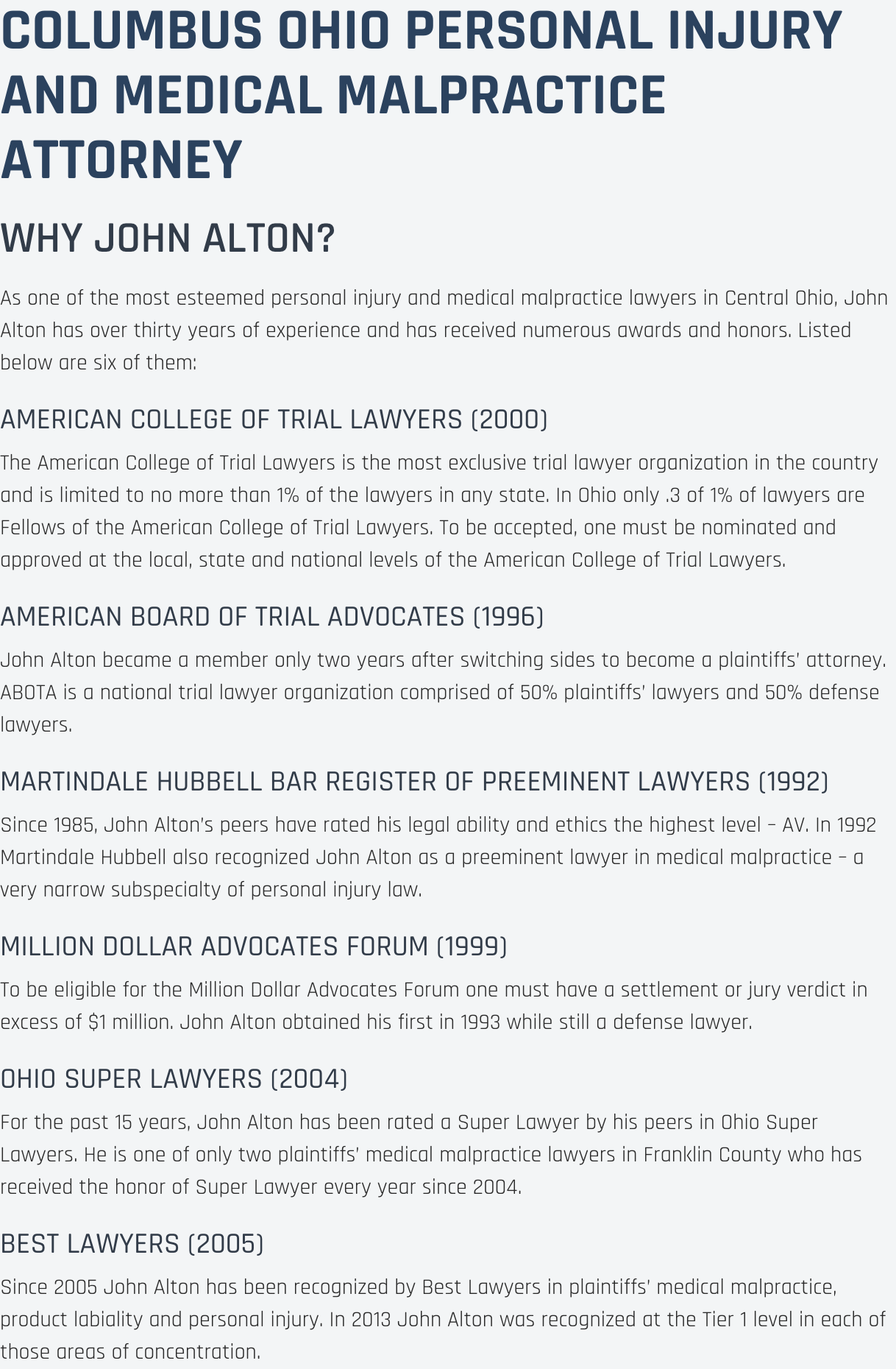 Birth Injury Lawyer Bucyrus OH
The Law Offices of John M Alton Co, LPA will find you the appropriate resolution to your pain and suffering in a court of law. You should be compensated financially for any suffering you have endured due to your birth injury issue. If someone has been negligent to you or caused harm or distress; I am here to assist you with all my effort.
There are a multitude of different issues involved in any birth injury claim. If you are in the Bucyrus area, avoid jeopardizing your claim by working with inexperienced attorneys. The Law Offices of John M Alton Co, LPA has 25 years of experience, and you can confide in me to meet your needs in the Bucyrus area.
If you have had a birth injury matter happen in your life and need help, The Law Offices of John M Alton Co, LPA is here for you. I can assure you that we will always act with the utmost respect for your feelings and with the highest ethical standards. I will work hard to find a fair solution that works for you to make your birth injury a thing of the past emotionally and financially, and win your battle. We are very thorough with all birth injury matters, and will treat your situation with the highest priority and concern.
Call our offices today!
Insurance companies, corporations, and defendants will try to fool you into hurting your birth injury case. The Law Offices of John M Alton Co, LPA can advise you on how to deal with these entities and make sure you never toss your rights. After 25 years practicing the law, our birth injury firm is all about finding justice in every sense of the word. Call us today at (614) 221-6751 to discuss your case.

The Law Offices of John M Alton Co, LPA
1071 S. High Street
Columbus, OH 43206
(614) 221-6751