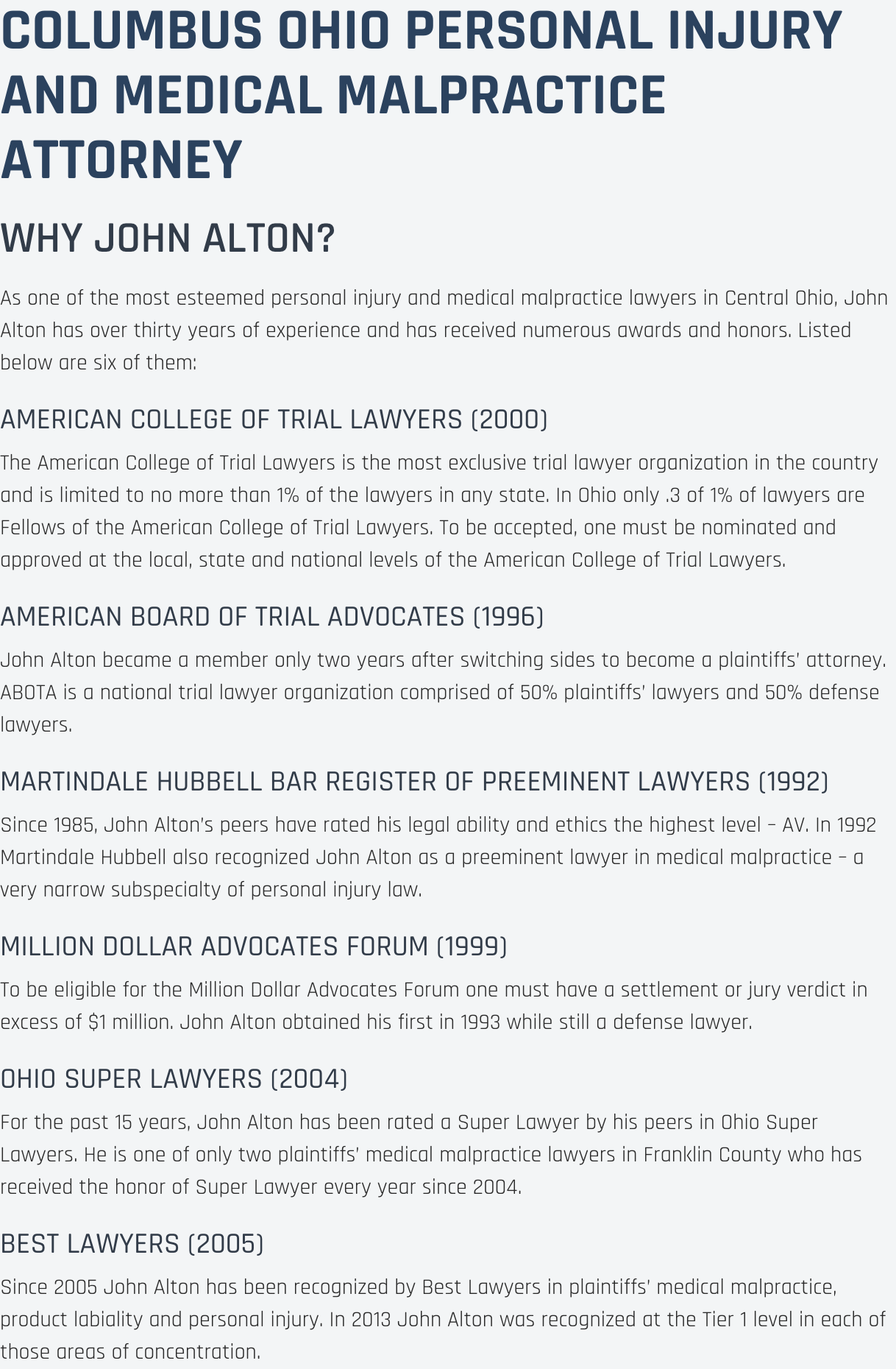 Birth Injury Lawyer Lancaster OH
My goal at The Law Offices of John M Alton Co, LPA is to take the stress out of your life and to help carry the burden of your personal injury case off your shoulders. If you are facing a birth injury matter in the Lancaster area, count on me for legal guidance. With nearly 25 years of legal experience, I have the know-how and resources to make smooth work of your birth injury case, no matter how complicated it might seem. I can deal with your insurance company. I will go to the appropriate court serving the Lancaster area to get the results that you want.
The last thing on your mind after a birth injury incident is to obtain legal representation. The Law Offices of John M Alton Co, LPA wants to help you now. When you or a family member has been injured, it is extremely important that you seek immediate medical attention, as your injuries can lead to serious emotional and physical damages for the rest of your life. I will help you get just compensation for your suffering due to your birth injury matter and help provide the results you are looking for.
When you have lost a loved one or have been hurt due to a serious personal injury, you will need help dealing with your birth injury matter in an efficient and effective manner. Having to deal with a birth injury matter or other tragedy can be daunting. Choosing my help at The Law Offices of John M Alton Co, LPA can provide you with the legal solution you've been looking for. If you want the right lawyer to get the job done of securing you just compensation, look no further than my services for help in Lancaster now.
Give us a call today!
At The Law Offices of John M Alton Co, LPA, we hope that you will trust us even if you consider your birth injury case to be out of this world tough. When we work with our Lancaster clients we always listen to their feedback throughout the process and make sure we try to do the most to please them. Give us a call at (614) 221-6751 today and see why we have so many clients throughout Lancaster.
The Law Offices of John M Alton Co, LPA
1071 S. High Street
Columbus, OH 43206
(614) 221-6751