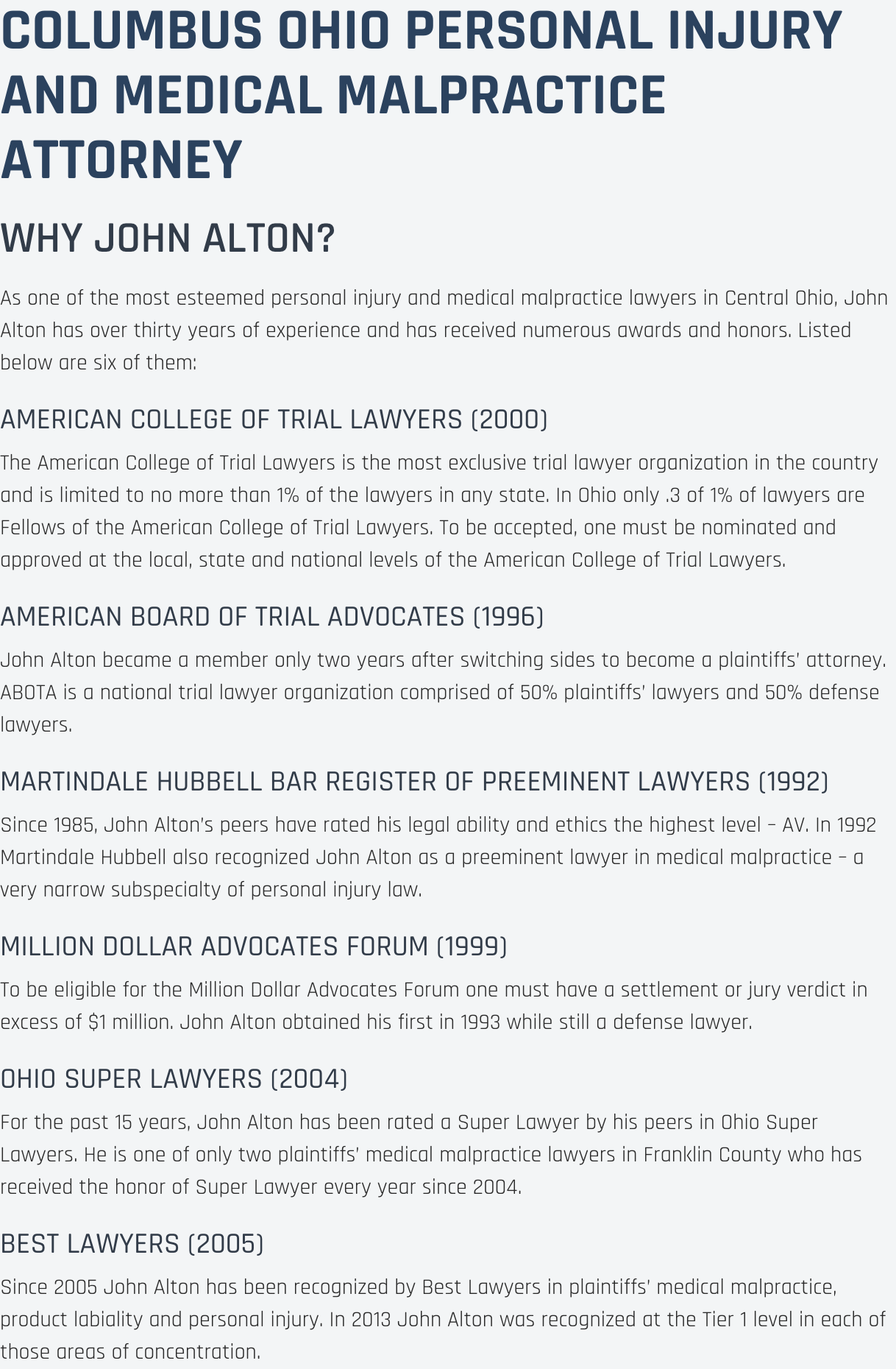 Brain Injury Attorney Columbus
The Law Offices of John M Alton Co, LPA understands that you may be suffering and in pain and dealing with economic loss or emotional distress due to your brain injury matter. I am here to help improve your quality of life. With my legal guidance, I can help your brain injury case move forward without all the daily stress. With my nearly 25 years of legal experience, I know how to get the ball rolling on dealing with personal injury matters. Allow me the opportunity to explain to you what my services can offer your brain injury case today.
A brain injury accident can happen anywhere: at home, in the car, at a store or at work. When you have been hurt because of someone else's negligence or wrongful act, it is important you recover the compensation that you deserve for your injury. At The Law Offices of John M Alton Co, LPA, I can help you move your brain injury case forward and work toward achieving the right results you are looking for.
Here at The Law Offices of John M Alton Co, LPA, I am devoted to being on your side. For brain injury cases that can get highly complicated in a short matter of time, allow me to craft an effective strategy in dealing with your case. My clients have seen substantial compensation from their brain injury cases. For my Columbus area clients, I work hard to get them the results that they want. If you or a loved one has had to endure a personal injury accident, allow me to assist your brain injury case to see what I can do.
Call our offices today!
At The Law Offices of John M Alton Co, LPA we put our 25 years of experience in handling brain injury cases to work for you. We hope that you will consider our brain injury firm as you look for help in resolving your legal matters. Feel free to take an in-depth look at our website to see what kind of results we at The Law Offices of John M Alton Co, LPA are accustomed to getting for our clients. Give us a call today at (614) 221-6751 in order to get professional legal help for your brain injury case.

The Law Offices of John M Alton Co, LPA
1071 S. High Street
Columbus, OH 43206
(614) 221-6751
Related Articles:
Construction Accident Lawyer Hilliard OH
,
Personal Injury Lawyer Dublin OH
,
Tractor Trailer Accident Lawyer Worthington OH
,
Cerebral Palsy In Cleveland OH
,
Wrongful Death From Birth Injury In Sandusky OH
,
Medical Malpractice Lawyer Ironton OH
,
Quadriplegia Lawyer Cambridge OH
,
Spinal Cord Injury Lawyer Sidney OH
,
Cerebral Palsy Attorney Wooster OH
,
Cerebral Palsy Attorney Xenia OH
,