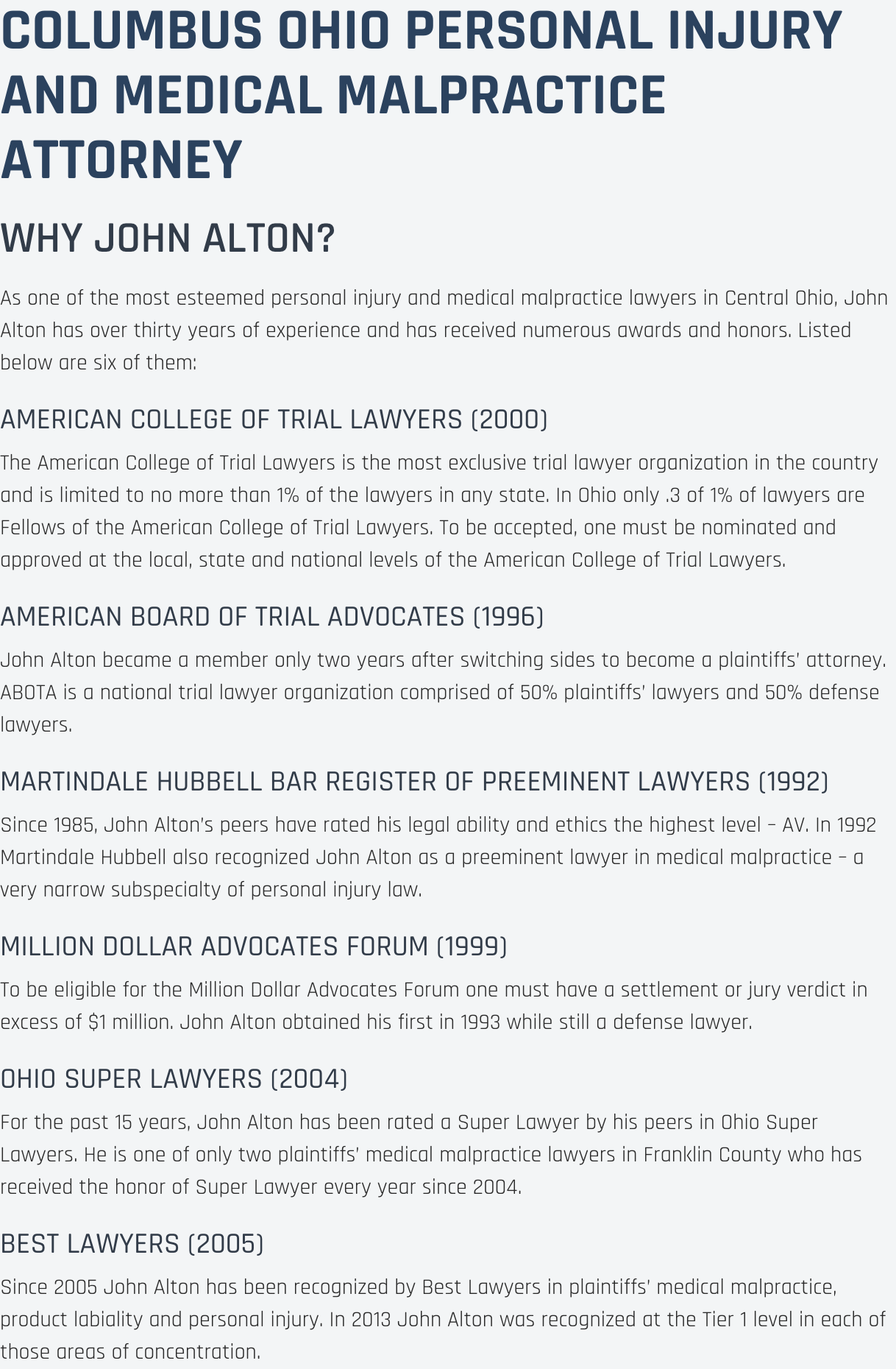 Bus Accident Lawyer Powell OH
My goal at The Law Offices of John M Alton Co, LPA is to take the stress out of your life and to help carry the burden of your personal injury case off your shoulders. If you are facing a bus accident matter in the Powell area, count on me for legal guidance. With nearly 25 years of legal experience, I have the know-how and resources to make smooth work of your bus accident case, no matter how complicated it might seem. I can deal with your insurance company. I will go to the appropriate court serving the Powell area to get the results that you want.
If someone close to you has suffered in a bus accident matter due to the negligent, reckless, or intentional behavior of another party, it is crucial that you contact a skilled and compassionate bus accident attorney as soon as possible to discuss the option of filing a wrongful death claim. I am here to help you with your bus accident matter now. I will put my best foot forward to help you resolve your bus accident matter and find you a just resolution that fits your wants and needs.
Being in a bus accident matter due to the negligence of someone else can impact your daily life in multiple aspects. The burden of bills and expenses at this difficult time are adding up and are not beneficial. When you have to take time off from work to recover, rising debts for repairs and daily expenses can start to add up, causing even more stress. Allow my services from The Law Offices of John M Alton Co, LPA the opportunity to help you resolve these issues. I want to take away the hassle of your worrying every day. I will fight for your rights and help get you just compensation.
Contact Us Today!
Here at The Law Offices of John M Alton Co, LPA, our Powell area lawyers have experience handling various bus accident cases that may seem daunting to the victim. If you are ready to work with dedicated professionals, give us a call at (614) 221-6751 today.
The Law Offices of John M Alton Co, LPA
1071 S. High Street
Columbus, OH 43206
(614) 221-6751