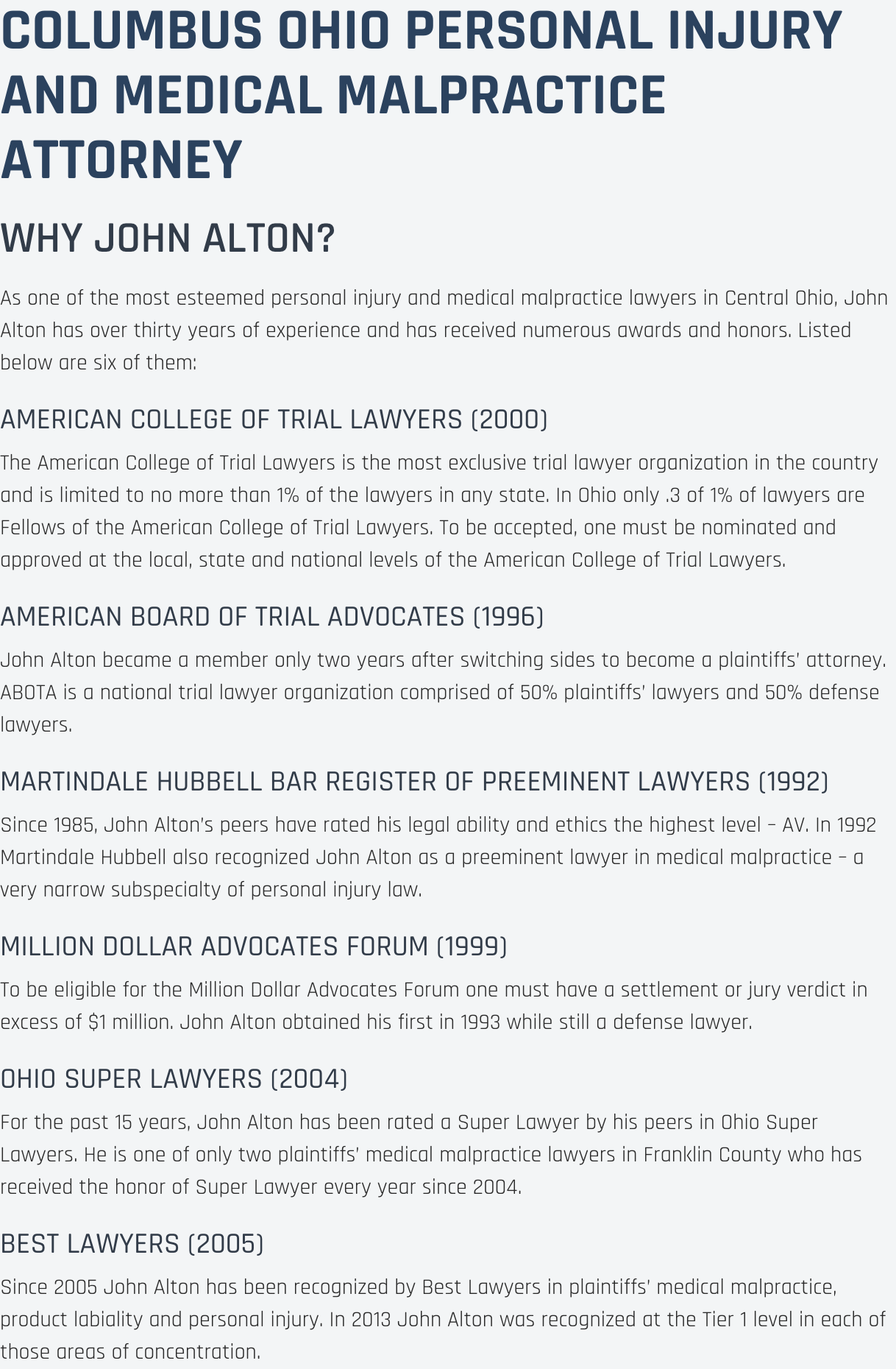 Bus Accident Lawyer Westerville OH
The Law Offices of John M Alton Co, LPA understands that you may be suffering and in pain and dealing with economic loss or emotional distress due to your bus accident matter. I am here to help improve your quality of life. With my legal guidance, I can help your bus accident case move forward without all the daily stress. With my nearly 25 years of legal experience, I know how to get the ball rolling on dealing with personal injury matters. Allow me the opportunity to explain to you what my services can offer your bus accident case today.
A bus accident accident can happen anywhere: at home, in the car, at a store or at work. When you have been hurt because of someone else's negligence or wrongful act, it is important you recover the compensation that you deserve for your injury. At The Law Offices of John M Alton Co, LPA, I can help you move your bus accident case forward and work toward achieving the right results you are looking for.
In the unfortunate event that you are hurt in a bus accident accident, or someone close to you is injured or killed, it is important to call on a dependable, local lawyer and firm like The Law Offices of John M Alton Co, LPA for help. Medical expenses, wage losses and other financial issues are certain to follow after a bus accident accident happens to you. I am here to assist you in Westerville and the surrounding areas today.
You face many expenses after the incident that led to your bus accident matter from medical bills to lost wages and other opportunities missed. At The Law Offices of John M Alton Co, LPA, our job is to find compensation for these losses. Although compensation will never remove the trauma of the experience, we have found after 25 years practicing the law people feel empowerment through the legal system. The Law Offices of John M Alton Co, LPA council will put your interests first within your bus accident case. To schedule a free consultation, use the information below and call us today:

The Law Offices of John M Alton Co, LPA
1071 S. High Street
Columbus, OH 43206
(614) 221-6751