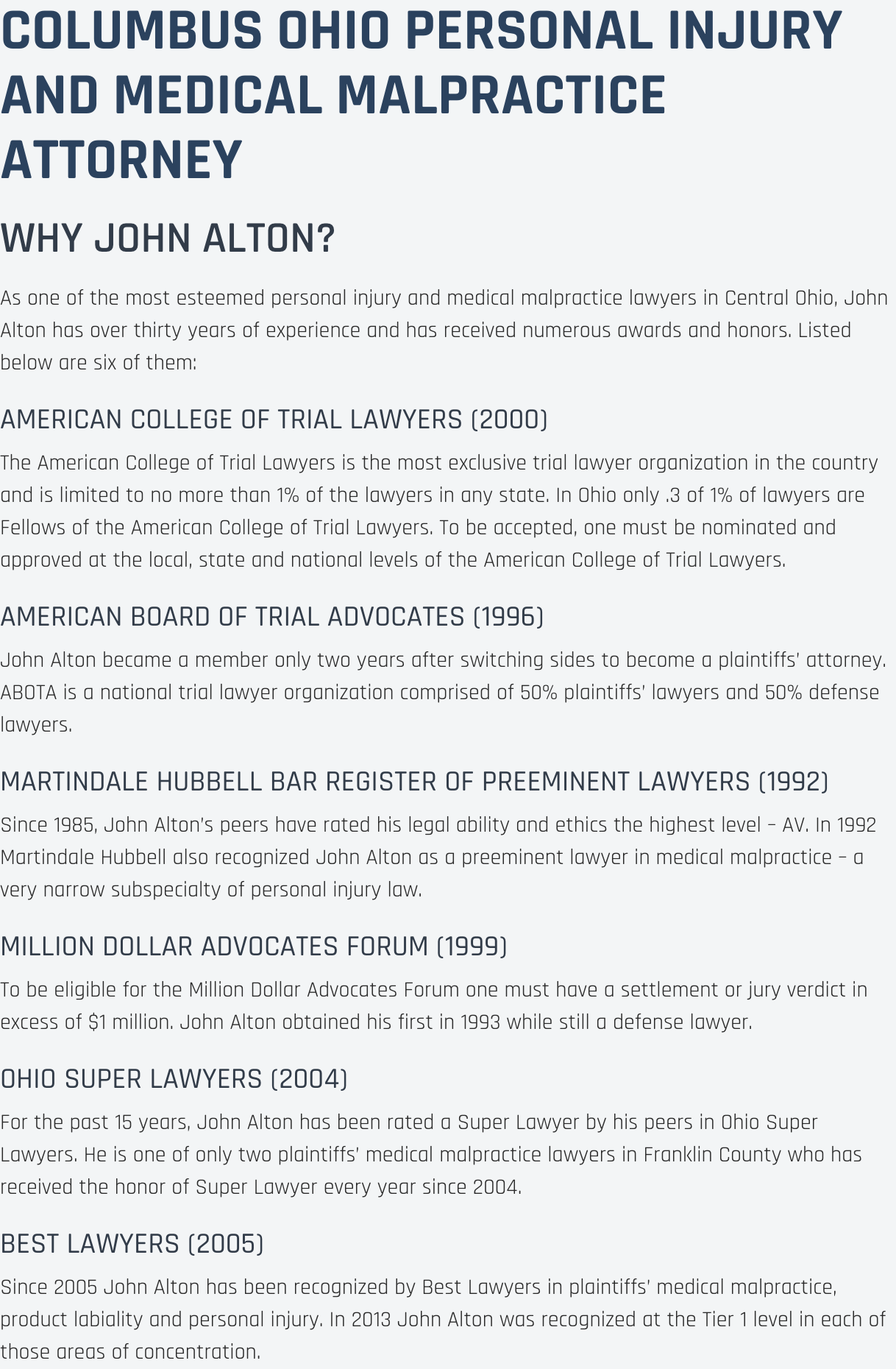 Car Accident Attorney Columbus
When you have lost a loved one or have been hurt due to a serious personal injury, you will need help dealing with your car accident matter in an efficient and effective manner. Having to deal with a car accident matter or other tragedy can be daunting. Choosing my help at The Law Offices of John M Alton Co, LPA can provide you with the legal solution you've been looking for. If you want the right lawyer to get the job done of securing you just compensation, look no further than my services for help in Columbus now.
The last thing on your mind after a car accident incident is to obtain legal representation. The Law Offices of John M Alton Co, LPA wants to help you now. When you or a family member has been injured, it is extremely important that you seek immediate medical attention, as your injuries can lead to serious emotional and physical damages for the rest of your life. I will help you get just compensation for your suffering due to your car accident matter and help provide the results you are looking for.
The Law Offices of John M Alton Co, LPA knows how much the outcome of a car accident case or claim can have on your life and your family's future. I dedicate myself with a passion in life to helping those with personal injury matters achieve justice. I help clients from Columbus and surrounding municipalities move forward with their car accident matter and achieve just compensation. At The Law Offices of John M Alton Co, LPA, I will put my legal experience behind your case. I will work hard to make your car accident case is my priority. With my legal counsel, the law will be to your advantage.
Call Our Offices Today!
Here at The Law Offices of John M Alton Co, LPA, our lawyers in Columbus have experience handling various car accident cases. We can provide you with the help you need. Call us at (614) 221-6751. Also, feel free to visit our offices at 1071 S. High Street.
The Law Offices of John M Alton Co, LPA
1071 S. High Street
Columbus, OH 43206
(614) 221-6751
Related Articles:
Medical Malpractice Attorney Columbus
,
Motorcycle Accident Lawyer Upper Arlington OH
,
Nursing Home Abuse Lawyer Dublin OH
,
Caesarean Section Errors In Mansfield OH
,
Medical Malpractice Lawyer Waverly OH
,
Personal Injury Lawyer Millersburg OH
,
Quadriplegia Lawyer Zanesville OH
,
Spinal Cord Injury Lawyer Gallipolis OH
,
Spinal Cord Injury Lawyer Troy OH
,
Medical Malpractice Attorney Portsmouth OH
,