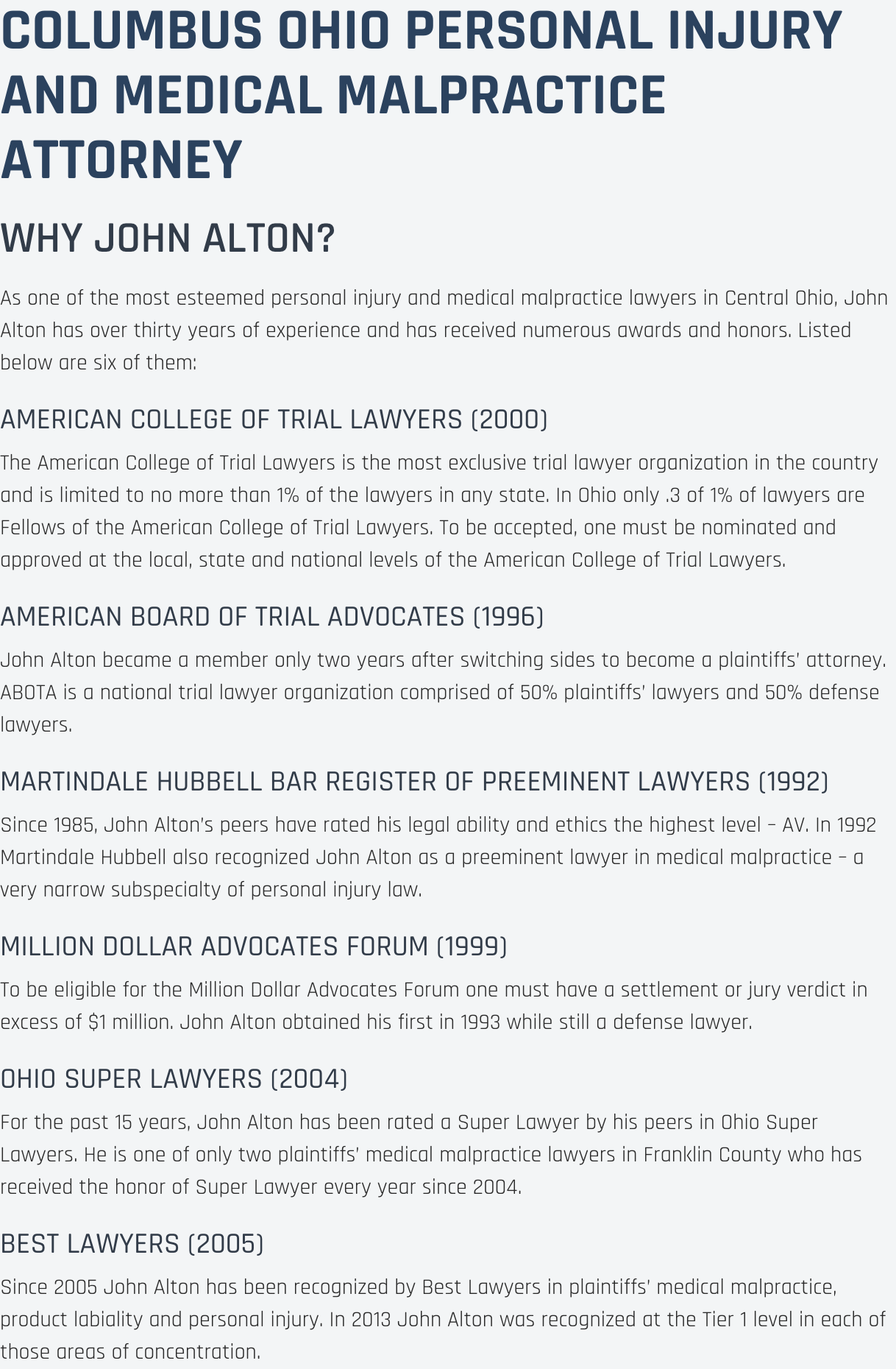 Car Accident Lawyer Bexley OH
There are insurance policies that can help you during the course of your car accident matter. Unfortunately, depending on the severity of your car accident matter, sometimes the insurance companies can be difficult to deal with. At The Law Offices of John M Alton Co, LPA, my priority is to see that your emotional and financial difficulties improve. I will help you attain the financial assistance you really need. I want your car accident matter to progress with success. I want to achieve the outcome right outcome for your car accident case you truly deserve.
Being in a car accident matter due to the negligence of someone else can impact your daily life in multiple aspects. The burden of bills and expenses at this difficult time are adding up and are not beneficial. When you have to take time off from work to recover, rising debts for repairs and daily expenses can start to add up, causing even more stress. Allow my services from The Law Offices of John M Alton Co, LPA the opportunity to help you resolve these issues. I want to take away the hassle of your worrying every day. I will fight for your rights and help get you just compensation.
If you have had a car accident matter happen in your life and need help, The Law Offices of John M Alton Co, LPA is here for you. I can assure you that we will always act with the utmost respect for your feelings and with the highest ethical standards. I will work hard to find a fair solution that works for you to make your car accident a thing of the past emotionally and financially, and win your battle. We are very thorough with all car accident matters, and will treat your situation with the highest priority and concern.
Contact Us Today!
Contact our Bexley area car accident professionals at (614) 221-6751 to find out what we can do for you. The Law Offices of John M Alton Co, LPA wants to gain your trust by providing professional legal guidance for your cases.
The Law Offices of John M Alton Co, LPA
1071 S. High Street
Columbus, OH 43206
(614) 221-6751
Related Articles:
Nursing Home Abuse Attorney Ohio
,
Spinal Cord Injury Attorney Dayton
,
Auto Accident Lawyer Powell OH
,
Nursing Home Abuse Lawyer Powell OH
,
Brachial Plexus Injury In Sandusky OH
,
Maternal Injuries During Birth In Lancaster OH
,
Birth Injury Lawyer Kenton OH
,
Birth Injury Lawyer Marietta OH
,
Medical Malpractice Lawyer Urbana OH
,
Personal Injury Lawyer Coshocton OH
,