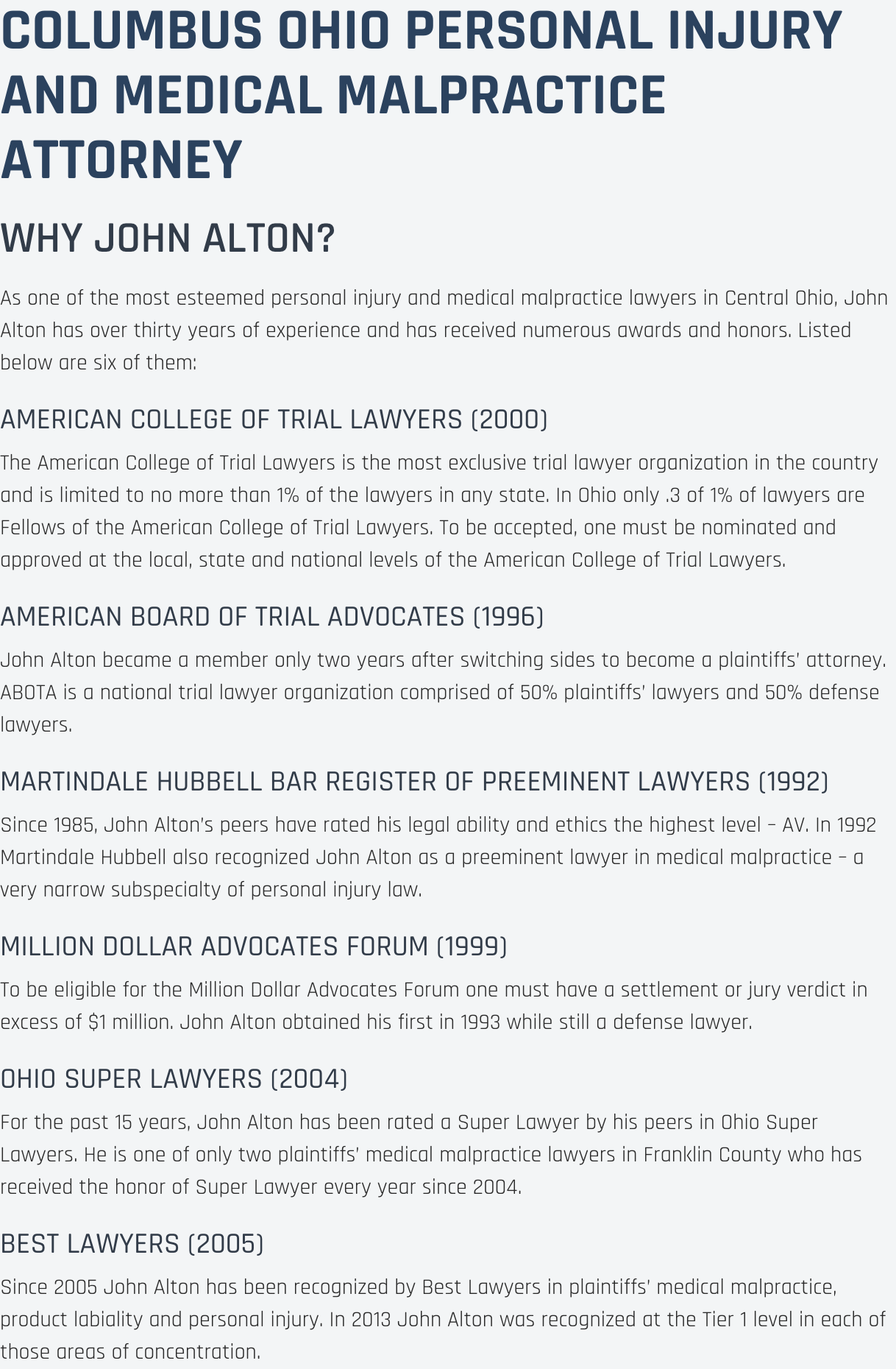 Cerebral Palsy Attorney Marion OH
A personal injury lawyer will be able to take care of the enormous task of investigating the circumstances of your cerebral palsy matter, filing with the court, requesting applicable medical or law enforcement records, and communicating with the other side in an effort to settle the cerebral palsy matter quickly. Your case is my priority. With the aid of an experienced personal injury attorney like me at The Law Offices of John M Alton Co, LPA, you can focus on your own recovery and relax knowing you have a fantastic lawyer working to your cerebral palsy cases to your advantage.
There are insurance policies that can help you during the course of your cerebral palsy matter. Unfortunately, depending on the severity of your cerebral palsy matter, sometimes the insurance companies can be difficult to deal with. At The Law Offices of John M Alton Co, LPA, my priority is to see that your emotional and financial difficulties improve. I will help you attain the financial assistance you really need. I want your cerebral palsy matter to progress with success. I want to achieve the outcome right outcome for your cerebral palsy case you truly deserve.
Allow The Law Offices of John M Alton Co, LPA., serving Marion and the surround area, the opportunity to assist you with your cerebral palsy matter. I want to help you heal from any physical and emotional scars you may have suffered. You deserve just compensation for your pain and suffering. That includes your emotional harm. I will put in all of his efforts to achieve your goals in your personal injury case. Protecting your rights and prosecuting your case is of the utmost importance to me.
Contact Us forLegal Aid in cerebral palsy!
When you are trying to make cerebral palsy claims in the Marion area, call our professionals at The Law Offices of John M Alton Co, LPA in order to make sure that you're properly represented throughout the process. Call us today at (614) 221-6751 and see what our legal professionals can do for you.
The Law Offices of John M Alton Co, LPA
1071 S. High Street
Columbus, OH 43206
(614) 221-6751