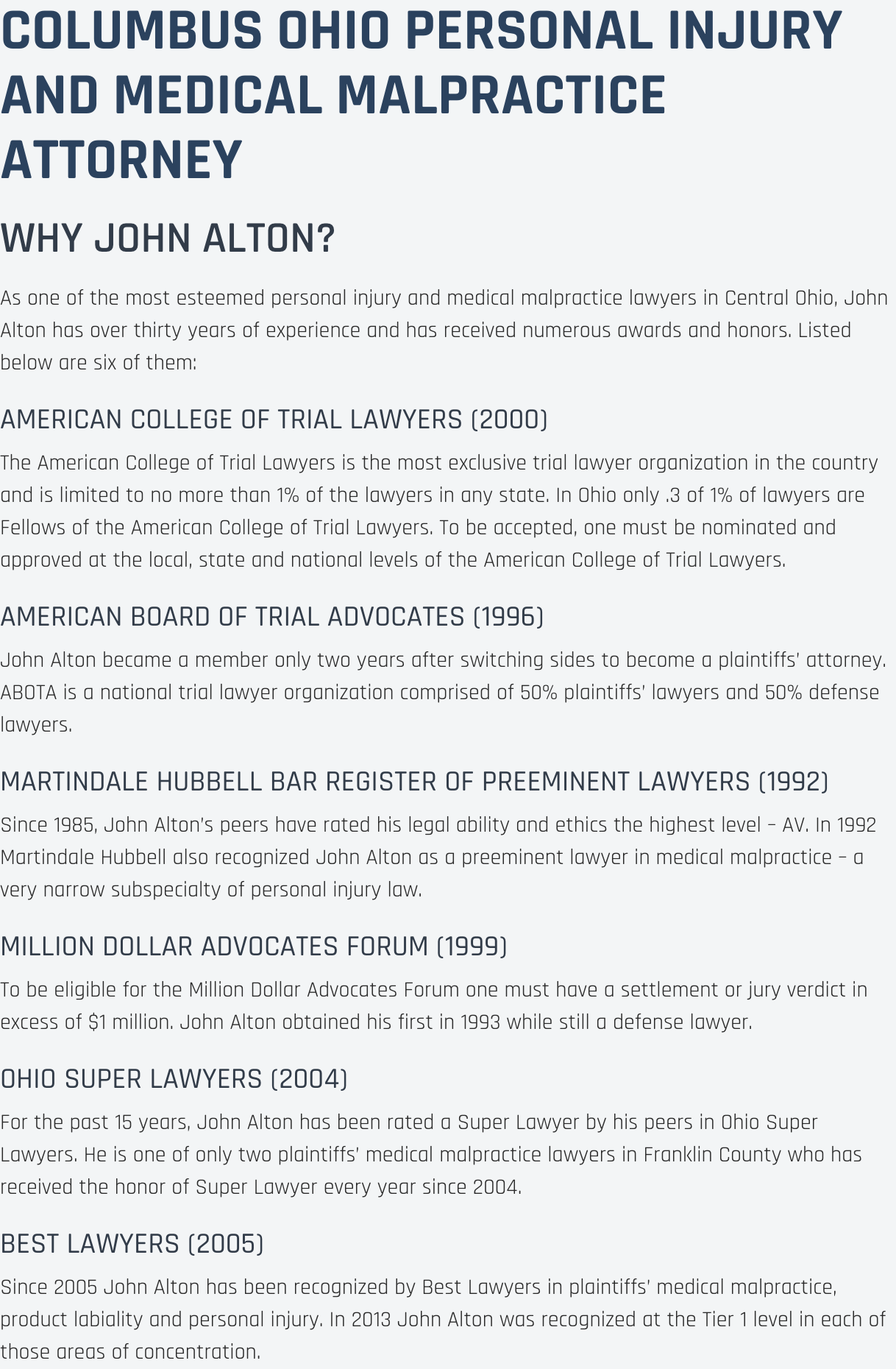 Cerebral Palsy Attorney New Lexington OH
A serious cerebral palsy case can have catastrophic consequences for you and your family. Besides physical pain and suffering, emotional pain can also be an issue. Economics plays a serious role too. You may not be able to work and may have mounting medical bills or other income issues. At The Law Offices of John M Alton Co, LPA, I will fight for your rights to get you the financial compensation you deserve for your pain and suffering. If you are in New Lexington or the surrounding area; schedule an appointment to meet with me to discuss your cerebral palsy case.
The Law Offices of John M Alton Co, LPA knows that when someone suffers a personal injury in New Lexington, there are always many questions to ask. Who was at fault? Will I ever recover? Should I speak with a lawyer? The answer to these questions is yes. Sometimes, people who are hurt in an accident feel that they cannot do anything about it. Speaking with an experienced attorney, like me at The Law Offices of John M Alton Co, LPA, is the most appropriate step a person can take to start resolving their current cerebral palsy issues.
The Law Offices of John M Alton Co, LPA understands that you may be suffering and in pain and dealing with economic loss or emotional distress due to your cerebral palsy matter. I am here to help improve your quality of life. With my legal guidance, I can help your cerebral palsy case move forward without all the daily stress. With my nearly 25 years of legal experience, I know how to get the ball rolling on dealing with personal injury matters. Allow me the opportunity to explain to you what my services can offer your cerebral palsy case today.
There are always important decisions happening with cerebral palsy law, and The Law Offices of John M Alton Co, LPA stays up on everything. Through journals, review bulletins and networking with other attorneys, The Law Offices of John M Alton Co, LPA has an extensive system to ensure our practice is up-to-date. While we love the law, our cerebral palsy council are always available to you. We have learned 25 years of practice this is the best way to ensure clients feel comfortable with their case. Contact us today to speak with a cerebral palsy professional.

The Law Offices of John M Alton Co, LPA
1071 S. High Street
Columbus, OH 43206
(614) 221-6751
Related Articles:
Amputation Attorney Columbus
,
Birth Injury Attorney Dayton
,
Loss of Limb Attorney Dayton
,
Motorcycle Accident Attorney Dayton
,
Birth Trauma In Cleveland OH
,
Maternal Injuries During Birth In Mansfield OH
,
Spinal Cord Injury In Zanesville OH
,
Birth Injury Lawyer Logan OH
,
Brain Damaged Baby Lawyer Marietta OH
,
Cerebral Palsy Attorney Sidney OH
,