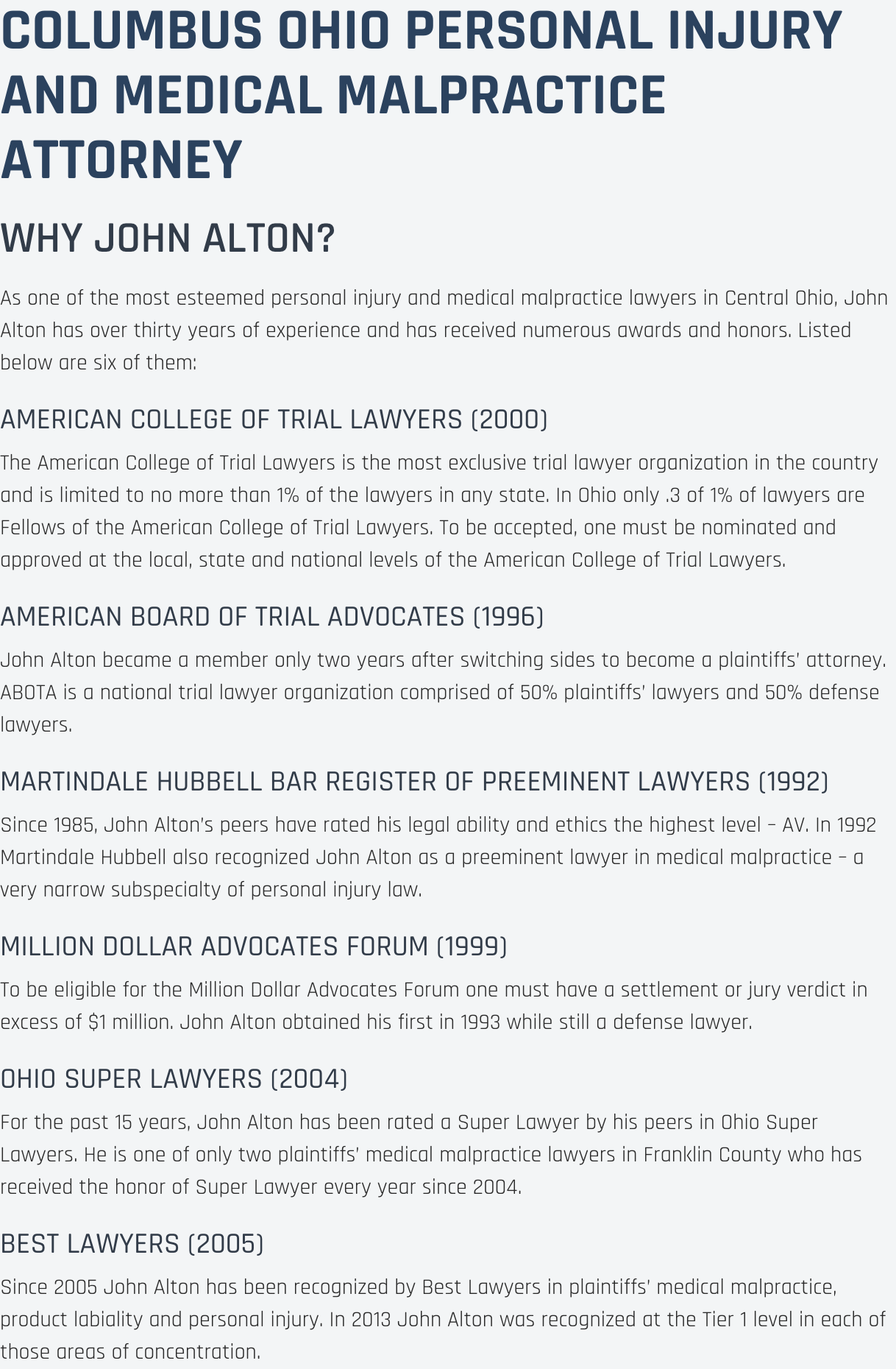 Cerebral Palsy Attorney Pomeroy OH
The Law Offices of John M Alton Co, LPA understands that you may be suffering and in pain and dealing with economic loss or emotional distress due to your cerebral palsy matter. I am here to help improve your quality of life. With my legal guidance, I can help your cerebral palsy case move forward without all the daily stress. With my nearly 25 years of legal experience, I know how to get the ball rolling on dealing with personal injury matters. Allow me the opportunity to explain to you what my services can offer your cerebral palsy case today.
The Law Offices of John M Alton Co, LPA wants to help you get compensation for your suffering. Your cerebral palsy matter should not be ignored. Your pain and suffering should be compensated for having to deal with such a cerebral palsy matter. If you are being affected detrimentally due to your cerebral palsy issue, allow me to represent you now in Pomeroy and the surrounding area.
Allow The Law Offices of John M Alton Co, LPA., serving Pomeroy and the surround area, the opportunity to assist you with your cerebral palsy matter. I want to help you heal from any physical and emotional scars you may have suffered. You deserve just compensation for your pain and suffering. That includes your emotional harm. I will put in all of his efforts to achieve your goals in your personal injury case. Protecting your rights and prosecuting your case is of the utmost importance to me.
Call Our Offices Today!
Here at The Law Offices of John M Alton Co, LPA, our lawyers in Pomeroy have experience handling various cerebral palsy cases. We can provide you with the help you need. Call us at (614) 221-6751. Also, feel free to visit our offices at 1071 S. High Street.
The Law Offices of John M Alton Co, LPA
1071 S. High Street
Columbus, OH 43206
(614) 221-6751