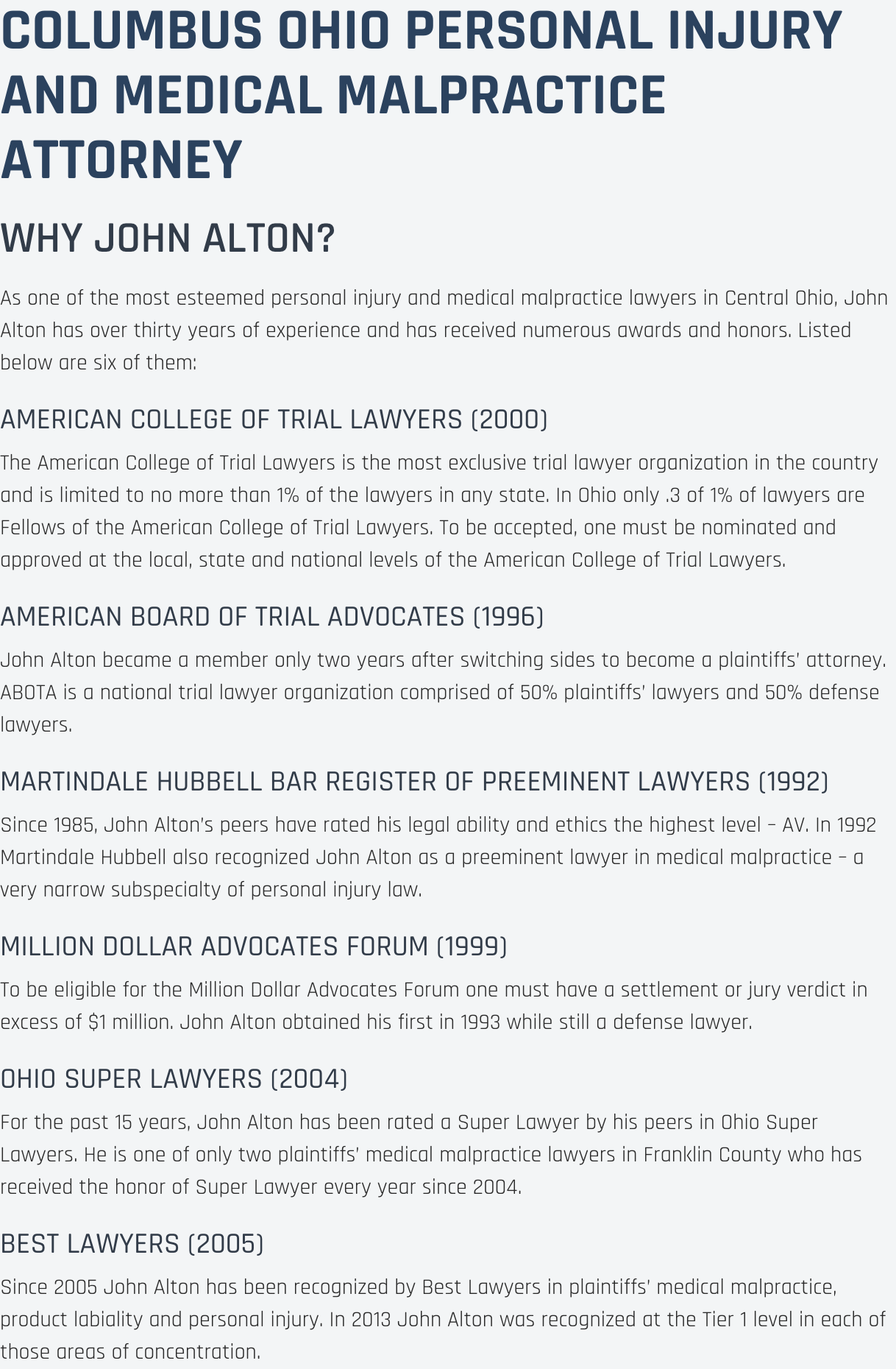 Construction Accident Attorney Columbus
Construction accident matters and your injuries can be the result of a personal injury by someone: at work or other property, defective products, medical malpractice, unsafe workplaces, auto accident and many other factors. They all come with a cost far greater than basic medical expenses. The Law Offices of John M Alton Co, LPA can help get you fair compensation and make sure those at fault are held responsible for their actions, or lack of. You and your family have a long journey ahead. Allow me in Columbus to worry about your construction accident matter so you can concentrate on your recovery.
My goal is to handle your construction accident case and to get you all the compensation that you deserve. I am here for you and will protect your rights. we will provide your construction accident case with my full personal attention, insight and legal counsel. The Law Offices of John M Alton Co, LPA will take the appropriate actions necessary to move your construction accident case forward. You will see that The Law Offices of John M Alton Co, LPA has your interests in mind. I will fight for you against the negligent party and in court to get you just compensation.
The Law Offices of John M Alton Co, LPA has extensive courtroom experience. When it comes to construction accident cases; I have a proven record of challenging even the most powerful opponents with successful outcomes. Every time I am in court on your Columbus construction accident case, you can rest easy knowing that I am fighting for your interests. You will sleep better knowing that your construction accident case is being handled with the utmost attention to detail and skills to achieve the results you want.
The Law Offices of John M Alton Co, LPA is ready to work with you today!
We provide our construction accident legal advice to anyone who is facing hard times in Columbus. For those who prefer face to face meetings, we invite you to visit our offices located at 1071 S. High Street, or if you pref3er a simpler mehtod of communication we invite you to give us a call at (614) 221-6751 and learn more about what we can do for you.
The Law Offices of John M Alton Co, LPA
1071 S. High Street
Columbus, OH 43206
(614) 221-6751
Related Articles:
Injury Attorney Ohio
,
Misdiagnosis Attorney Ohio
,
Motorcycle Accident Lawyer Westerville OH
,
Birth Trauma In Zanesville OH
,
Cerebral Palsy In Chillicothe OH
,
Wrongful Death From Birth Injury In Lancaster OH
,
Personal Injury Lawyer Pomeroy OH
,
Quadriplegia Lawyer Ashland OH
,
Medical Malpractice Attorney Wooster OH
,
Wrongful Death Attorney New Lexington OH
,