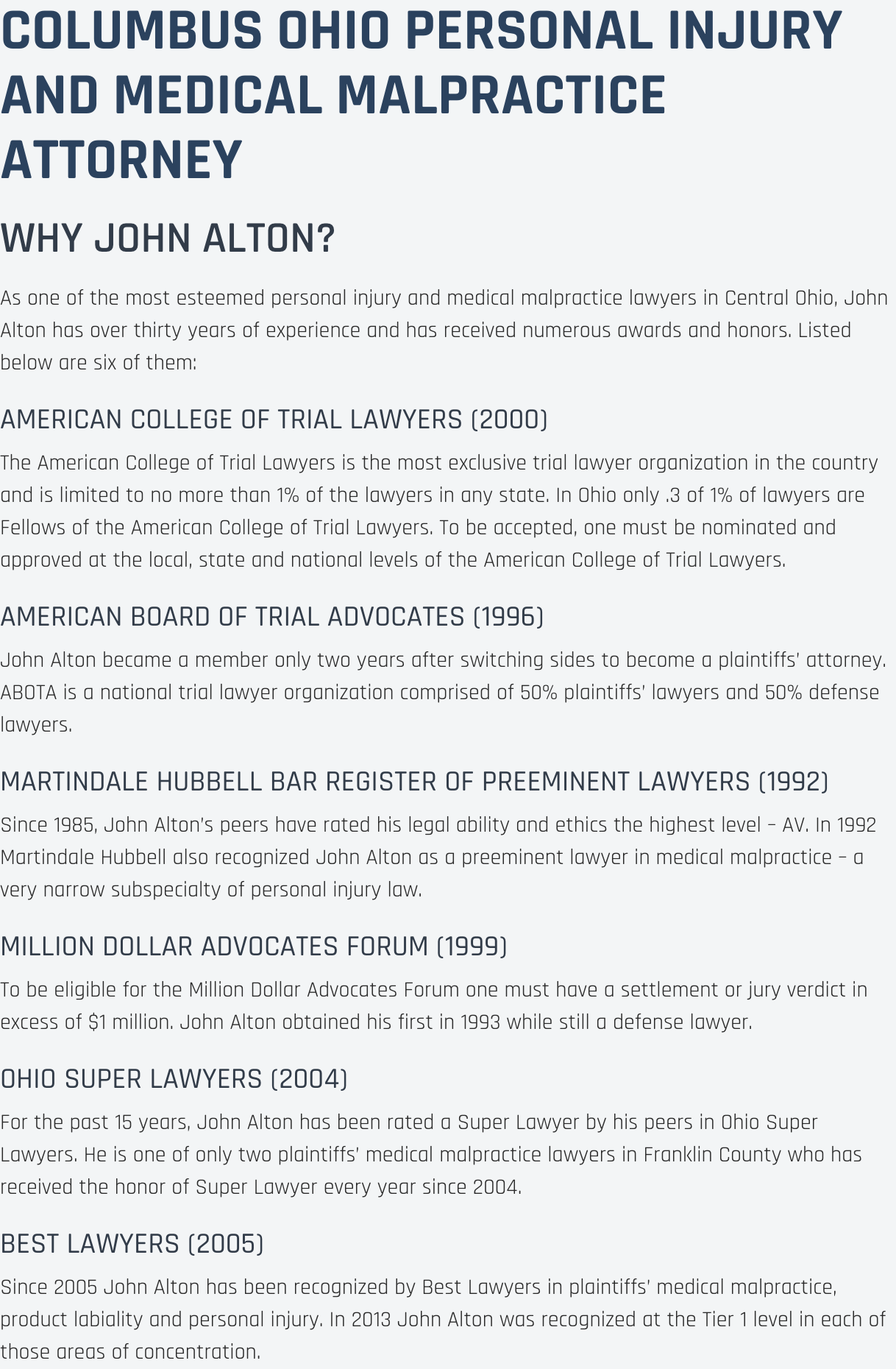 Construction Accident Lawyer Powell OH
At The Law Offices of John M Alton Co, LPA, I help victims recover for past, present and future medical bills, lost income, pain and suffering, disability, emotional distress and more. If your injury required extensive or ongoing medical care, or left you unable to work or seriously hurt, our goal is the same. I want to help you recover from your pain and suffering. The Law Offices of John M Alton Co, LPA represents construction accident victims in Powell, and throughout the surrounding areas. I have nearly 25 years of experience in the multiple practice area of the law. Allow me the opportunity to serve your interests and resolve your construction accident case now.
When you need to recover medical expenses, lost wages, and other expenses necessary to protect your future security and care, you need to contact an advocate who is dedicated to protecting your rights. The Law Offices of John M Alton Co, LPA is here to protect your rights, your assets, and your emotional well-being during your recovery. Your construction accident matter needs to be resolved with results. You deserve to be treated fairly and receive compensation from the negligent party. I will help you achieve that goal with results.
The Law Offices of John M Alton Co, LPA understands how difficult it can be to deal with any construction accident matter. I want to help you with your construction accident matter today and help ease your pain and suffering. There are two injuries that could have happened to you; either on the job or in other circumstances. Either your employer is liable, or another involved party besides your employer is liable. The first is resolving your construction accident matter and getting you just compensation. I may have to go through an appeals process if you file a claim and it is possibly challenged or denied. The second kind of issue can involve a third-party claim.
We're waiting for your call!
We could not be more proud to serve our clients and community in the Powell area. We will not compromise your construction accident case. The Law Offices of John M Alton Co, LPA will put our 25 years of experience to work for you. Give us a call today at (614) 221-6751 or visit our office at 1071 S. High Street.
The Law Offices of John M Alton Co, LPA
1071 S. High Street
Columbus, OH 43206
(614) 221-6751
Related Articles:
Motorcycle Accident Attorney Ohio
,
Tractor Trailer Accident Attorney Ohio
,
Brachial Plexus Injury In Mansfield OH
,
Caesarean Section Errors In Columbus OH
,
Neonatal Intensive Care Errors In Akron OH
,
Birth Injury Lawyer Marion OH
,
Birth Injury Lawyer Xenia OH
,
Brain Damaged Baby Lawyer McConnelsville OH
,
Medical Malpractice Lawyer Findlay OH
,
Medical Malpractice Lawyer Marion OH
,