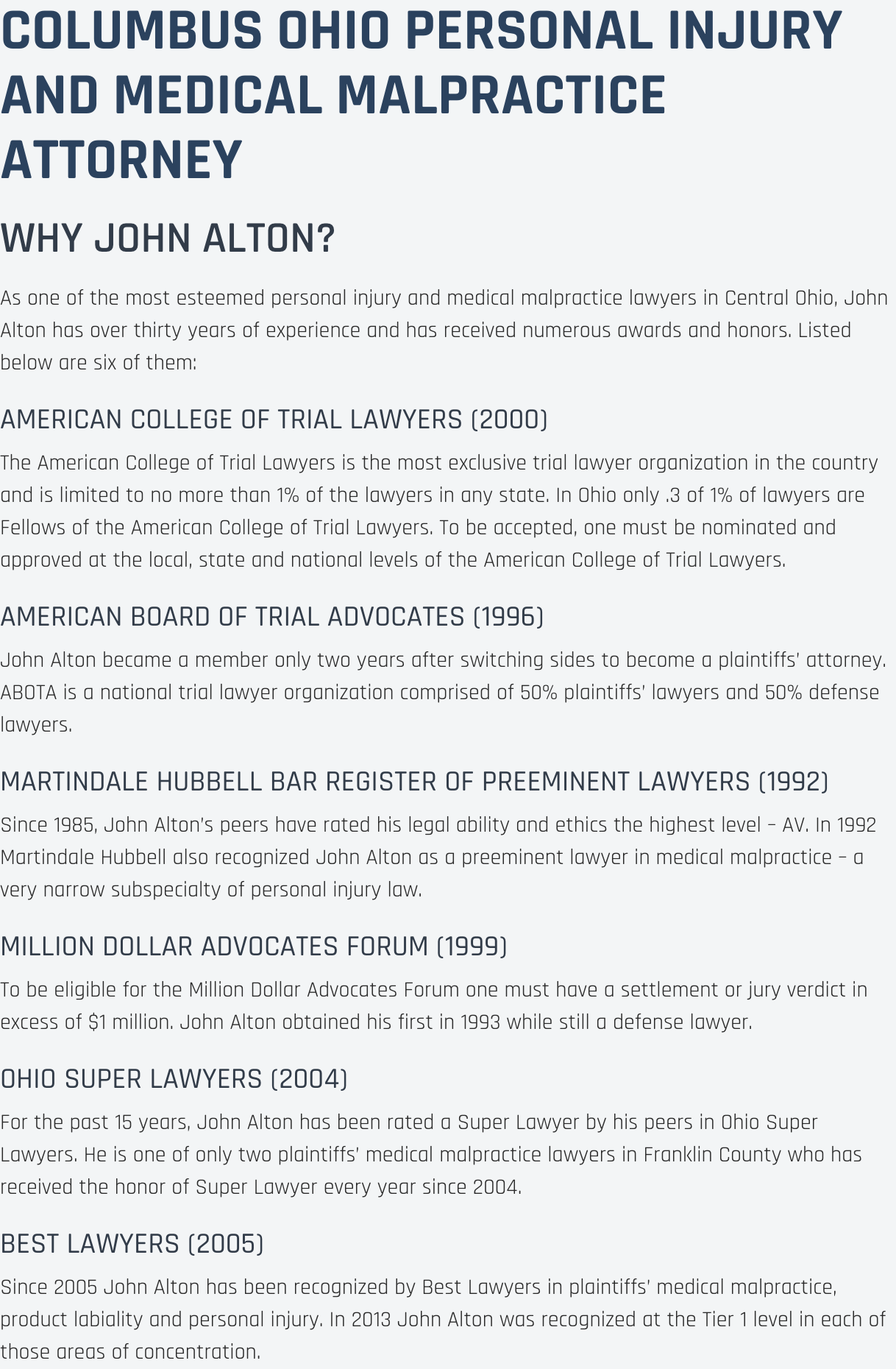 Construction Accident Lawyer Westerville OH
The Law Offices of John M Alton Co, LPA has extensive courtroom experience. When it comes to construction accident cases; I have a proven record of challenging even the most powerful opponents with successful outcomes. Every time I am in court on your Westerville construction accident case, you can rest easy knowing that I am fighting for your interests. You will sleep better knowing that your construction accident case is being handled with the utmost attention to detail and skills to achieve the results you want.
Allow The Law Offices of John M Alton Co, LPA., serving Westerville and the surround area, the opportunity to assist you with your construction accident matter. I want to help you heal from any physical and emotional scars you may have suffered. You deserve just compensation for your pain and suffering. That includes your emotional harm. I will put in all of his efforts to achieve your goals in your personal injury case. Protecting your rights and prosecuting your case is of the utmost importance to me.
When you need to recover medical expenses, lost wages, and other expenses necessary to protect your future security and care, you need to contact an advocate who is dedicated to protecting your rights. The Law Offices of John M Alton Co, LPA is here to protect your rights, your assets, and your emotional well-being during your recovery. Your construction accident matter needs to be resolved with results. You deserve to be treated fairly and receive compensation from the negligent party. I will help you achieve that goal with results.
Time is a precious commodity in all construction accident cases. The Law Offices of John M Alton Co, LPA is prepared to begin work on your case immediately before any rights are lost or relevant evidence is destroyed. Our ability to spring into action in construction accident mattes is one thing that contributed to our good record. Over the 25 years we have practiced law, we have taken many cases to court in Westerville courts and won more than we have lost. Call us using the below information to put that reputation to work for you through and schedule a consultation:

The Law Offices of John M Alton Co, LPA
1071 S. High Street
Columbus, OH 43206
(614) 221-6751
Related Articles:
Traumatic Brain Injury Attorney Ohio
,
Amputation In Columbus OH
,
Arbitrator In Canton OH
,
Birth Trauma In Cincinnati OH
,
Birth Injury Lawyer Cambridge OH
,
Spinal Cord Injury Lawyer Cambridge OH
,
Spinal Cord Injury Lawyer Hillsboro OH
,
Wrongful Death from Birth Injury Lawyer Gallipolis OH
,
Cerebral Palsy Attorney Ironton OH
,
Medical Malpractice Attorney Sidney OH
,