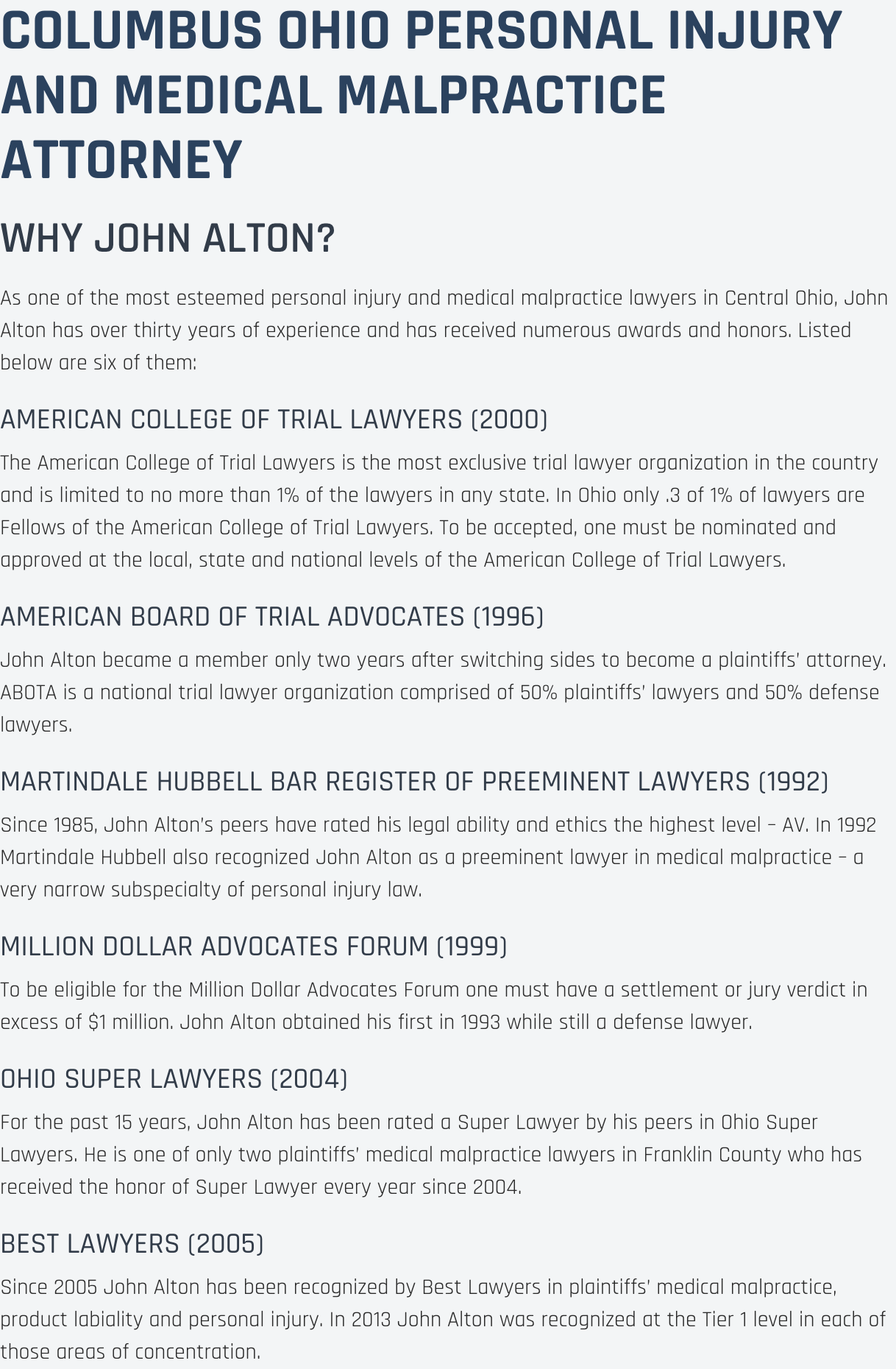 Head Injury Attorney Ohio
The last thing on your mind after a head injury incident is to obtain legal representation. The Law Offices of John M Alton Co, LPA wants to help you now. When you or a family member has been injured, it is extremely important that you seek immediate medical attention, as your injuries can lead to serious emotional and physical damages for the rest of your life. I will help you get just compensation for your suffering due to your head injury matter and help provide the results you are looking for.
In the unfortunate event that you are hurt in a head injury accident, or someone close to you is injured or killed, it is important to call on a dependable, local lawyer and firm like The Law Offices of John M Alton Co, LPA for help. Medical expenses, wage losses and other financial issues are certain to follow after a head injury accident happens to you. I am here to assist you in Ohio and the surrounding areas today.
The Law Offices of John M Alton Co, LPA understands that you may be suffering and in pain and dealing with economic loss or emotional distress due to your head injury matter. I am here to help improve your quality of life. With my legal guidance, I can help your head injury case move forward without all the daily stress. With my nearly 25 years of legal experience, I know how to get the ball rolling on dealing with personal injury matters. Allow me the opportunity to explain to you what my services can offer your head injury case today.
Call Us for Services in Ohio
Our legal professionals at The Law Offices of John M Alton Co, LPA will put their 25 years of experience to work for your head injury case. Give us a call at (614) 221-6751 today and we will get started on building up your defense.
The Law Offices of John M Alton Co, LPA
1071 S. High Street
Columbus, OH 43206
(614) 221-6751
Related Articles:
Paralysis Attorney Dayton
,
Birth Injury In Columbus OH
,
Cerebral Palsy In Cincinnati OH
,
Maternal Injuries During Birth In Marysville OH
,
Negligent Injury In Chillicothe OH
,
Mediation Lawyer Canton OH
,
Birth Injury Lawyer Bucyrus OH
,
Spinal Cord Injury Lawyer Coshocton OH
,
Maternal Birth Injury Attorney Delaware OH
,
Wrongful Death Attorney Bellefontaine OH
,