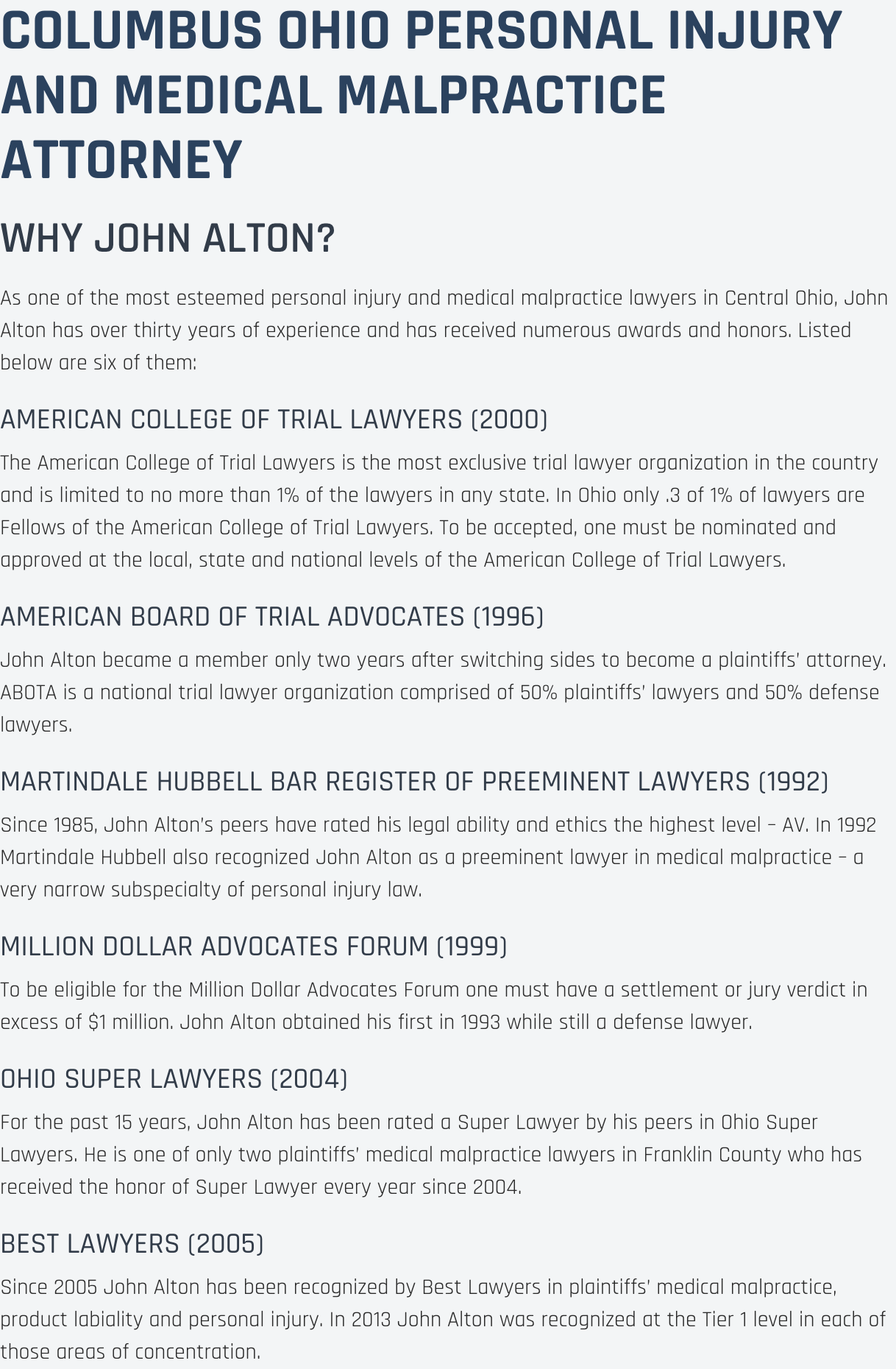 The Law Offices of John M Alton Co, LPA will provide you with the appropriate legal counsel, guidance and services necessary to move your injury case forward in a progressive manner. I am here to serve you. I want to help your current legal situation progress in the right direction.
Allow The Law Offices of John M Alton Co, LPA., serving Ohio and the surround area, the opportunity to assist you with your injury matter. I want to help you heal from any physical and emotional scars you may have suffered. You deserve just compensation for your pain and suffering. That includes your emotional harm. I will put in all of his efforts to achieve your goals in your personal injury case. Protecting your rights and prosecuting your case is of the utmost importance to me.
There are insurance policies that can help you during the course of your injury matter. Unfortunately, depending on the severity of your injury matter, sometimes the insurance companies can be difficult to deal with. At The Law Offices of John M Alton Co, LPA, my priority is to see that your emotional and financial difficulties improve. I will help you attain the financial assistance you really need. I want your injury matter to progress with success. I want to achieve the outcome right outcome for your injury case you truly deserve.
The legal profession does not have the best reputation for friendliness, but the injury representation at The Law Offices of John M Alton Co, LPA makes an extra effort to relate to our clients. Sometimes we have to be strict in our representation, but after 25 years, of practicing the law we know the best attorney-client relationships is one built on trust and open communication. Contact The Law Offices of John M Alton Co, LPA today using the information below to schedule a free consultation:

The Law Offices of John M Alton Co, LPA
1071 S. High Street
Columbus, OH 43206
(614) 221-6751

Related Articles:
Diving Accident Lawyer Worthington OH
,
Arbitrator In Canton OH
,
Cerebral Palsy In Lancaster OH
,
Negligent Injury In Cincinnati OH
,
Paraplegia In Lima OH
,
Spinal Cord Injury In Cincinnati OH
,
Wrongful Death From Birth Injury In Findlay OH
,
Personal Injury Lawyer Ironton OH
,
Spinal Cord Injury Lawyer Springfield OH
,
Wrongful Death Attorney Tiffin OH
,