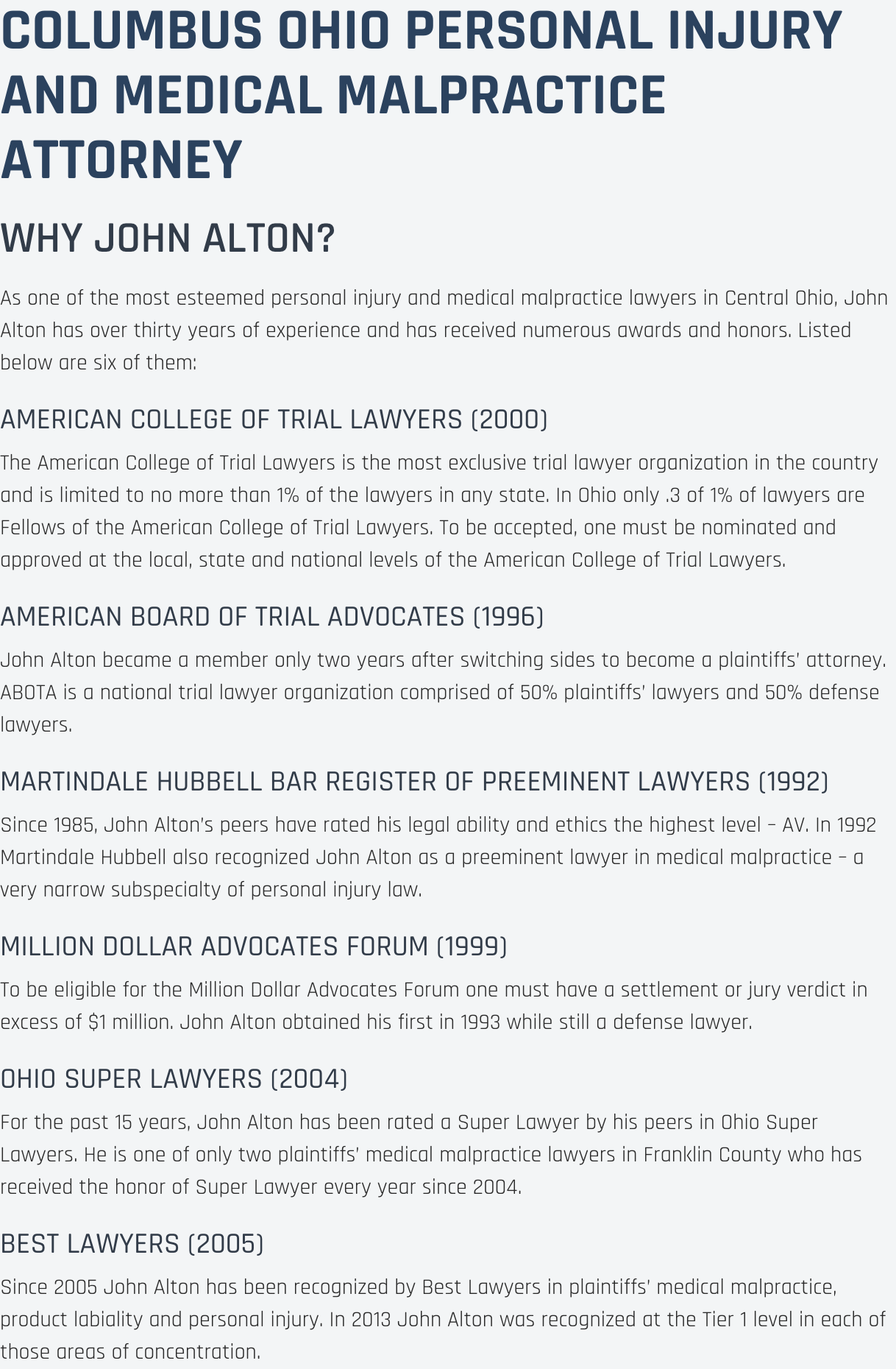 Injury Lawyer Pickerington OH
The most important thing to remember after a injury matter occurs in your life is to know your rights. Your medical bills and other expenses may be adding up due to your injury matter. It all may seem impossible to deal with. The Law Offices of John M Alton Co, LPA is here to help. I want to make your life improve without the hassle of you dealing with your injury matter daily. I will take your case on as a top priority. I will make sure every effort is made to achieve the results that you would like.
At The Law Offices of John M Alton Co, LPA, I maintain my clients' information with strict confidentiality. I understand the confidentiality rule applicable to my clients in the Pickerington area. I am very aggressive when it comes to protecting the rights of my injury clients.
The Law Offices of John M Alton Co, LPA understands how difficult it can be to deal with any injury matter. I want to help you with your injury matter today and help ease your pain and suffering. There are two injuries that could have happened to you; either on the job or in other circumstances. Either your employer is liable, or another involved party besides your employer is liable. The first is resolving your injury matter and getting you just compensation. I may have to go through an appeals process if you file a claim and it is possibly challenged or denied. The second kind of issue can involve a third-party claim.
For many cases, the most important aspect of the injury legal representation is settlement negotiations. The Law Offices of John M Alton Co, LPA makes firm demands to the opposing counsel and only stops negotiating when you feel satisfied with a settlement. When you are looking for a injury firm within the Pickerington area, you need someone who will devote adequate resources to your case. We are confident in our initial assessment of your legal rights and use our 25 years of experience to find the best cases. Contact The Law Offices of John M Alton Co, LPA using the information below for a free consultation:

The Law Offices of John M Alton Co, LPA
1071 S. High Street
Columbus, OH 43206
(614) 221-6751