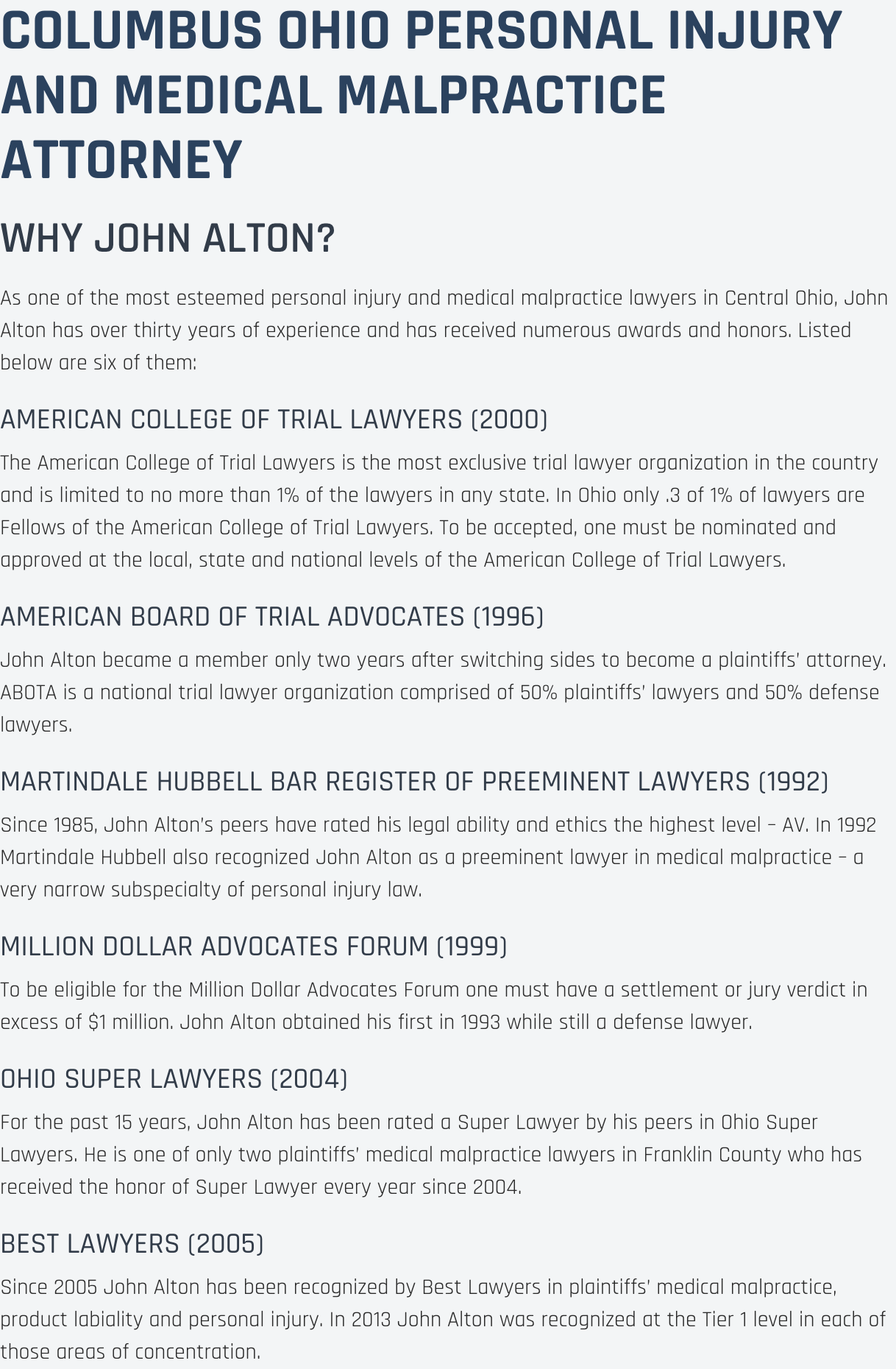 Injury Lawyer Reynoldsburg OH
The Law Offices of John M Alton Co, LPA has extensive courtroom experience. When it comes to injury cases; I have a proven record of challenging even the most powerful opponents with successful outcomes. Every time I am in court on your Reynoldsburg injury case, you can rest easy knowing that I am fighting for your interests. You will sleep better knowing that your injury case is being handled with the utmost attention to detail and skills to achieve the results you want.
At The Law Offices of John M Alton Co, LPA, I maintain my clients' information with strict confidentiality. I understand the confidentiality rule applicable to my clients in the Reynoldsburg area. I am very aggressive when it comes to protecting the rights of my injury clients.
When you need to recover medical expenses, lost wages, and other expenses necessary to protect your future security and care, you need to contact an advocate who is dedicated to protecting your rights. The Law Offices of John M Alton Co, LPA is here to protect your rights, your assets, and your emotional well-being during your recovery. Your injury matter needs to be resolved with results. You deserve to be treated fairly and receive compensation from the negligent party. I will help you achieve that goal with results.
The Law Offices of John M Alton Co, LPA is ready to work with you today!
We provide our injury legal advice to anyone who is facing hard times in Reynoldsburg. For those who prefer face to face meetings, we invite you to visit our offices located at 1071 S. High Street, or if you pref3er a simpler mehtod of communication we invite you to give us a call at (614) 221-6751 and learn more about what we can do for you.
The Law Offices of John M Alton Co, LPA
1071 S. High Street
Columbus, OH 43206
(614) 221-6751
Related Articles:
Arbitrator In Zanesville OH
,
Cerebral Palsy In Lima OH
,
Quadriplegia In Mansfield OH
,
Brain Damaged Baby Lawyer Hillsboro OH
,
Medical Malpractice Lawyer Logan OH
,
Cerebral Palsy Attorney Ironton OH
,
Maternal Birth Injury Attorney Mount Gilead OH
,
Medical Malpractice Attorney Ironton OH
,
Medical Malpractice Attorney New Lexington OH
,
Wrongful Death Attorney Marietta OH
,