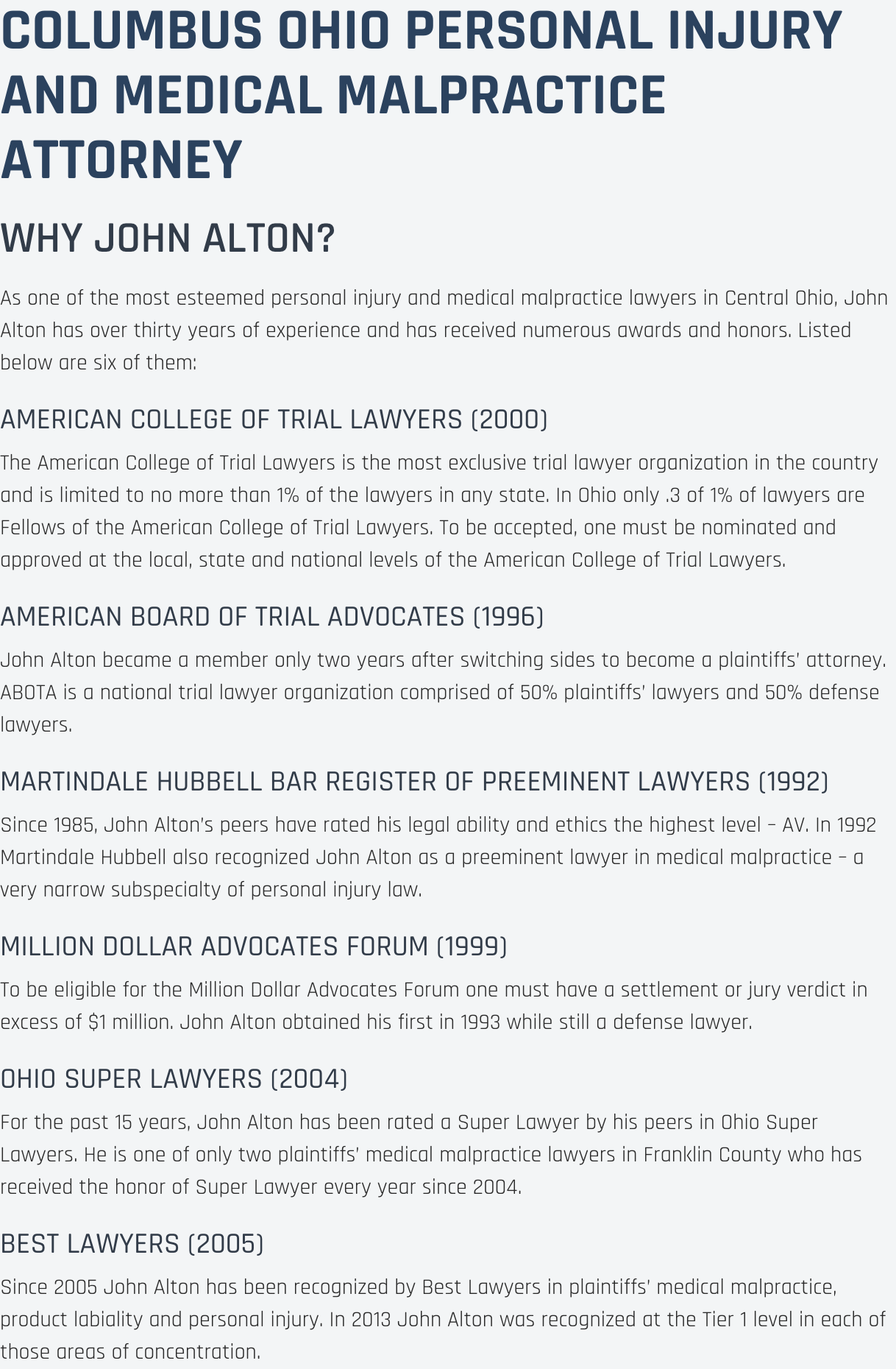 Injury Lawyer Upper Arlington OH
When someone is injured due to a injury matter, that person can pursue compensation from the guilty party for failing to maintain a safe environment or negligence. This generally impacts the person you are seeking compensation from relative to their business or personal finances. If the other party was unaware of the dangerous conditions, he or she may be held responsible. The Law Offices of John M Alton Co, LPA will help you get compensation for your pain and suffering. I will make sure your injury matter does not go over looked and it dealt with appropriately.
The Law Offices of John M Alton Co, LPA will find you the appropriate resolution to your pain and suffering in a court of law. You should be compensated financially for any suffering you have endured due to your injury issue. If someone has been negligent to you or caused harm or distress; I am here to assist you with all my effort.
The Law Offices of John M Alton Co, LPA wants to help make your bills decrease and lower your daily expenses. I want to improve your current situation about your injury issues and help resolve them. I want to fight for your rights in attaining just compensation for your injury matter as soon as possible. I will take your injury case to court if necessary and help move things forward with hopeful positive results.
Contact Our Offices Today!
Our practice, The Law Offices of John M Alton Co, LPA has been helping residents of the Upper Arlington area deal with injury claims for 25 years. We want to bring our experience to your unique injury case. Give us a call today at (614) 221-6751 and we will start working together towards the success of your injury claim.
The Law Offices of John M Alton Co, LPA
1071 S. High Street
Columbus, OH 43206
(614) 221-6751
Related Articles:
Amputation Attorney Dayton
,
Medical Malpractice Attorney Ohio
,
Construction Accident Lawyer Reynoldsburg OH
,
Construction Accident Lawyer Worthington OH
,
Nursing Home Abuse Lawyer Hilliard OH
,
Personal Injury Lawyer Reynoldsburg OH
,
Birth Injury In Lancaster OH
,
Maternal Injuries During Birth In Circleville OH
,
Medical Malpractice Lawyer London OH
,
Personal Injury Lawyer Bucyrus OH
,