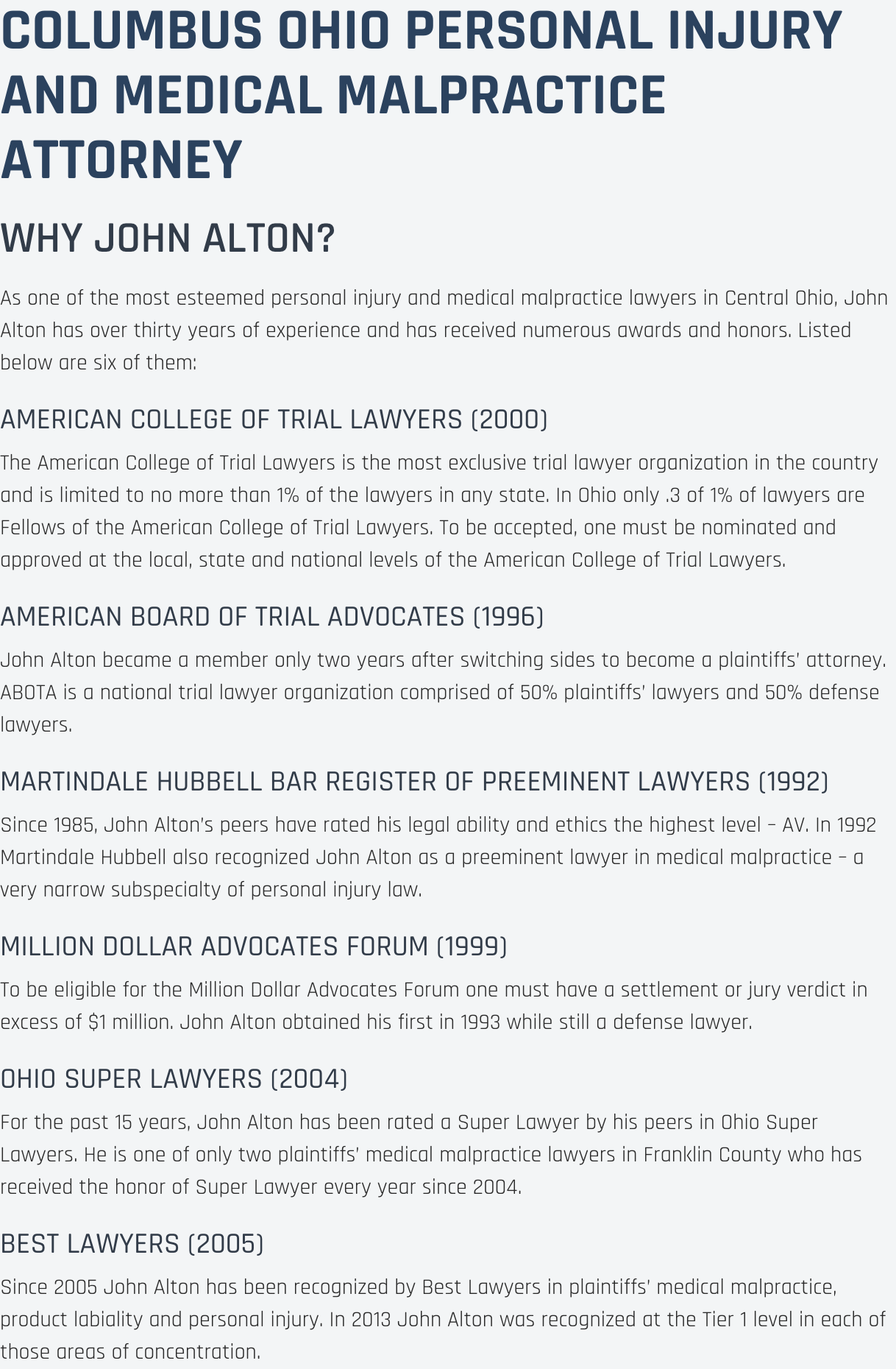 Loss of Limb Attorney Ohio
When you have lost a loved one or have been hurt due to a serious personal injury, you will need help dealing with your loss of limb matter in an efficient and effective manner. Having to deal with a loss of limb matter or other tragedy can be daunting. Choosing my help at The Law Offices of John M Alton Co, LPA can provide you with the legal solution you've been looking for. If you want the right lawyer to get the job done of securing you just compensation, look no further than my services for help in Ohio now.
Allow The Law Offices of John M Alton Co, LPA., serving Ohio and the surround area, the opportunity to assist you with your loss of limb matter. I want to help you heal from any physical and emotional scars you may have suffered. You deserve just compensation for your pain and suffering. That includes your emotional harm. I will put in all of his efforts to achieve your goals in your personal injury case. Protecting your rights and prosecuting your case is of the utmost importance to me.
The Law Offices of John M Alton Co, LPA will find you the appropriate resolution to your pain and suffering in a court of law. You should be compensated financially for any suffering you have endured due to your loss of limb issue. If someone has been negligent to you or caused harm or distress; I am here to assist you with all my effort.
Call Our Office Today!
Call (614) 221-6751 today for a confidential review of your loss of limb case. You can also visit our offices at 1071 S. High Street in order to speak to us face to face. Let us help you in the Ohio area. Our firm will be able to get you results from your loss of limb case.
The Law Offices of John M Alton Co, LPA
1071 S. High Street
Columbus, OH 43206
(614) 221-6751
Related Articles:
Failure to Diagnose Attorney Dayton
,
Motorcycle Accident Attorney Columbus
,
Accident Lawyer Westerville OH
,
Auto Accident Lawyer Upper Arlington OH
,
Truck Accident Lawyer Westerville OH
,
Loss Of Limb In Circleville OH
,
Maternal Injuries During Birth In Mansfield OH
,
Birth Injury Lawyer Tiffin OH
,
Personal Injury Lawyer Coshocton OH
,
Wrongful Death from Birth Injury Lawyer London OH
,