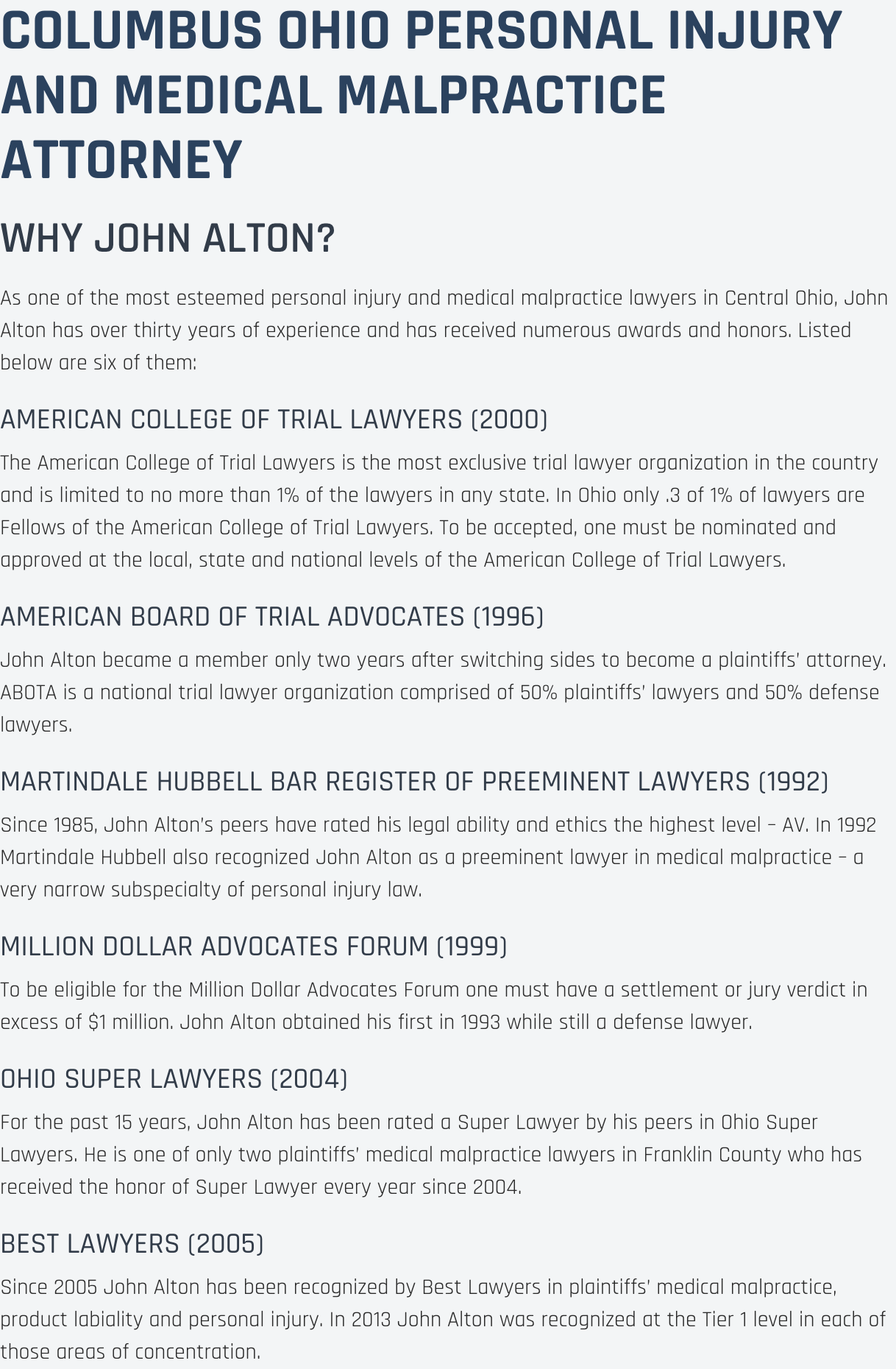 Medical Malpractice Attorney Columbus
The Law Offices of John M Alton Co, LPA wants to improve your quality of life while you deal with your medical malpractice issue. I want to provide you with our expertise and experience to make your medical malpractice matter a thing of the past. Your quality of life and receiving compensation for your medical malpractice issue is our priority. Allow me the opportunity in Columbus to show you what our services can provide towards finding a just resolution to your medical malpractice matter now.
Your type of injury depends on the circumstances of your medical malpractice accident. Attaining compensation depends on proving to the court the amount of losses you have incurred. The Law Offices of John M Alton Co, LPA will fight to prove that your losses are of great value. I will fight for your right to obtain just financial compensation for your pain and suffering. At The Law Offices of John M Alton Co, LPA, I will make sure that every effort is made to push your medical malpractice case forward aggressively. Your medical malpractice case will be given top priority.
A personal injury lawyer will be able to take care of the enormous task of investigating the circumstances of your medical malpractice matter, filing with the court, requesting applicable medical or law enforcement records, and communicating with the other side in an effort to settle the medical malpractice matter quickly. Your case is my priority. With the aid of an experienced personal injury attorney like me at The Law Offices of John M Alton Co, LPA, you can focus on your own recovery and relax knowing you have a fantastic lawyer working to your medical malpractice cases to your advantage.
Contact Our Professional Lawyers Today!
When you seek legal expertise in the Columbus area, work with the professionals at The Law Offices of John M Alton Co, LPA. We devote ourselves to your medical malpractice case so you do not have to handle the headaches. Call us today at (614) 221-6751 or visit our offices at 1071 S. High Street.
The Law Offices of John M Alton Co, LPA | 1071 S. High Street | Columbus | OH | 43206 | (614) 221-6751