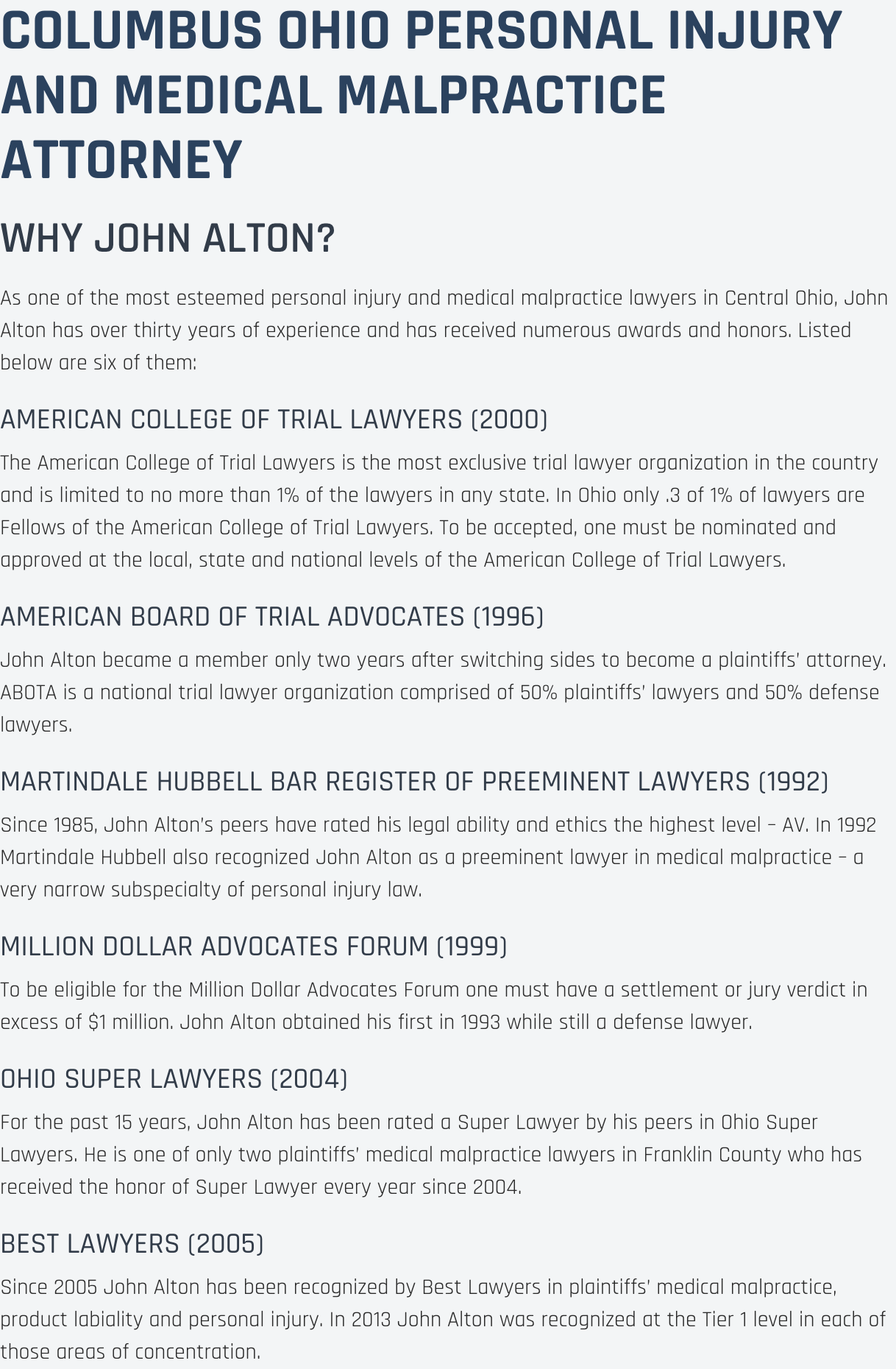 Medical Malpractice Attorney Delaware OH
The Law Offices of John M Alton Co, LPA wants to help make your bills decrease and lower your daily expenses. I want to improve your current situation about your medical malpractice issues and help resolve them. I want to fight for your rights in attaining just compensation for your medical malpractice matter as soon as possible. I will take your medical malpractice case to court if necessary and help move things forward with hopeful positive results.
The Law Offices of John M Alton Co, LPA understands that you may be suffering and in pain and dealing with economic loss or emotional distress due to your medical malpractice matter. I am here to help improve your quality of life. With my legal guidance, I can help your medical malpractice case move forward without all the daily stress. With my nearly 25 years of legal experience, I know how to get the ball rolling on dealing with personal injury matters. Allow me the opportunity to explain to you what my services can offer your medical malpractice case today.
Here at The Law Offices of John M Alton Co, LPA, I am devoted to being on your side. For medical malpractice cases that can get highly complicated in a short matter of time, allow me to craft an effective strategy in dealing with your case. My clients have seen substantial compensation from their medical malpractice cases. For my Delaware area clients, I work hard to get them the results that they want. If you or a loved one has had to endure a personal injury accident, allow me to assist your medical malpractice case to see what I can do.
Call Our Office Today!
Call (614) 221-6751 today for a confidential review of your medical malpractice case. You can also visit our offices at 1071 S. High Street in order to speak to us face to face. Let us help you in the Delaware area. Our firm will be able to get you results from your medical malpractice case.
The Law Offices of John M Alton Co, LPA
1071 S. High Street
Columbus, OH 43206
(614) 221-6751
Related Articles:
Construction Accident Attorney Ohio
,
Car Accident Lawyer Hilliard OH
,
Birth Trauma In Cleveland OH
,
Birth Trauma In Dayton OH
,
Maternal Injuries During Birth In Findlay OH
,
Maternal Injuries During Birth In Lima OH
,
Negligent Injury In Findlay OH
,
Birth Injury Lawyer Findlay OH
,
Brain Damaged Baby Lawyer Hillsboro OH
,
Maternal Birth Injury Attorney Bucyrus OH
,