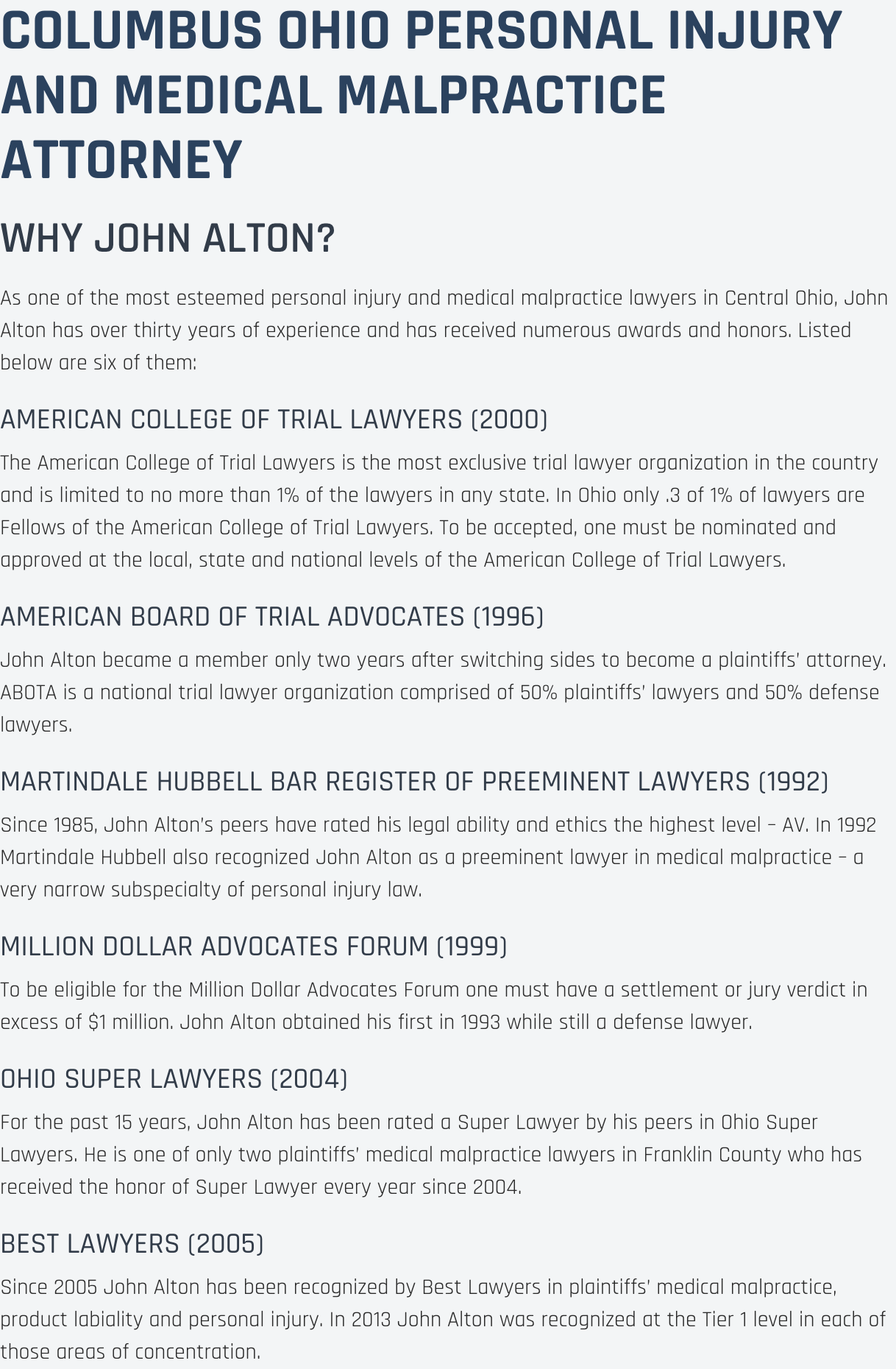 Medical Malpractice Attorney McConnelsville OH
The Law Offices of John M Alton Co, LPA knows that your medical malpractice matter needs to be addressed as quickly as possible. You may have mounting medical bills from the past and present, and this may be a major interruption of your work life and daily activities. You deserve just compensation for the pain and suffering you are being put through. In certain cases, we may pursue punitive damages as well. Allow my services at The Law Offices of John M Alton Co, LPA the opportunity to serve your interests and help your medical malpractice matter get resolved with results.
Medical malpractice matters and your injuries can be the result of a personal injury by someone: at work or other property, defective products, medical malpractice, unsafe workplaces, auto accident and many other factors. They all come with a cost far greater than basic medical expenses. The Law Offices of John M Alton Co, LPA can help get you fair compensation and make sure those at fault are held responsible for their actions, or lack of. You and your family have a long journey ahead. Allow me in McConnelsville to worry about your medical malpractice matter so you can concentrate on your recovery.
The Law Offices of John M Alton Co, LPA has extensive courtroom experience. When it comes to medical malpractice cases; I have a proven record of challenging even the most powerful opponents with successful outcomes. Every time I am in court on your McConnelsville medical malpractice case, you can rest easy knowing that I am fighting for your interests. You will sleep better knowing that your medical malpractice case is being handled with the utmost attention to detail and skills to achieve the results you want.
As soon as you call The Law Offices of John M Alton Co, LPA we take the time to educate you about your medical malpractice rights. After 25 years of practice, we know it is a good idea to have legal representation in these cases. If you are looking for a way to judge medical malpractice attorneys, look to what their opposing counsel says about them. McConnelsville area defense attorneys respect The Law Offices of John M Alton Co, LPA and know they will face a potent and well crafted medical malpractice litigation. Call The Law Offices of John M Alton Co, LPA today using the information below to schedule a consultation:

The Law Offices of John M Alton Co, LPA
1071 S. High Street
Columbus, OH 43206
(614) 221-6751
Related Articles:
Failure to Diagnose Attorney Ohio
,
Misdiagnosis Attorney Columbus
,
Car Accident Lawyer Dublin OH
,
Construction Accident Lawyer Pickerington OH
,
Arbitrator In Dayton OH
,
Negligent Injury In Canton OH
,
Negligent Injury In Columbus OH
,
Paraplegia In Mansfield OH
,
Medical Malpractice Lawyer Logan OH
,
Cerebral Palsy Attorney Bellefontaine OH
,