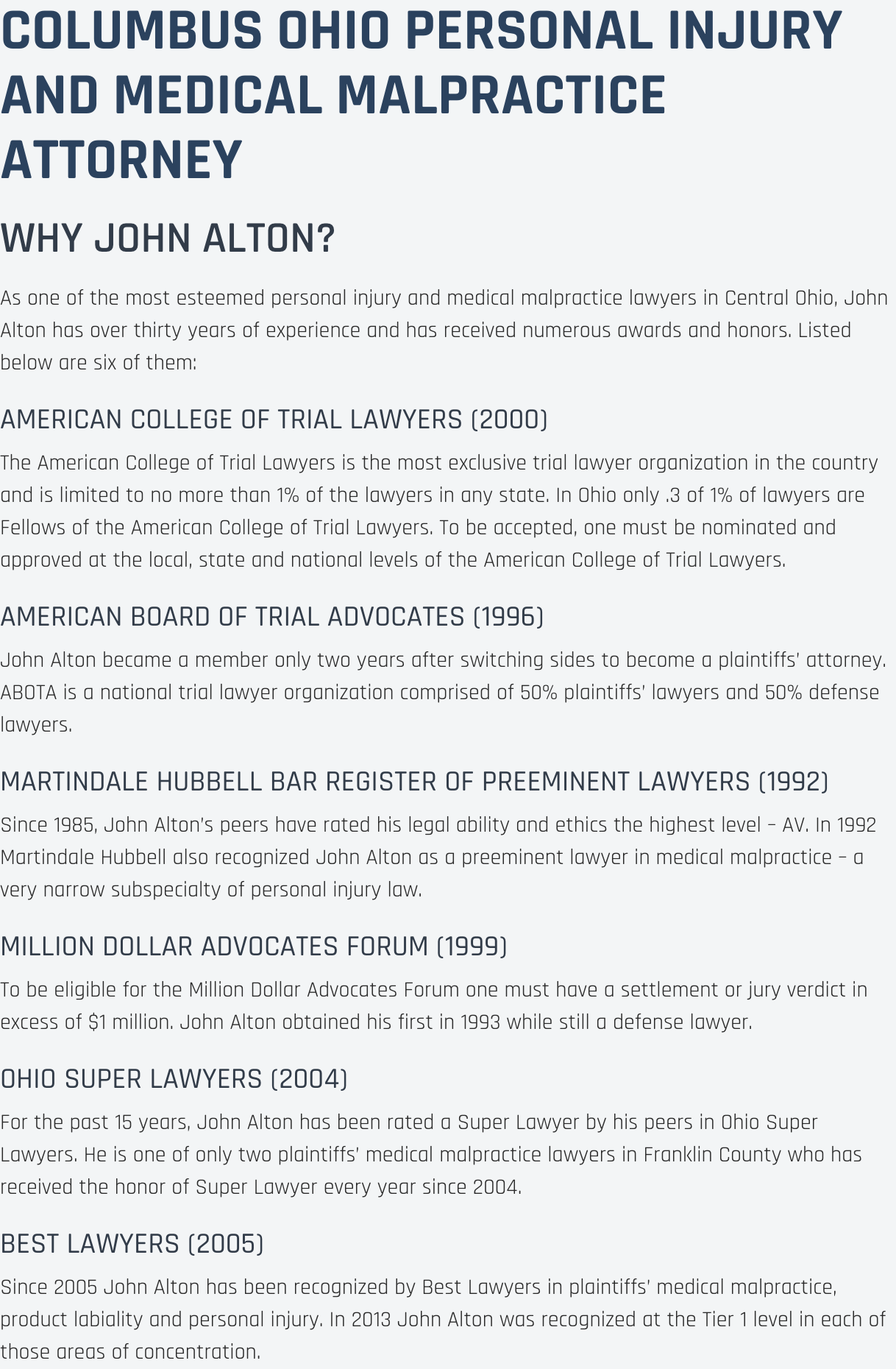 Medical Malpractice Attorney Sidney OH
The Law Offices of John M Alton Co, LPA serves clients in the Sidney area and is here to handle your medical malpractice case today. I want to make sure that your current medical and emotional problems due to your accident are less of an issue in your daily life. You deserve peace of mind and relaxation after dealing with any serious medical malpractice situation. You do not need the stress of additional bills piling up in your lap. I want to turn your problems into solutions in your daily life. Allow The Law Offices of John M Alton Co, LPA to show you how our services can benefit your personal injury matter today.
When you need to recover medical expenses, lost wages, and other expenses necessary to protect your future security and care, you need to contact an advocate who is dedicated to protecting your rights. The Law Offices of John M Alton Co, LPA is here to protect your rights, your assets, and your emotional well-being during your recovery. Your medical malpractice matter needs to be resolved with results. You deserve to be treated fairly and receive compensation from the negligent party. I will help you achieve that goal with results.
If you have suffered a personal injury in any kind of accident and someone else is to blame, you should speak with an attorney at The Law Offices of John M Alton Co, LPA. Waiting too long to meet with a medical malpractice lawyer could leave you permanently injured without any just compensation. I have nearly 25 years of experience of legal expertise. I understand what it takes and will try hard to achieve the results that you want.
Contact Us Today!
Here at The Law Offices of John M Alton Co, LPA, our Sidney area lawyers have experience handling various medical malpractice cases that may seem daunting to the victim. If you are ready to work with dedicated professionals, give us a call at (614) 221-6751 today.
The Law Offices of John M Alton Co, LPA
1071 S. High Street
Columbus, OH 43206
(614) 221-6751