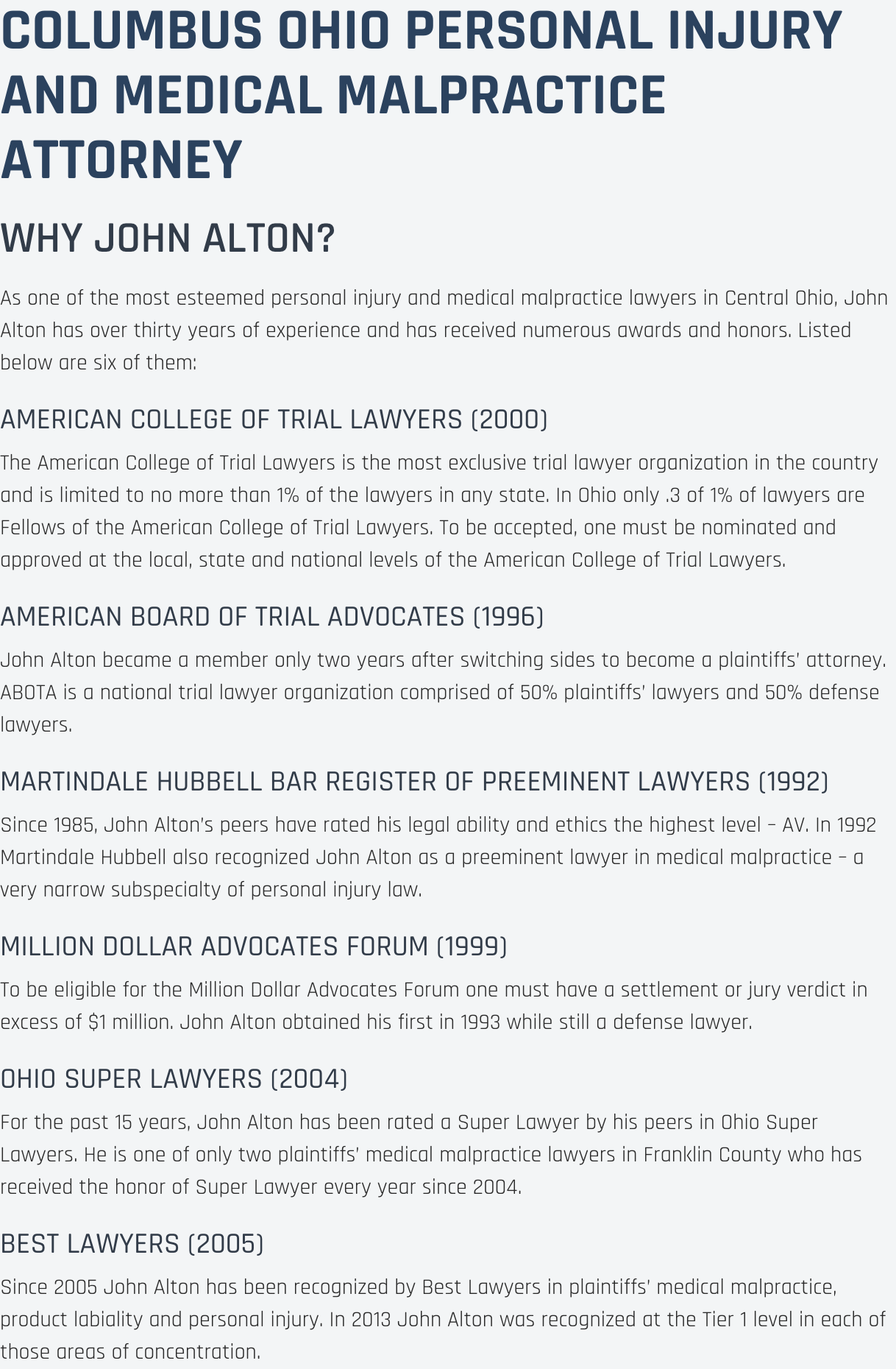 Medical Malpractice Lawyer Cambridge OH
Here at The Law Offices of John M Alton Co, LPA, I am devoted to being on your side. For medical malpractice cases that can get highly complicated in a short matter of time, allow me to craft an effective strategy in dealing with your case. My clients have seen substantial compensation from their medical malpractice cases. For my Cambridge area clients, I work hard to get them the results that they want. If you or a loved one has had to endure a personal injury accident, allow me to assist your medical malpractice case to see what I can do.
In the unfortunate event that you are hurt in a medical malpractice accident, or someone close to you is injured or killed, it is important to call on a dependable, local lawyer and firm like The Law Offices of John M Alton Co, LPA for help. Medical expenses, wage losses and other financial issues are certain to follow after a medical malpractice accident happens to you. I am here to assist you in Cambridge and the surrounding areas today.
The most important thing to remember after a medical malpractice matter occurs in your life is to know your rights. Your medical bills and other expenses may be adding up due to your medical malpractice matter. It all may seem impossible to deal with. The Law Offices of John M Alton Co, LPA is here to help. I want to make your life improve without the hassle of you dealing with your medical malpractice matter daily. I will take your case on as a top priority. I will make sure every effort is made to achieve the results that you would like.
There are always important decisions happening with medical malpractice law, and The Law Offices of John M Alton Co, LPA stays up on everything. Through journals, review bulletins and networking with other attorneys, The Law Offices of John M Alton Co, LPA has an extensive system to ensure our practice is up-to-date. While we love the law, our medical malpractice council are always available to you. We have learned 25 years of practice this is the best way to ensure clients feel comfortable with their case. Contact us today to speak with a medical malpractice professional.

The Law Offices of John M Alton Co, LPA
1071 S. High Street
Columbus, OH 43206
(614) 221-6751