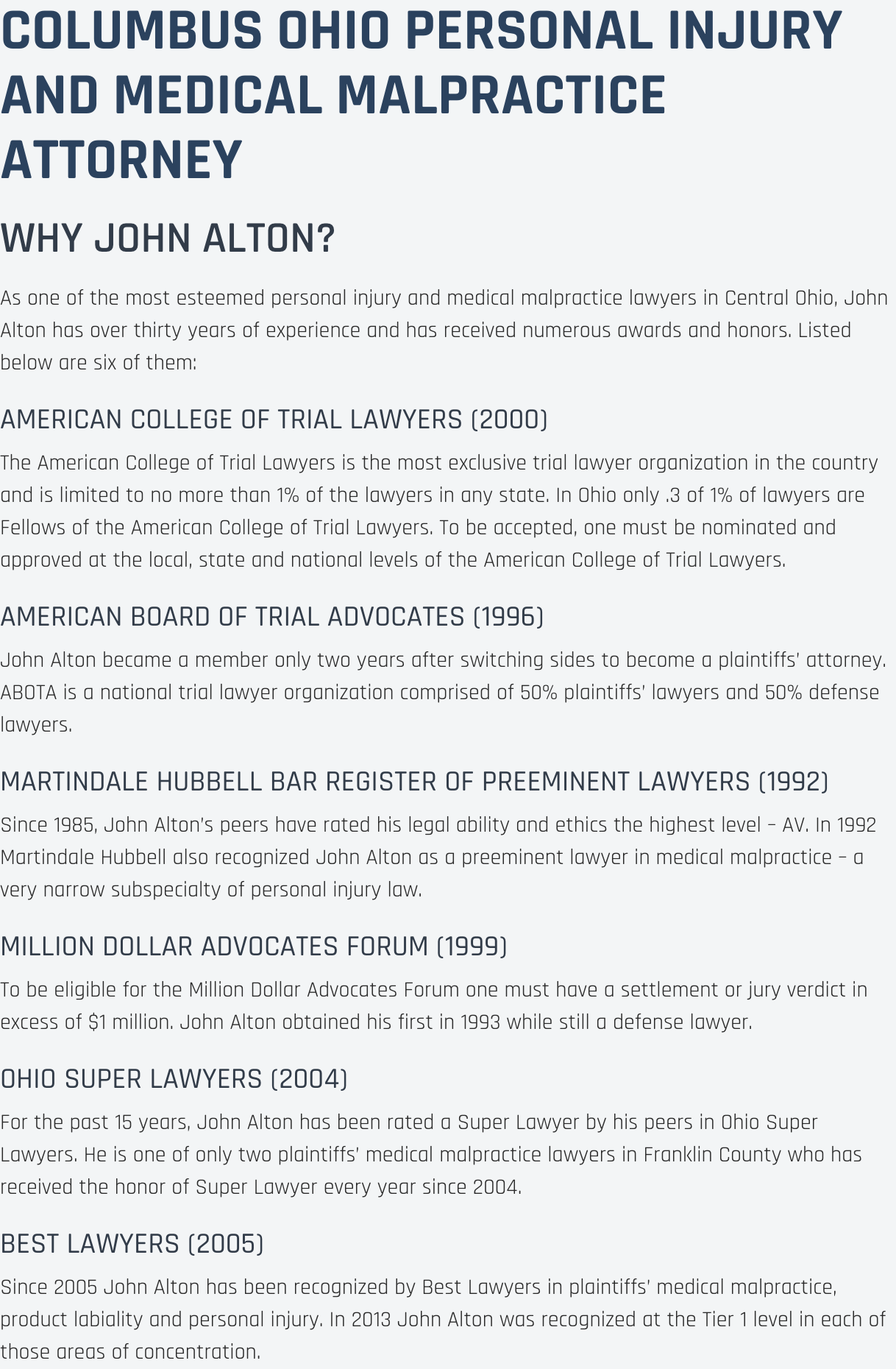 Medical Malpractice Lawyer Hillsboro OH
The Law Offices of John M Alton Co, LPA knows how much the outcome of a medical malpractice case or claim can have on your life and your family's future. I dedicate myself with a passion in life to helping those with personal injury matters achieve justice. I help clients from Hillsboro and surrounding municipalities move forward with their medical malpractice matter and achieve just compensation. At The Law Offices of John M Alton Co, LPA, I will put my legal experience behind your case. I will work hard to make your medical malpractice case is my priority. With my legal counsel, the law will be to your advantage.
My goal at The Law Offices of John M Alton Co, LPA is to take the stress out of your life and to help carry the burden of your personal injury case off your shoulders. If you are facing a medical malpractice matter in the Hillsboro area, count on me for legal guidance. With nearly 25 years of legal experience, I have the know-how and resources to make smooth work of your medical malpractice case, no matter how complicated it might seem. I can deal with your insurance company. I will go to the appropriate court serving the Hillsboro area to get the results that you want.
The words Personal Injury is a legal term referring to the physical injuries and economic losses resulting from poor and reckless behavior of another person. In Hillsboro, a person who suffers a medical malpractice can recover financial compensation for their short and long-term medical care, lost wages and earning potential loss. I want to help you resolve your medical malpractice matter now. With my help at The Law Offices of John M Alton Co, LPA; I will help create a realistic plan to help make this happen for your current medical malpractice situation.
The legal profession does not have the best reputation for friendliness, but the medical malpractice representation at The Law Offices of John M Alton Co, LPA makes an extra effort to relate to our clients. Sometimes we have to be strict in our representation, but after 25 years, of practicing the law we know the best attorney-client relationships is one built on trust and open communication. Contact The Law Offices of John M Alton Co, LPA today using the information below to schedule a free consultation:

The Law Offices of John M Alton Co, LPA
1071 S. High Street
Columbus, OH 43206
(614) 221-6751

Related Articles:
Bus Accident Attorney Ohio
,
Arbitrator In Lima OH
,
Birthing Complications In Canton OH
,
Brain Damaged Baby Lawyer Circleville OH
,
Personal Injury Lawyer Tiffin OH
,
Quadriplegia Lawyer Ironton OH
,
Spinal Cord Injury Lawyer Lima OH
,
Spinal Cord Injury Lawyer Sidney OH
,
Medical Malpractice Attorney Tiffin OH
,
Wrongful Death Attorney London OH
,