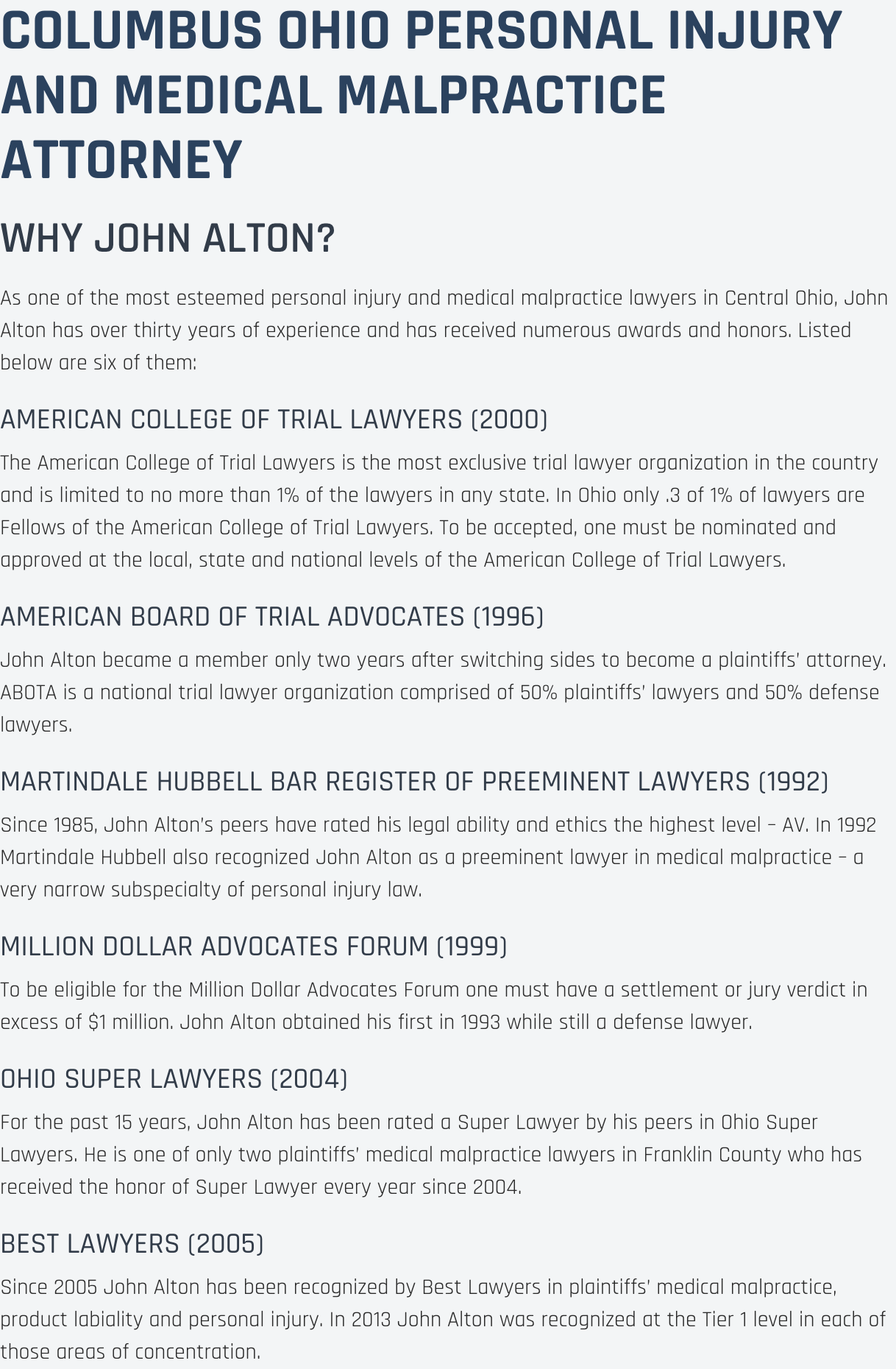 Medical Malpractice Lawyer Jackson OH
The last thing on your mind after a medical malpractice incident is to obtain legal representation. The Law Offices of John M Alton Co, LPA wants to help you now. When you or a family member has been injured, it is extremely important that you seek immediate medical attention, as your injuries can lead to serious emotional and physical damages for the rest of your life. I will help you get just compensation for your suffering due to your medical malpractice matter and help provide the results you are looking for.
The law allows Jackson injured victims to file lawsuits against individuals, companies or government entities whose acts or omissions cause harm. Matters of a medical malpractice case can be resolved in court or through a settlement negotiation. The reality is that you should have an aggressive legal advocate representing your interests. The Law Offices of John M Alton Co, LPA is here to help you now. I will offer my knowledge and experience to help move your case medical malpractice case forward. I am here to fight for you.
The Law Offices of John M Alton Co, LPA has nearly 25 years of legal experience helping people. I will bring that experience to bear on your medical malpractice case. My knowledge and expertise makes me qualified to advocate for you. I am an aggressive and effective attorney who will protect your rights. If you have had any serious issues in Jackson, or the surrounding areas due to a personal injury accident and need representation by a diligent lawyer, The Law Offices of John M Alton Co, LPA. is here to help you. I will not stop fighting for your rights.
Contact Your Jackson Attorneys today!
If you are ready to get help for your medical malpractice case in Jackson, call The Law Offices of John M Alton Co, LPA at (614) 221-6751 today. You can also visit our offices at 1071 S. High Street.
The Law Offices of John M Alton Co, LPA
1071 S. High Street
Columbus, OH 43206
(614) 221-6751