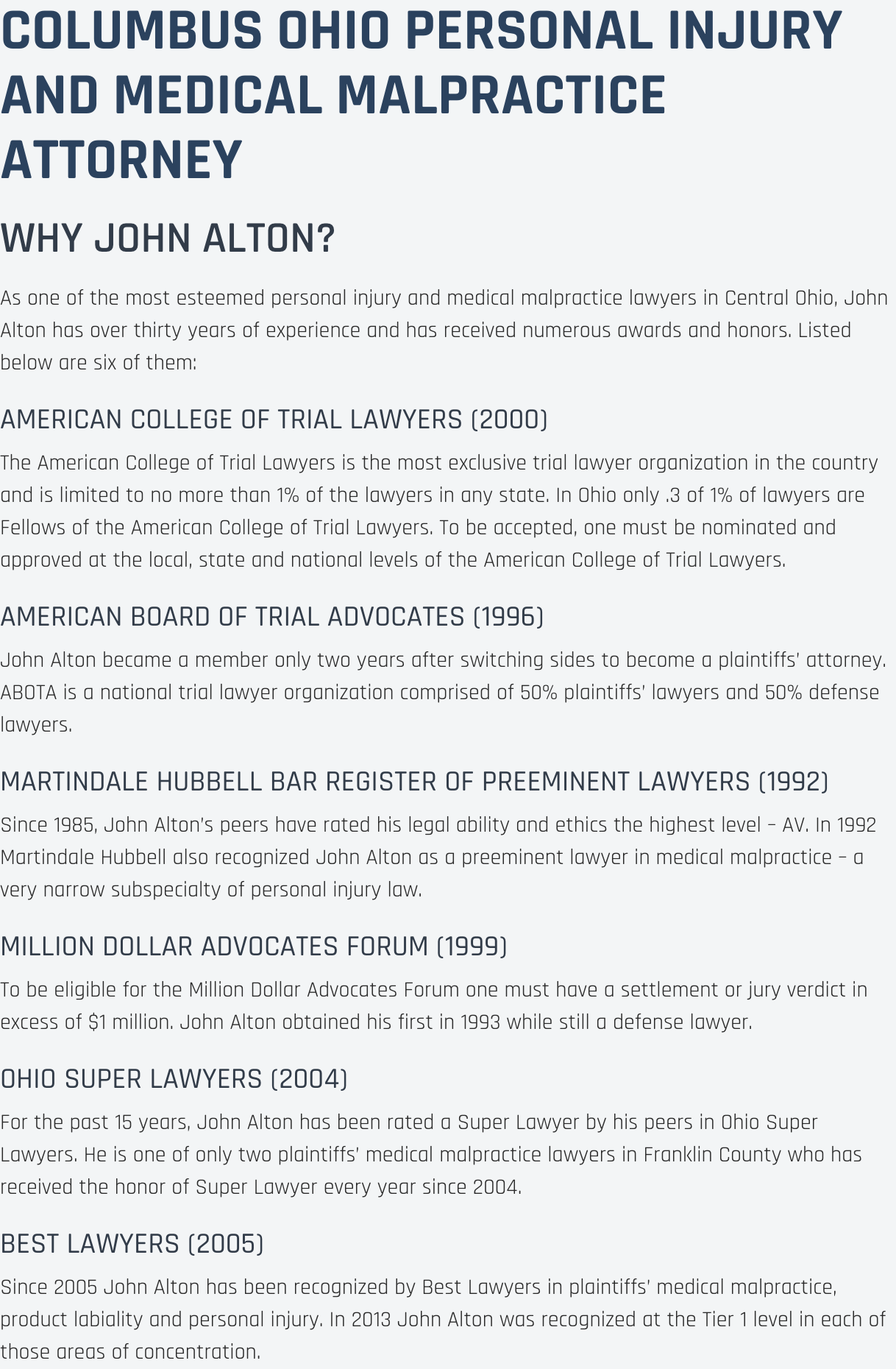 Medical Malpractice Lawyer Sidney OH
If someone close to you has suffered in a medical malpractice matter due to the negligent, reckless, or intentional behavior of another party, it is crucial that you contact a skilled and compassionate medical malpractice attorney as soon as possible to discuss the option of filing a wrongful death claim. I am here to help you with your medical malpractice matter now. I will put my best foot forward to help you resolve your medical malpractice matter and find you a just resolution that fits your wants and needs.
You need an experienced personal injury lawyer like me at The Law Offices of John M Alton Co, LPA. to have as an ally if you or a loved one has been hurt due to a medical malpractice accident. Your friends and family are relieved to know that you're OK. But your bills are piling up. Your pain and suffering has made it difficult to do everyday things. Allow The Law Offices of John M Alton Co, LPA to help you now. You deserve justice, and we can help get that for you.
You may have suffered a medical malpractice and now must deal with it every day. The Law Offices of John M Alton Co, LPA wants to help relieve that stress from your daily life. You should not have to suffer financial or emotional distress due to the negligence of someone else. At The Law Offices of John M Alton Co, LPA, I know how to best assist your current legal situation. I know how to attain the results you want. If you are in the Sidney area, I can help you now.
Call Us Today for Services in the Sidney Area!
Are you ready to talk to a lawyer in the Sidney area about your medical malpractice legal challenge? Call (614) 221-6751 today or visit our offices at 1071 S. High Street.
The Law Offices of John M Alton Co, LPA
1071 S. High Street
Columbus, OH 43206
(614) 221-6751