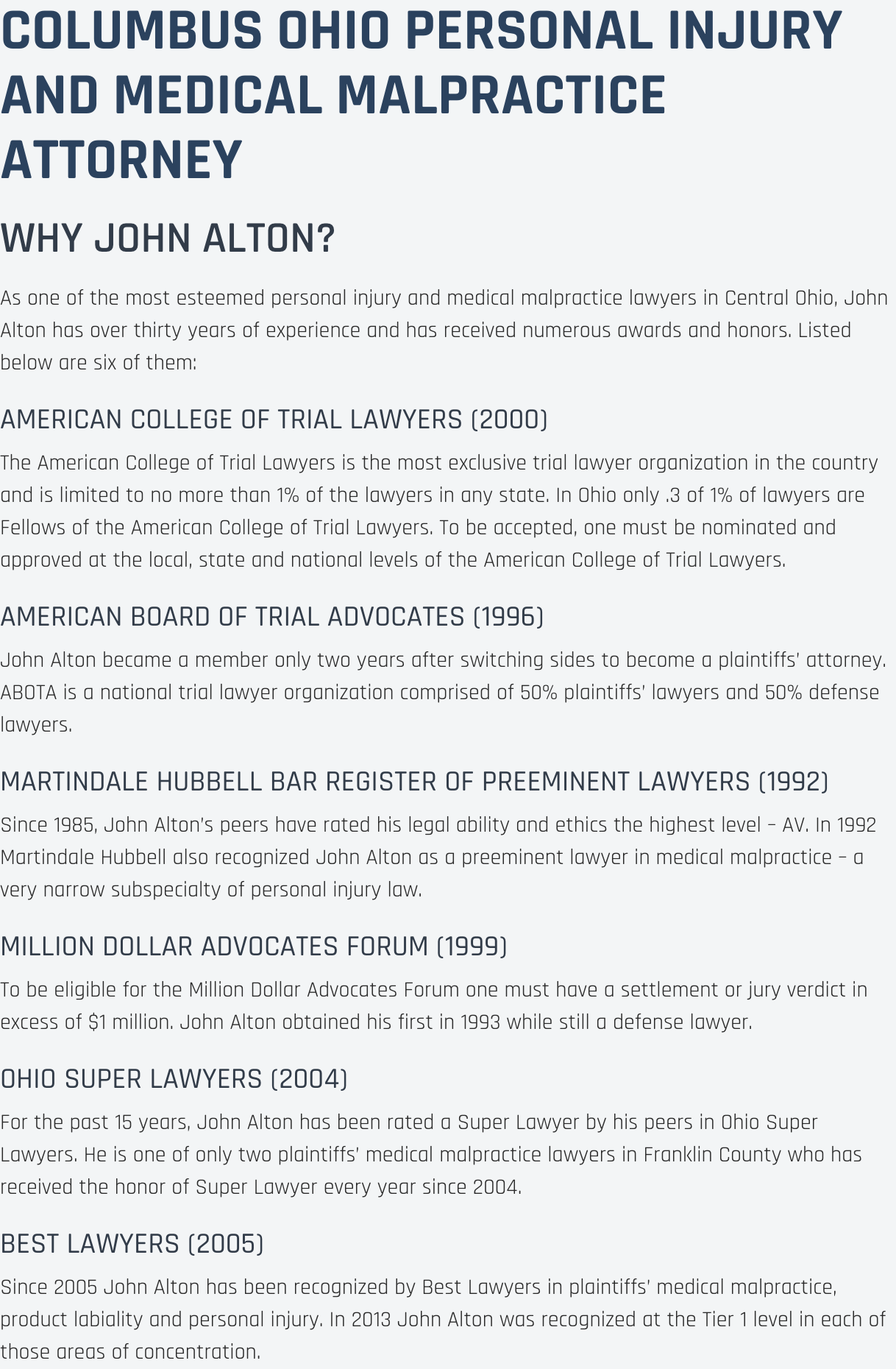 Motorcycle Accident Lawyer Pickerington OH
If you have suffered a personal injury in any kind of accident and someone else is to blame, you should speak with an attorney at The Law Offices of John M Alton Co, LPA. Waiting too long to meet with a motorcycle accident lawyer could leave you permanently injured without any just compensation. I have nearly 25 years of experience of legal expertise. I understand what it takes and will try hard to achieve the results that you want.
The Law Offices of John M Alton Co, LPA knows that your motorcycle accident matter needs to be addressed as quickly as possible. You may have mounting medical bills from the past and present, and this may be a major interruption of your work life and daily activities. You deserve just compensation for the pain and suffering you are being put through. In certain cases, we may pursue punitive damages as well. Allow my services at The Law Offices of John M Alton Co, LPA the opportunity to serve your interests and help your motorcycle accident matter get resolved with results.
With my nearly 25 years of legal experience working in the Pickerington area, I know how to make successful arguments to give you a better chance to get the compensation that you deserve. I know the stall tactics and tricks that insurance companies in the Pickerington area may use. I will cut through these matters to save time. I want to move your motorcycle accident case's chances forward; with a positive approach and final goal. I aim to achieve successful results.
Want to work with legal professionals?
If you or a loved one need legal representation for a motorcycle accident case, then do not hesitate, and contact The Law Offices of John M Alton Co, LPA; you will be glad you did. If you or a loved one are in need of excellent legal representation within the Pickerington area then please contact us today at (614) 221-6751.

The Law Offices of John M Alton Co, LPA
1071 S. High Street
Columbus, OH 43206
(614) 221-6751
Related Articles:
Personal Injury Attorney Dayton
,
Brachial Plexus Injury In Lancaster OH
,
Mediator In Circleville OH
,
Spinal Cord Injury In Dayton OH
,
Arbitration Lawyer Sandusky OH
,
Mediation Lawyer Delaware OH
,
Birth Injury Lawyer London OH
,
Brain Damaged Baby Lawyer Troy OH
,
Medical Malpractice Lawyer Cambridge OH
,
Spinal Cord Injury Lawyer Lima OH
,