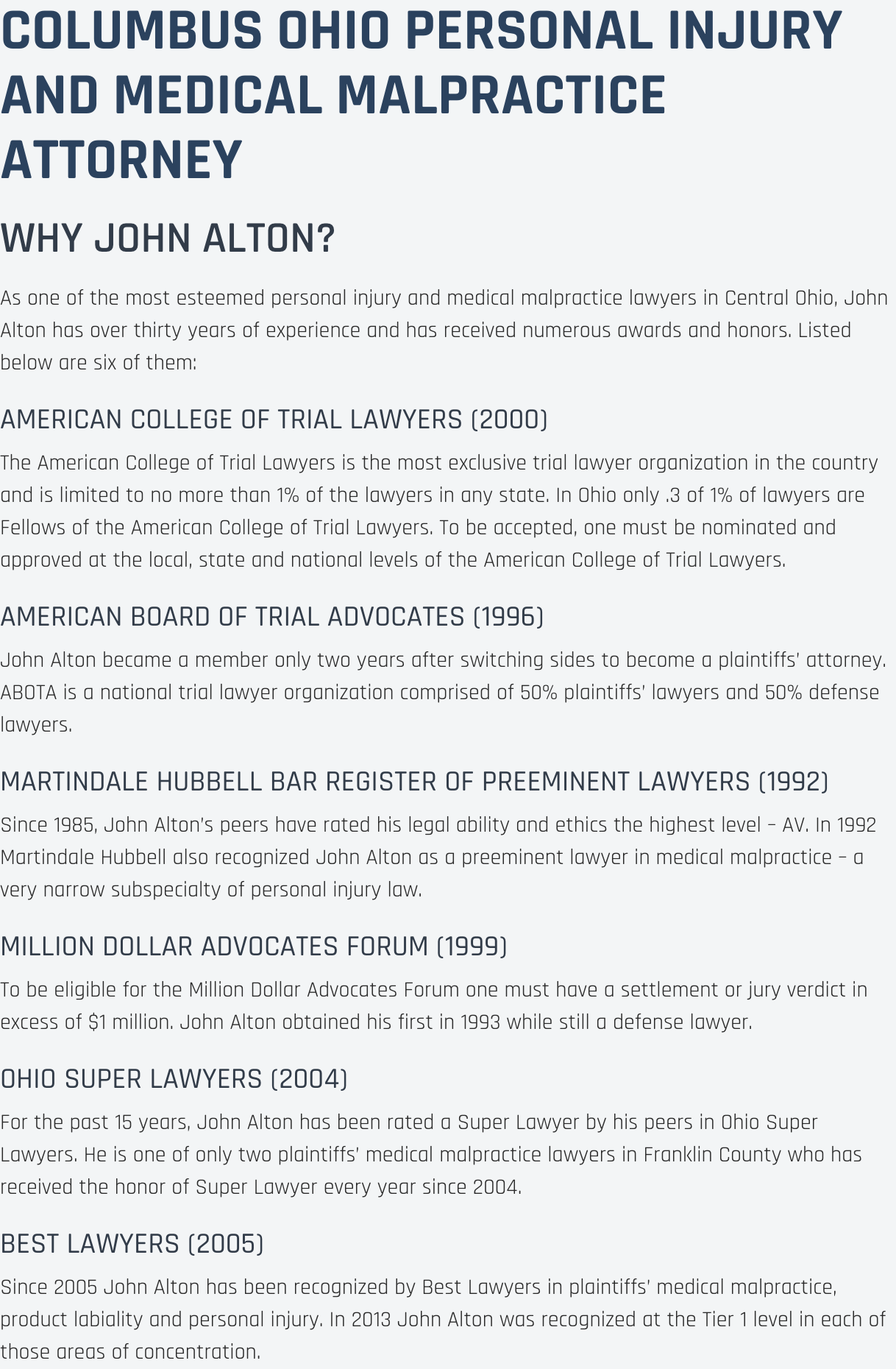 Motorcycle Accident Lawyer Upper Arlington OH
The Law Offices of John M Alton Co, LPA wants to improve your quality of life while you deal with your motorcycle accident issue. I want to provide you with our expertise and experience to make your motorcycle accident matter a thing of the past. Your quality of life and receiving compensation for your motorcycle accident issue is our priority. Allow me the opportunity in Upper Arlington to show you what our services can provide towards finding a just resolution to your motorcycle accident matter now.
If someone close to you has suffered in a motorcycle accident matter due to the negligent, reckless, or intentional behavior of another party, it is crucial that you contact a skilled and compassionate motorcycle accident attorney as soon as possible to discuss the option of filing a wrongful death claim. I am here to help you with your motorcycle accident matter now. I will put my best foot forward to help you resolve your motorcycle accident matter and find you a just resolution that fits your wants and needs.
At The Law Offices of John M Alton Co, LPA, I help victims recover for past, present and future medical bills, lost income, pain and suffering, disability, emotional distress and more. If your injury required extensive or ongoing medical care, or left you unable to work or seriously hurt, our goal is the same. I want to help you recover from your pain and suffering. The Law Offices of John M Alton Co, LPA represents motorcycle accident victims in Upper Arlington, and throughout the surrounding areas. I have nearly 25 years of experience in the multiple practice area of the law. Allow me the opportunity to serve your interests and resolve your motorcycle accident case now.
The Law Offices of John M Alton Co, LPA has built our practice 25 years by protecting the rights of normal people in motorcycle accident cases. We work hard to make sure justice is accomplished with your Upper Arlington injury matter. While we are prepared for trial, The Law Offices of John M Alton Co, LPA knows how to use settlement negotiations and other alternative dispute resolutions, like non-biding arbitration or mediation, to obtain fair compensation for our motorcycle accident clients. You will always receive the best service within the Upper Arlington area working with our motorcycle accident firm. Contact The Law Offices of John M Alton Co, LPA to schedule a consultation:

The Law Offices of John M Alton Co, LPA
1071 S. High Street
Columbus, OH 43206
(614) 221-6751
Related Articles:
Car Accident Lawyer Worthington OH
,
Diving Accident Lawyer Reynoldsburg OH
,
Injury Lawyer Westerville OH
,
Motorcycle Accident Lawyer Worthington OH
,
Caesarean Section Errors In Mansfield OH
,
Negligent Injury In Dayton OH
,
Paraplegia In Canton OH
,
Birth Injury Lawyer Mansfield OH
,
Wrongful Death from Birth Injury Lawyer Sidney OH
,
Wrongful Death Attorney Wapakoneta OH
,