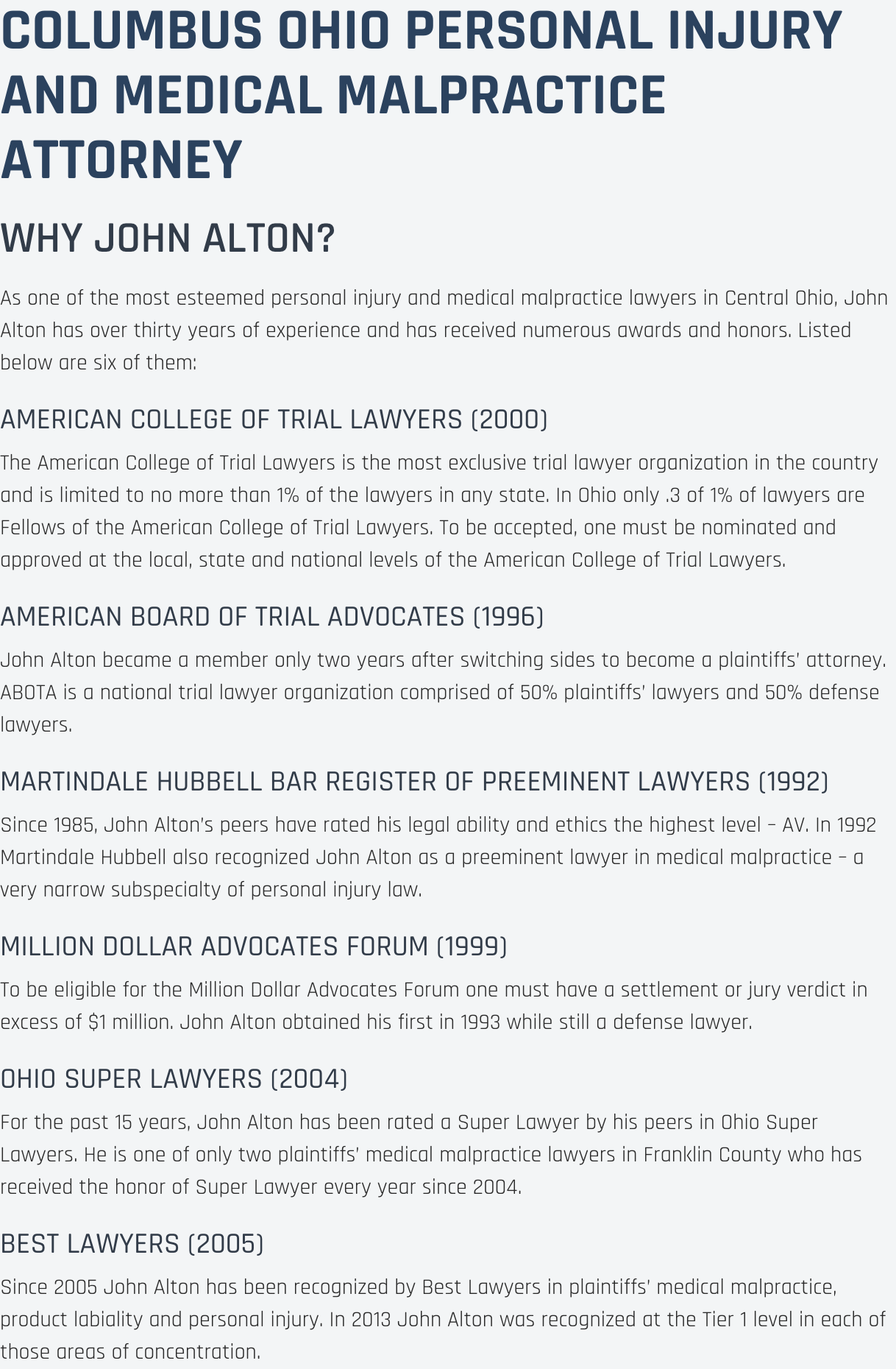 Negligent Injury In Circleville OH
A serious negligent injury case can have catastrophic consequences for you and your family. Besides physical pain and suffering, emotional pain can also be an issue. Economics plays a serious role too. You may not be able to work and may have mounting medical bills or other income issues. At The Law Offices of John M Alton Co, LPA, I will fight for your rights to get you the financial compensation you deserve for your pain and suffering. If you are in Circleville or the surrounding area; schedule an appointment to meet with me to discuss your negligent injury case.
Your negligent injury issue will bring the burden of bills and expenses to your front door during a difficult time in your life. When you have to take time off work to recover, mounting debt from medical bills, home repairs and everyday expenses can begin to add up, causing even more stress. I will help you remove some of that stress out of your daily life and routine. Allow my services from The Law Offices of John M Alton Co, LPA the opportunity to assist you and improve your negligent injury case.
The Law Offices of John M Alton Co, LPA has nearly 25 years of legal experience helping people. I will bring that experience to bear on your negligent injury case. My knowledge and expertise makes me qualified to advocate for you. I am an aggressive and effective attorney who will protect your rights. If you have had any serious issues in Circleville, or the surrounding areas due to a personal injury accident and need representation by a diligent lawyer, The Law Offices of John M Alton Co, LPA. is here to help you. I will not stop fighting for your rights.
Contact Us Today!
Ready to work with our lawyers in the Circleville area? Call The Law Offices of John M Alton Co, LPA today at (614) 221-6751, or visit our office at 1071 S. High Street. We can look over your unique negligent injury case and figure out the best way to move forward and get the results you need.
The Law Offices of John M Alton Co, LPA
1071 S. High Street
Columbus, OH 43206
(614) 221-6751