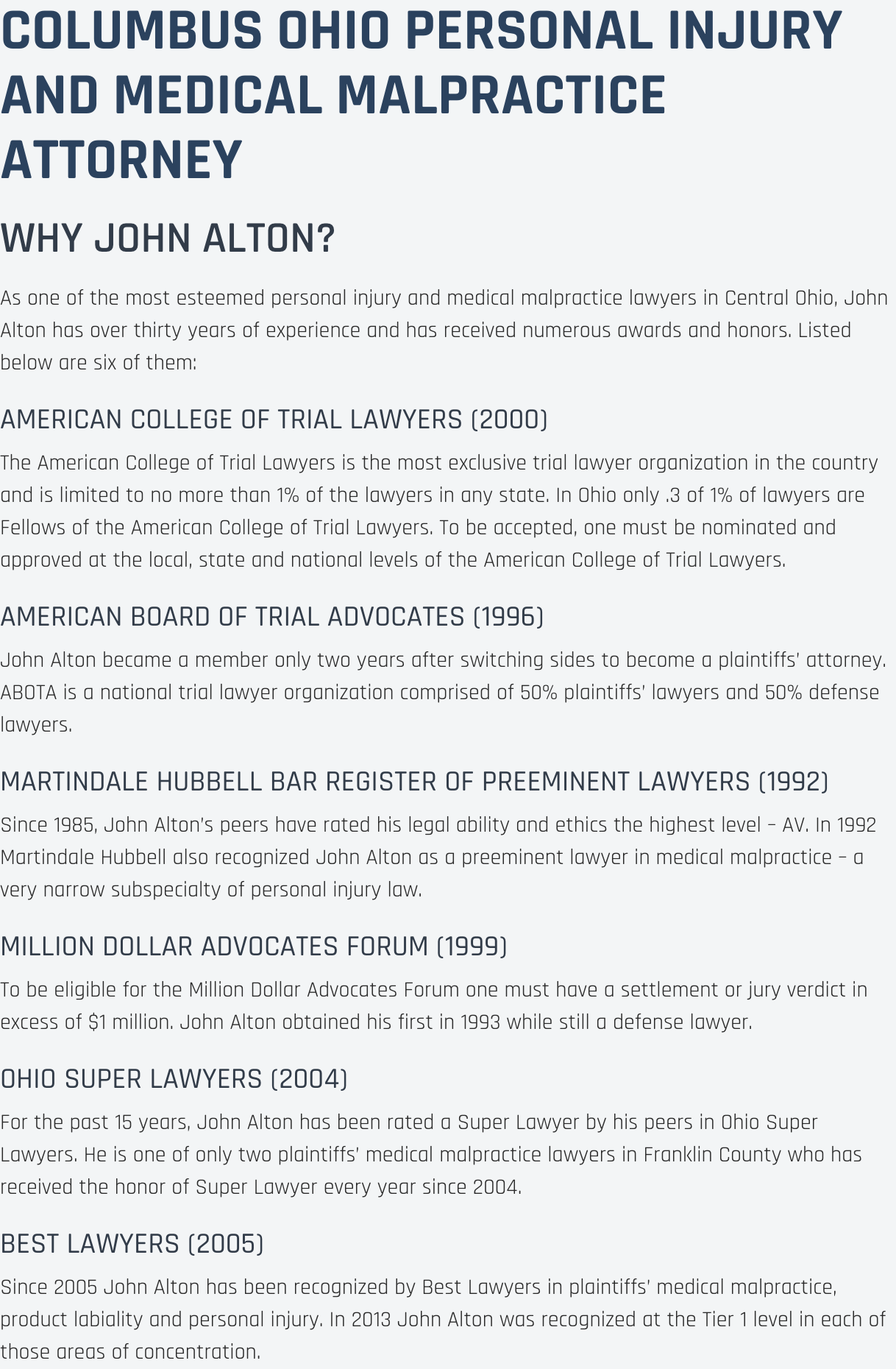 Negligent Injury In Columbus OH
When you need to recover medical expenses, lost wages, and other expenses necessary to protect your future security and care, you need to contact an advocate who is dedicated to protecting your rights. The Law Offices of John M Alton Co, LPA is here to protect your rights, your assets, and your emotional well-being during your recovery. Your negligent injury matter needs to be resolved with results. You deserve to be treated fairly and receive compensation from the negligent party. I will help you achieve that goal with results.
At The Law Offices of John M Alton Co, LPA, I take pride in being able to provide your negligent injury case with as much attention to detail and scrutiny as possible. I always maintain contact with my Columbus area clients. I will ensure that you understand the legal process, everything that is happening and what the strategy is at all times.
At The Law Offices of John M Alton Co, LPA, I have background experience with those types of large law firms notorious for their grit in the courtroom. My know how experience, commitment and personal individual attention about your negligent injury matter is crucial when it comes to upholding justice for victims like you. If you are in the Columbus area and are looking to attain the most beneficial legal counsel to deal with your negligent injury matter now. I am here to assist you.
We're waiting for your call!
We could not be more proud to serve our clients and community in the Columbus area. We will not compromise your negligent injury case. The Law Offices of John M Alton Co, LPA will put our 25 years of experience to work for you. Give us a call today at (614) 221-6751 or visit our office at 1071 S. High Street.
The Law Offices of John M Alton Co, LPA
1071 S. High Street
Columbus, OH 43206
(614) 221-6751
Related Articles:
Arbitrator In Marysville OH
,
Brachial Plexus Injury In Delaware OH
,
Caesarean Section Errors In Delaware OH
,
Cerebral Palsy In Columbus OH
,
Spinal Cord Injury In Delaware OH
,
Birth Injury Lawyer Cambridge OH
,
Birth Injury Lawyer Lancaster OH
,
Medical Malpractice Lawyer Chillicothe OH
,
Maternal Birth Injury Attorney Bucyrus OH
,
Wrongful Death Attorney Millersburg OH
,