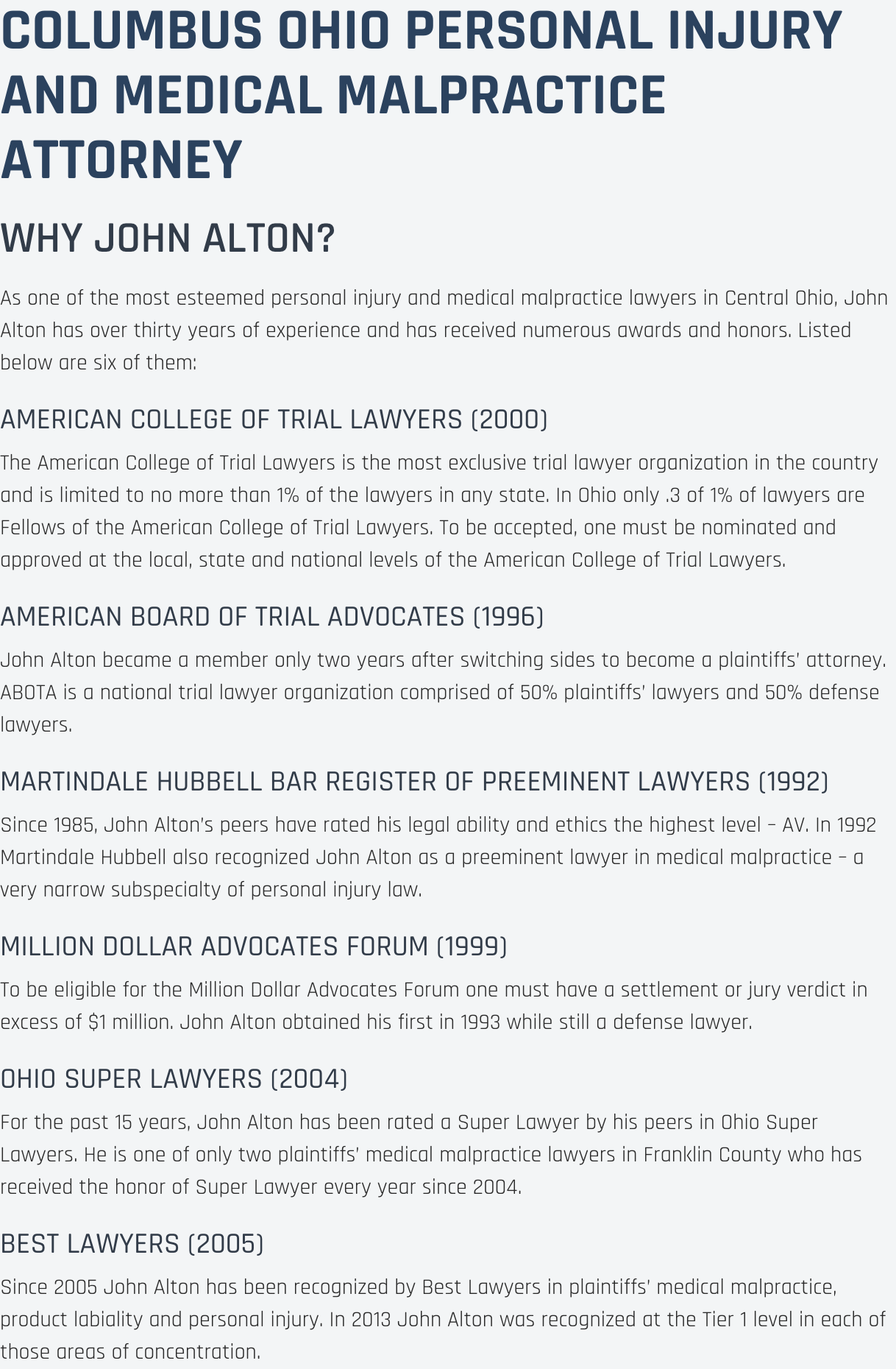 Negligent Injury In Marysville OH
At The Law Offices of John M Alton Co, LPA, I help victims recover for past, present and future medical bills, lost income, pain and suffering, disability, emotional distress and more. If your injury required extensive or ongoing medical care, or left you unable to work or seriously hurt, our goal is the same. I want to help you recover from your pain and suffering. The Law Offices of John M Alton Co, LPA represents negligent injury victims in Marysville, and throughout the surrounding areas. I have nearly 25 years of experience in the multiple practice area of the law. Allow me the opportunity to serve your interests and resolve your negligent injury case now.
When you have lost a loved one or have been hurt due to a serious personal injury, you will need help dealing with your negligent injury matter in an efficient and effective manner. Having to deal with a negligent injury matter or other tragedy can be daunting. Choosing my help at The Law Offices of John M Alton Co, LPA can provide you with the legal solution you've been looking for. If you want the right lawyer to get the job done of securing you just compensation, look no further than my services for help in Marysville now.
With my nearly 25 years of legal experience working in the Marysville area, I know how to make successful arguments to give you a better chance to get the compensation that you deserve. I know the stall tactics and tricks that insurance companies in the Marysville area may use. I will cut through these matters to save time. I want to move your negligent injury case's chances forward; with a positive approach and final goal. I aim to achieve successful results.
At The Law Offices of John M Alton Co, LPA we know accidents happen. We do all we can to put our 25 years of legal experience and knowledge to work toward your advantage. Our negligent injury representation will guide and help you during one of the most challenging times of your life. As a negligent injury firm, we understand how difficult it can be for a person to be in an accident due to another persons negligence. The Law Offices of John M Alton Co, LPA is dedicated to helping you get through this challenging process with as little difficulty as possible. You can learn more by contacting us and reviewing our website at your convenience:
The Law Offices of John M Alton Co, LPA
1071 S. High Street
Columbus, OH 43206
(614) 221-6751
Related Articles:
Traumatic Brain Injury Attorney Dayton
,
Amputation In Columbus OH
,
Maternal Injuries During Birth In Sandusky OH
,
Negligent Injury In Sandusky OH
,
Mediation Lawyer Toledo OH
,
Personal Injury Lawyer Jackson OH
,
Quadriplegia Lawyer Chillicothe OH
,
Wrongful Death from Birth Injury Lawyer Jackson OH
,
Cerebral Palsy Attorney Athens OH
,
Cerebral Palsy Attorney Wapakoneta OH
,