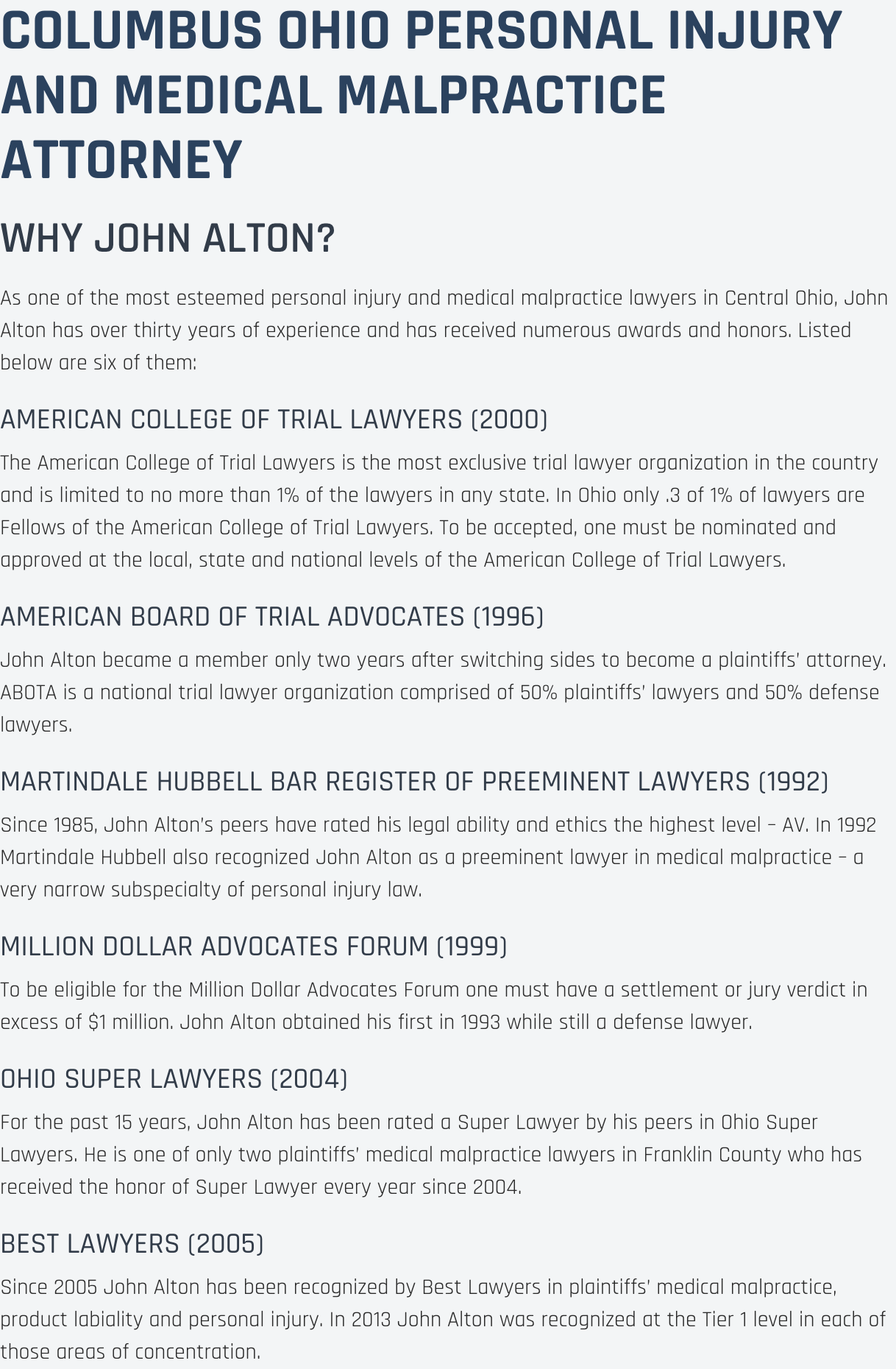 The law allows Ohio injured victims to file lawsuits against individuals, companies or government entities whose acts or omissions cause harm. Matters of a paralysis case can be resolved in court or through a settlement negotiation. The reality is that you should have an aggressive legal advocate representing your interests. The Law Offices of John M Alton Co, LPA is here to help you now. I will offer my knowledge and experience to help move your case paralysis case forward. I am here to fight for you.
A paralysis accident can happen anywhere: at home, in the car, at a store or at work. When you have been hurt because of someone else's negligence or wrongful act, it is important you recover the compensation that you deserve for your injury. At The Law Offices of John M Alton Co, LPA, I can help you move your paralysis case forward and work toward achieving the right results you are looking for.
Your paralysis issue will bring the burden of bills and expenses to your front door during a difficult time in your life. When you have to take time off work to recover, mounting debt from medical bills, home repairs and everyday expenses can begin to add up, causing even more stress. I will help you remove some of that stress out of your daily life and routine. Allow my services from The Law Offices of John M Alton Co, LPA the opportunity to assist you and improve your paralysis case.
Call our offices today!
At The Law Offices of John M Alton Co, LPA we embrace differences and make sure to remember what makes our clients special in our legal work. After 25 years of practicing law we have notice people are naturally curious about the legal system; throughout your paralysis case, we will work hard to explain what is happening and provide you with updates and status of your case. To speak with a Ohio area representative, please use the information below:

The Law Offices of John M Alton Co, LPA
1071 S. High Street
Columbus, OH 43206
(614) 221-6751