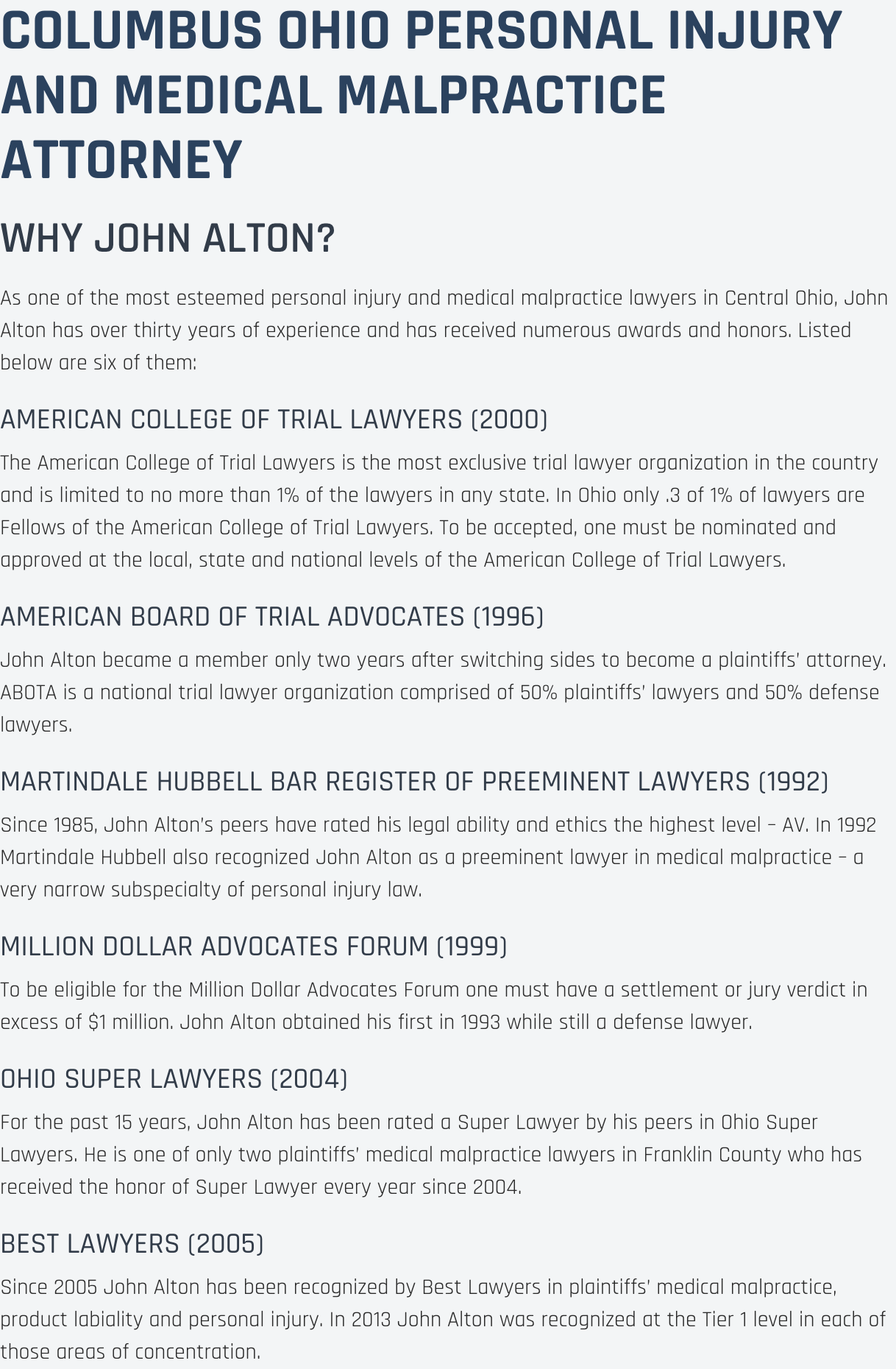 Personal Injury Attorney Columbus
Your personal injury issue will bring the burden of bills and expenses to your front door during a difficult time in your life. When you have to take time off work to recover, mounting debt from medical bills, home repairs and everyday expenses can begin to add up, causing even more stress. I will help you remove some of that stress out of your daily life and routine. Allow my services from The Law Offices of John M Alton Co, LPA the opportunity to assist you and improve your personal injury case.
The words Personal Injury is a legal term referring to the physical injuries and economic losses resulting from poor and reckless behavior of another person. In Columbus, a person who suffers a personal injury can recover financial compensation for their short and long-term medical care, lost wages and earning potential loss. I want to help you resolve your personal injury matter now. With my help at The Law Offices of John M Alton Co, LPA; I will help create a realistic plan to help make this happen for your current personal injury situation.
You may need the help of a doctor or therapist after getting hurt in a personal injury situation. You will heal physically, but physical and emotional scars can last a lifetime. You deserve just compensation for your suffering and need counsel from The Law Offices of John M Alton Co, LPA. Your personal injury matter is important to me; and I want to help guide you through the legal process to obtain justice. With my help and services, The Law Offices of John M Alton Co, LPA will help defend and protect your rights now.
Contact Us Today!
We're standing by waiting for your call to our Columbus firm. With years of experience, we're ready to take on your unique personal injury case in the Columbus area. Give us a call on our direct line at (614) 221-6751.
The Law Offices of John M Alton Co, LPA
1071 S. High Street
Columbus, OH 43206
(614) 221-6751
Related Articles:
Construction Accident Attorney Ohio
,
Auto Wreck Lawyer Hilliard OH
,
Diving Accident Lawyer Powell OH
,
Paraplegia In Columbus OH
,
Mediation Lawyer Lancaster OH
,
Quadriplegia Lawyer Urbana OH
,
Wrongful Death from Birth Injury Lawyer Mansfield OH
,
Medical Malpractice Attorney Kenton OH
,
Wrongful Death Attorney Circleville OH
,
Wrongful Death Attorney Mount Vernon OH
,