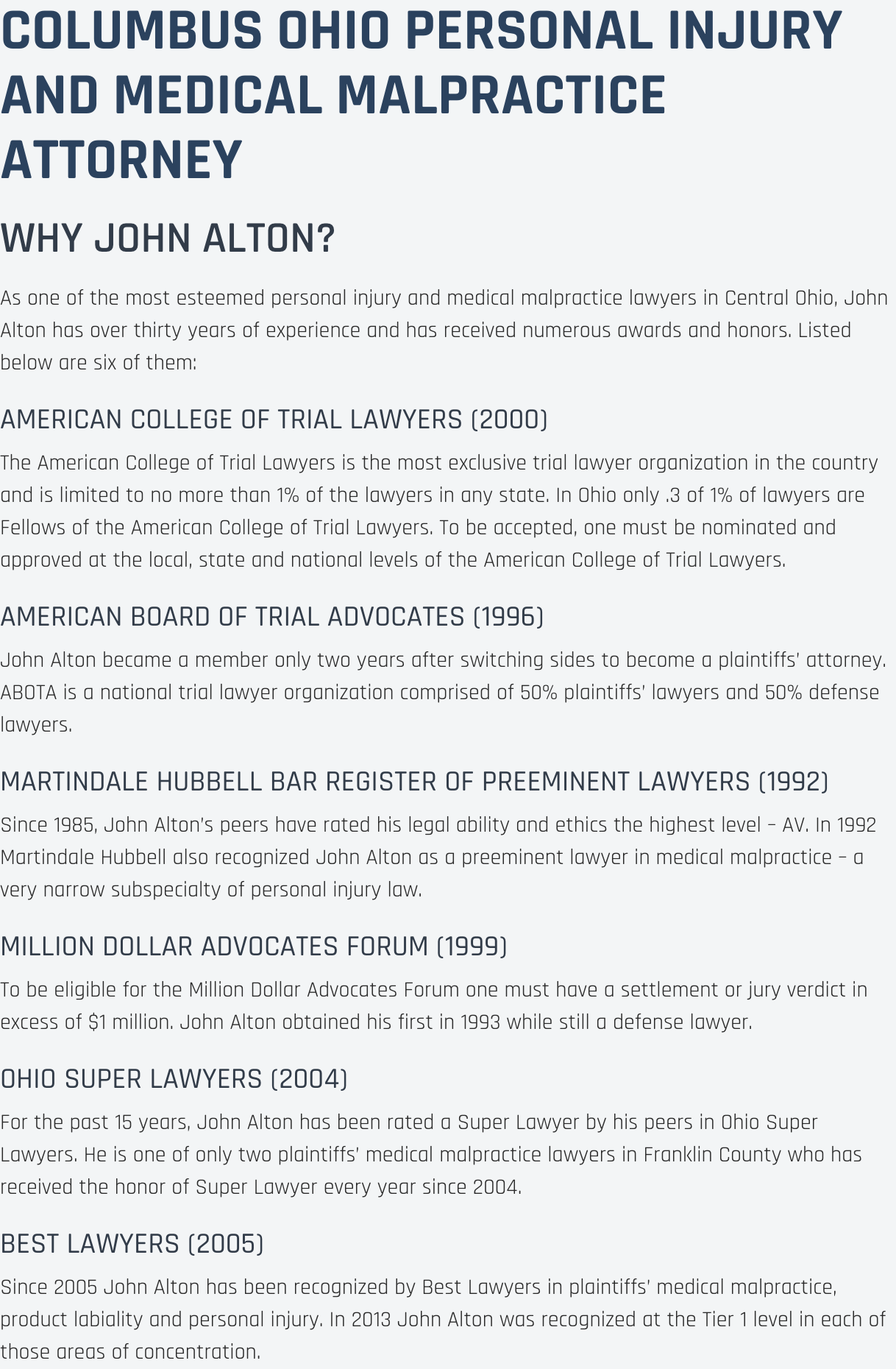 Personal Injury Attorney Columbus
With my nearly 25 years of legal experience working in the Columbus area, I know how to make successful arguments to give you a better chance to get the compensation that you deserve. I know the stall tactics and tricks that insurance companies in the Columbus area may use. I will cut through these matters to save time. I want to move your personal injury case's chances forward; with a positive approach and final goal. I aim to achieve successful results.
When you have lost a loved one or have been hurt due to a serious personal injury, you will need help dealing with your personal injury matter in an efficient and effective manner. Having to deal with a personal injury matter or other tragedy can be daunting. Choosing my help at The Law Offices of John M Alton Co, LPA can provide you with the legal solution you've been looking for. If you want the right lawyer to get the job done of securing you just compensation, look no further than my services for help in Columbus now.
Just as we all recognize the irresponsible driver weaving in traffic, responsibility for any personal injury accident of any kind can fall in all hands of all parties. Your personal injury matter may have been contributed by you, but that does not make it your fault. The Law Offices of John M Alton Co, LPA understands that you have suffered and may need counsel to deal with your personal injury matter now. You do not deserve to suffer due to emotional or physical pain because of someone else's negligence.
Contact Us Today!
We're standing by waiting for your call to our Columbus firm. With years of experience, we're ready to take on your unique personal injury case in the Columbus area. Give us a call on our direct line at (614) 221-6751.
The Law Offices of John M Alton Co, LPA
1071 S. High Street
Columbus, OH 43206
(614) 221-6751
Related Articles:
Bus Accident Attorney Dayton
,
Nursing Home Negligence Attorney Ohio
,
Birth Injury In Columbus OH
,
Maternal Injuries During Birth In Canton OH
,
Personal Injury Lawyer Circleville OH
,
Quadriplegia Lawyer Waverly OH
,
Spinal Cord Injury Lawyer Millersburg OH
,
Spinal Cord Injury Lawyer Portsmouth OH
,
Wrongful Death from Birth Injury Lawyer Pomeroy OH
,
Wrongful Death Attorney Bucyrus OH
,