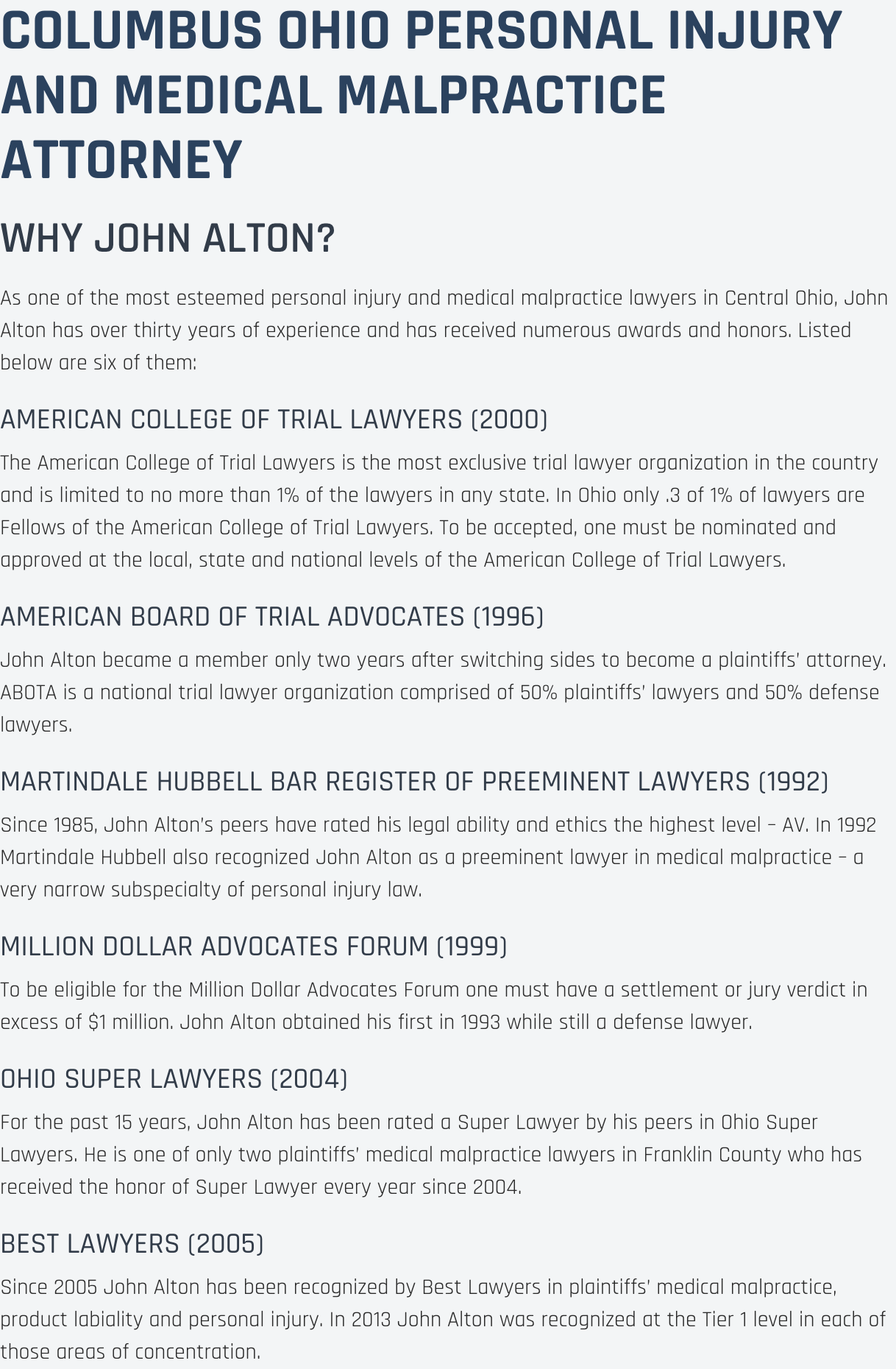 Personal Injury Attorney Columbus
A personal injury accident can happen anywhere: at home, in the car, at a store or at work. When you have been hurt because of someone else's negligence or wrongful act, it is important you recover the compensation that you deserve for your injury. At The Law Offices of John M Alton Co, LPA, I can help you move your personal injury case forward and work toward achieving the right results you are looking for.
The Law Offices of John M Alton Co, LPA knows how much the outcome of a personal injury case or claim can have on your life and your family's future. I dedicate myself with a passion in life to helping those with personal injury matters achieve justice. I help clients from Columbus and surrounding municipalities move forward with their personal injury matter and achieve just compensation. At The Law Offices of John M Alton Co, LPA, I will put my legal experience behind your case. I will work hard to make your personal injury case is my priority. With my legal counsel, the law will be to your advantage.
We have all had a personal injury matter happen to us at some possible point. Whether we are responsible or the other party at hand, is difficult to deal with. Your personal injury situation must be dealt with now. Allow The Law Offices of John M Alton Co, LPA the opportunity to help you clear the path in dealing with your personal injury matter to best help your situation. I will fight for your rights and help make your case is most beneficial to you to get you compensation for your suffering.
Contact Us Today!
We're standing by waiting for your call to our Columbus firm. With years of experience, we're ready to take on your unique personal injury case in the Columbus area. Give us a call on our direct line at (614) 221-6751.
The Law Offices of John M Alton Co, LPA
1071 S. High Street
Columbus, OH 43206
(614) 221-6751
Related Articles:
Truck Accident Lawyer Pickerington OH
,
Caesarean Section Errors In Lima OH
,
Neonatal Intensive Care Errors In Marysville OH
,
Brain Damaged Baby Lawyer Bellefontaine OH
,
Brain Damaged Baby Lawyer McConnelsville OH
,
Medical Malpractice Lawyer Waverly OH
,
Cerebral Palsy Attorney Wooster OH
,
Medical Malpractice Attorney Delaware OH
,
Wrongful Death Attorney New Lexington OH
,
Wrongful Death Attorney Wooster OH
,