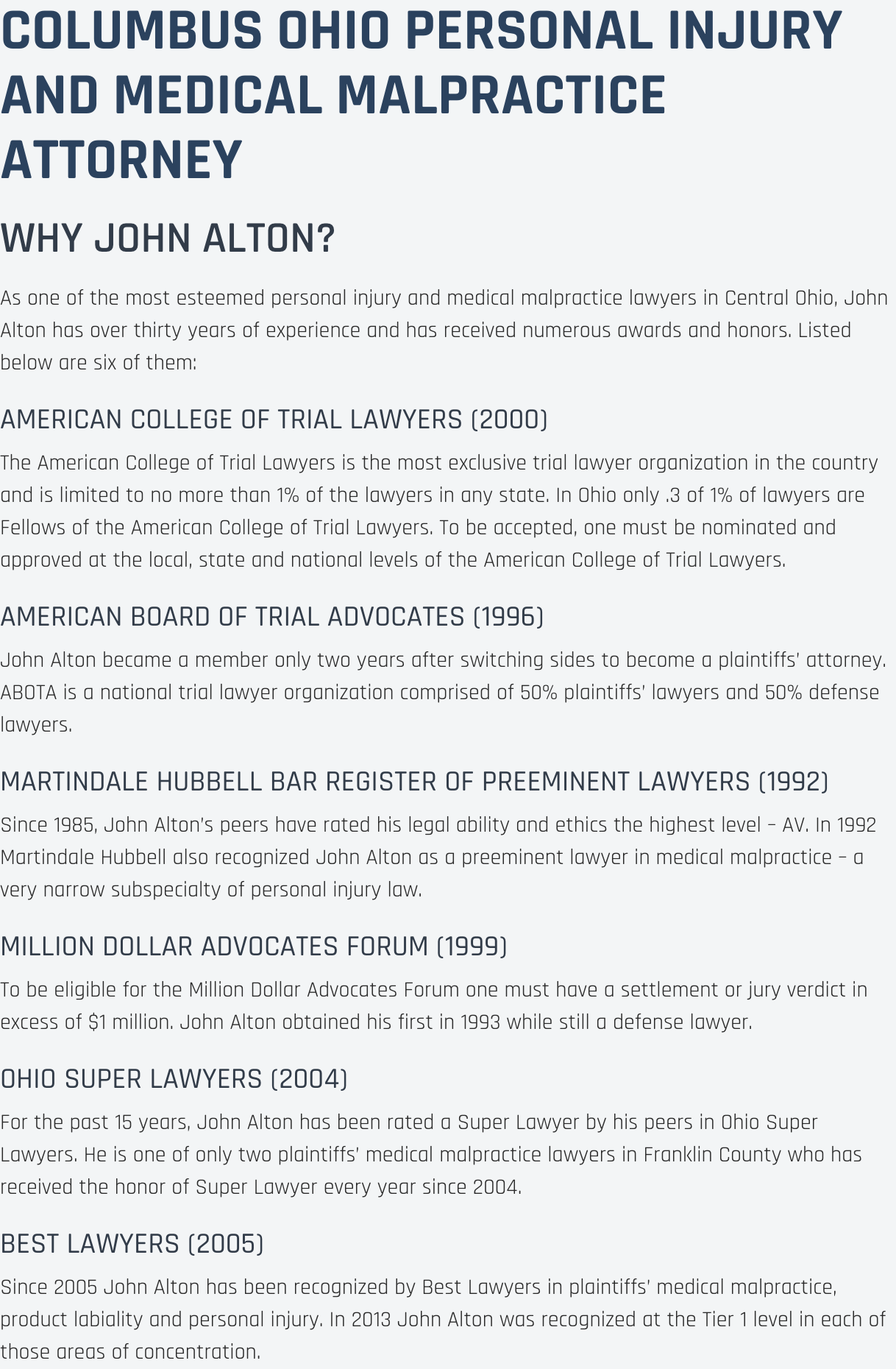 Personal Injury Lawyer Athens OH
The last thing on your mind after an accident of is obtaining legal representation. The Law Offices of John M Alton Co, LPA can help you with your personal injury matter now. When you or a family member has been injured, it is important to seek medical attention, because injuries can lead to serious physical and emotional harm in your daily life. I can help reduce that stress in your life with our resolve to make your case our first priority. I will fight for you and find a just financial resolution towards your personal injury matter.
At The Law Offices of John M Alton Co, LPA, I take great pride in helping our clients resolve their personal injury matter quickly. In our field of practice towards personal injury matters, I am proud to offer to my clients the highest standards in service and results toward resolving your personal injury matter. My experience in Athens covers a wide range of personal injury cases involving carelessness and disregard for the safety of others. I will help protect your rights and get your compensation for your personal injury matter. With the right legal counsel, your personal injury matter will move forward with ease and less stress toward your daily routine.
You may need the help of a doctor or therapist after getting hurt in a personal injury situation. You will heal physically, but physical and emotional scars can last a lifetime. You deserve just compensation for your suffering and need counsel from The Law Offices of John M Alton Co, LPA. Your personal injury matter is important to me; and I want to help guide you through the legal process to obtain justice. With my help and services, The Law Offices of John M Alton Co, LPA will help defend and protect your rights now.
The Law Offices of John M Alton Co, LPA is ready to work with you today!
We provide our personal injury legal advice to anyone who is facing hard times in Athens. For those who prefer face to face meetings, we invite you to visit our offices located at 1071 S. High Street, or if you pref3er a simpler mehtod of communication we invite you to give us a call at (614) 221-6751 and learn more about what we can do for you.
The Law Offices of John M Alton Co, LPA
1071 S. High Street
Columbus, OH 43206
(614) 221-6751