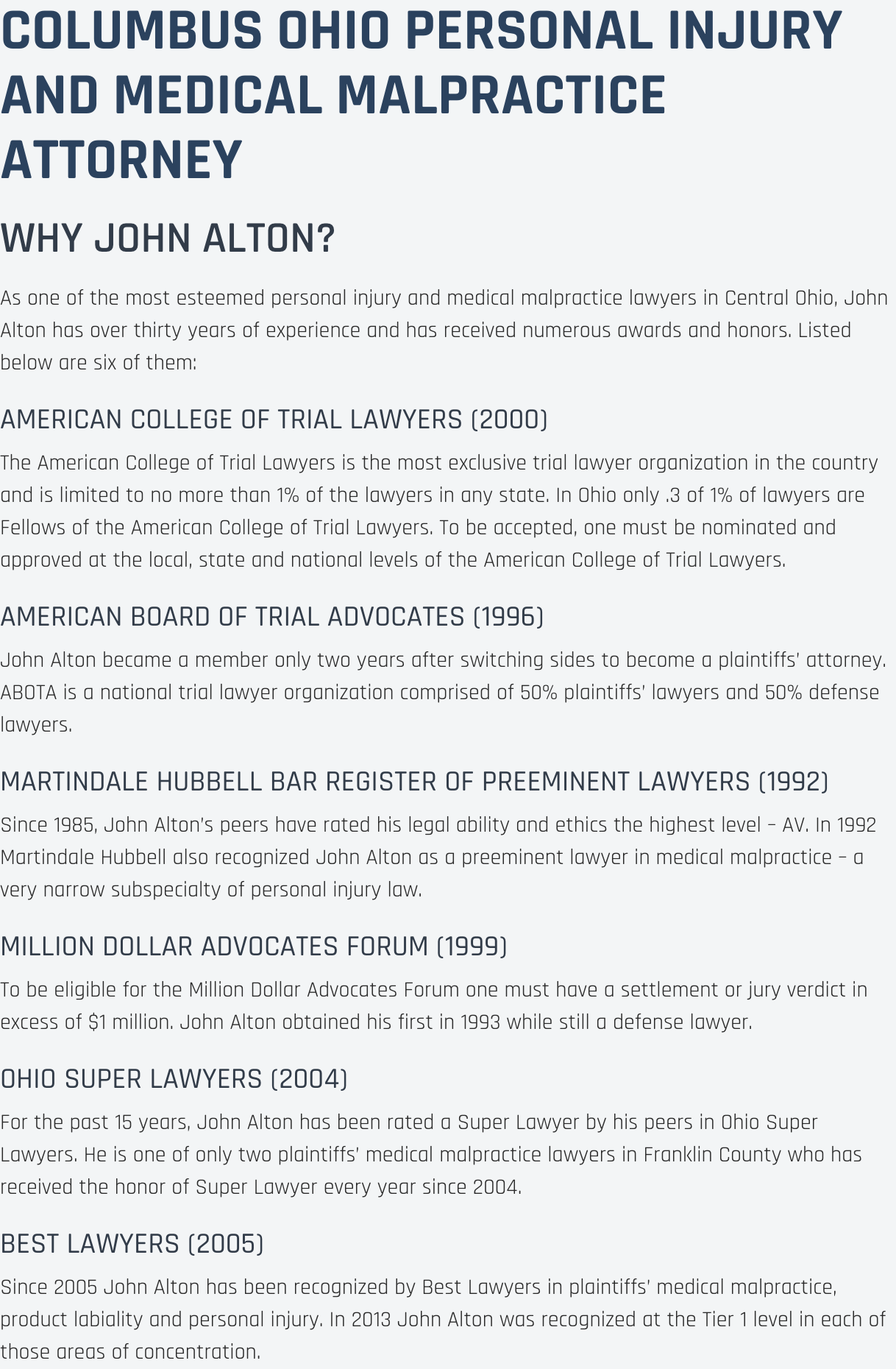 Personal Injury Lawyer Chillicothe OH
If you have had a personal injury matter happen in your life and need help, The Law Offices of John M Alton Co, LPA is here for you. I can assure you that we will always act with the utmost respect for your feelings and with the highest ethical standards. I will work hard to find a fair solution that works for you to make your personal injury a thing of the past emotionally and financially, and win your battle. We are very thorough with all personal injury matters, and will treat your situation with the highest priority and concern.
Personal injury matters and your injuries can be the result of a personal injury by someone: at work or other property, defective products, medical malpractice, unsafe workplaces, auto accident and many other factors. They all come with a cost far greater than basic medical expenses. The Law Offices of John M Alton Co, LPA can help get you fair compensation and make sure those at fault are held responsible for their actions, or lack of. You and your family have a long journey ahead. Allow me in Chillicothe to worry about your personal injury matter so you can concentrate on your recovery.
If you have suffered a personal injury in any kind of accident and someone else is to blame, you should speak with an attorney at The Law Offices of John M Alton Co, LPA. Waiting too long to meet with a personal injury lawyer could leave you permanently injured without any just compensation. I have nearly 25 years of experience of legal expertise. I understand what it takes and will try hard to achieve the results that you want.
If you have been the victim of a personal injury you should contact The Law Offices of John M Alton Co, LPA. First, we listen to your situation and gain a full understanding of your personal injury case. Second, we match you up with the best council for your particular personal injury event. Whether you have been involved in an auto accident, a workplace incident or any other type of accident, we at The Law Offices of John M Alton Co, LPA have the experience and knowledge, to help you. Please contact our personal injury law firm today at (614) 221-6751, and feel free to visit our offices at 1071 S. High Street.
The Law Offices of John M Alton Co, LPA
1071 S. High Street
Columbus, OH 43206
(614) 221-6751
Related Articles:
Diving Accident Lawyer Westerville OH
,
Injury Lawyer Hilliard OH
,
Spinal Cord Injury In Findlay OH
,
Mediation Lawyer Cleveland OH
,
Mediation Lawyer Findlay OH
,
Medical Malpractice Lawyer Mansfield OH
,
Personal Injury Lawyer Sidney OH
,
Quadriplegia Lawyer Circleville OH
,
Spinal Cord Injury Lawyer Mount Vernon OH
,
Medical Malpractice Attorney McArthur OH
,