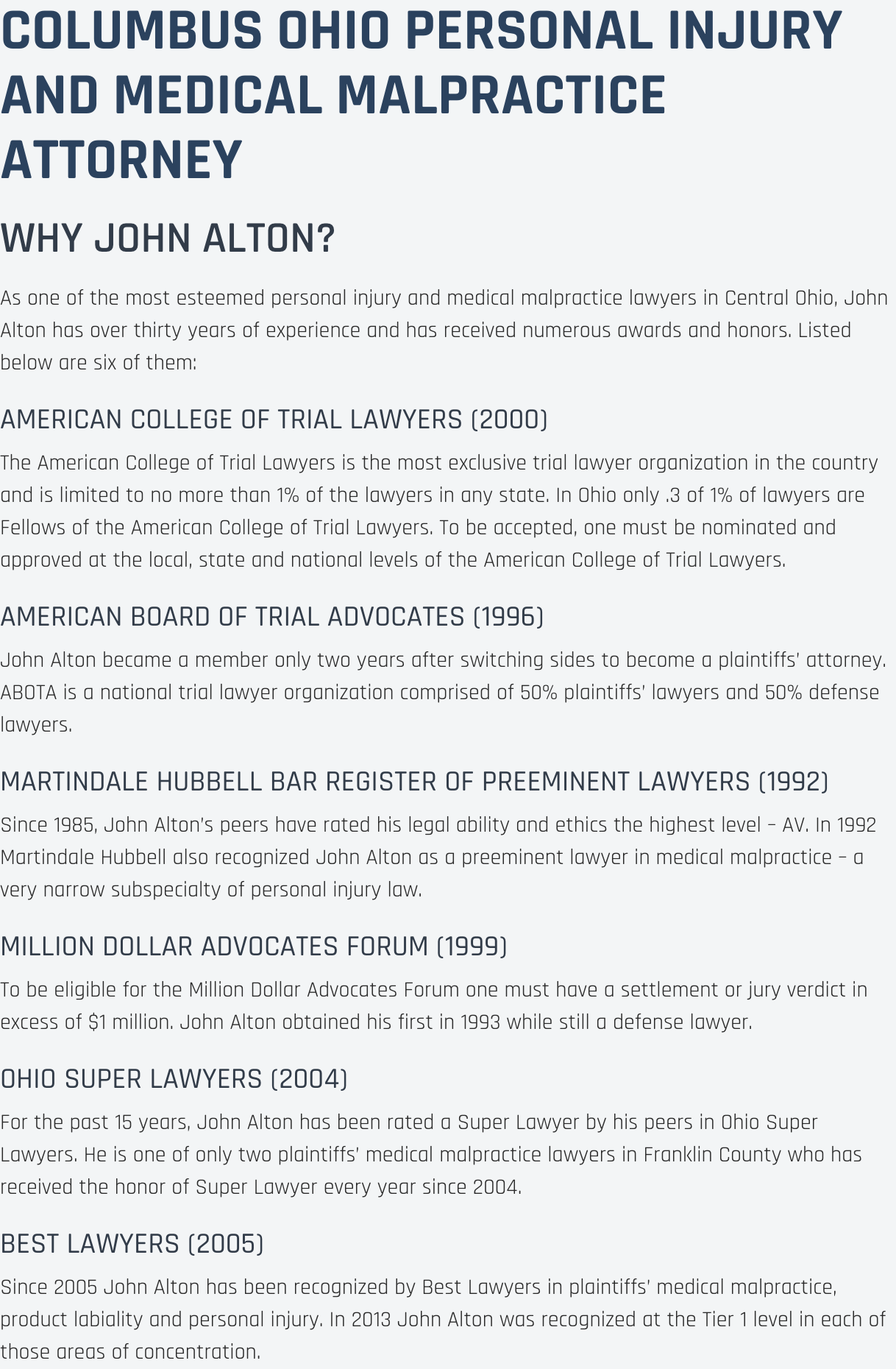 Personal Injury Lawyer Chillicothe OH
If you have had a personal injury matter happen in your life and need help, The Law Offices of John M Alton Co, LPA is here for you. I can assure you that we will always act with the utmost respect for your feelings and with the highest ethical standards. I will work hard to find a fair solution that works for you to make your personal injury a thing of the past emotionally and financially, and win your battle. We are very thorough with all personal injury matters, and will treat your situation with the highest priority and concern.
Being in a personal injury matter due to the negligence of someone else can impact your daily life in multiple aspects. The burden of bills and expenses at this difficult time are adding up and are not beneficial. When you have to take time off from work to recover, rising debts for repairs and daily expenses can start to add up, causing even more stress. Allow my services from The Law Offices of John M Alton Co, LPA the opportunity to help you resolve these issues. I want to take away the hassle of your worrying every day. I will fight for your rights and help get you just compensation.
At The Law Offices of John M Alton Co, LPA, I take great pride in helping our clients resolve their personal injury matter quickly. In our field of practice towards personal injury matters, I am proud to offer to my clients the highest standards in service and results toward resolving your personal injury matter. My experience in Chillicothe covers a wide range of personal injury cases involving carelessness and disregard for the safety of others. I will help protect your rights and get your compensation for your personal injury matter. With the right legal counsel, your personal injury matter will move forward with ease and less stress toward your daily routine.
If you have been the victim of a personal injury you should contact The Law Offices of John M Alton Co, LPA. First, we listen to your situation and gain a full understanding of your personal injury case. Second, we match you up with the best council for your particular personal injury event. Whether you have been involved in an auto accident, a workplace incident or any other type of accident, we at The Law Offices of John M Alton Co, LPA have the experience and knowledge, to help you. Please contact our personal injury law firm today at (614) 221-6751, and feel free to visit our offices at 1071 S. High Street.
The Law Offices of John M Alton Co, LPA
1071 S. High Street
Columbus, OH 43206
(614) 221-6751
Related Articles:
Personal Injury Attorney Columbus
,
Wrongful Death Lawyer Westerville OH
,
Cerebral Palsy In Zanesville OH
,
Neonatal Intensive Care Errors In Cleveland OH
,
Neonatal Intensive Care Errors In Lancaster OH
,
Paraplegia In Dayton OH
,
Spinal Cord Injury In Lancaster OH
,
Quadriplegia Lawyer Kenton OH
,
Spinal Cord Injury Lawyer Springfield OH
,
Maternal Birth Injury Attorney Sidney OH
,